The latest New England Historical Society book about history, food and recipes is now available on Amazon. 24 Historic Italian Christmas Cookie Recipes: From Ancient Rome to the Great Migration.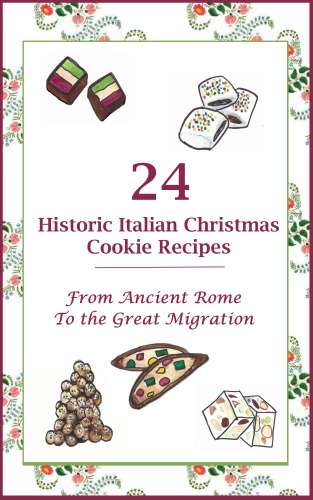 But why is the New England Historical Society publishing a cookbook about Italian cookie history? Because when 4 million Italians came to America between 1880 and 1924, many of them came to New England. They settled in every New England state and city, and they started restaurants and bakeries and pasticcerie with foods from home.
Each chapter in this ebook tells a story about the people who made and ate Italian Christmas cookies, and then it gives directions for making each kind in a modern American kitchen. (Click here to buy the book.)
Helping cooks celebrate centuries-old traditions with Italian Christmas cookies
Italian Christmas cookies are more than just cookies. They express the culture, cuisine and history of Italy. Biscotti belong to the stories of Roman legionnaires who ate them on the march to Britain and of immigrants who took them on ocean liners to Providence's Federal Hill. Cucidati belong to tales of cloistered nuns in medieval Sicily and of the 20th-century fishing fleet in Massachusetts Bay.
Cook like a Neapolitan Pasticceria — in your own kitchen
In this book you will get step-by-step instructions on how to make 24 different Italian Christmas cookies in a modern American kitchen.
You can choose from a vast variety of ingredients and techniques. Figs, lemons, chocolate, wheat, almonds, pistachios. Stirred nougat, twice-baked biscotti, deep-fried struffoli. There are cookies both gluten-free and dairy-free, the way they've been made for centuries.
Each recipe comes with a story about the Italian people. You'll read about Italians who came to New England before, during and after the Great Migration. You'll learn some of the history of Christmas and the different regional celebrations that evolved in Italy over the centuries. You'll find out which Italian Christmas cookies don't come from the old country – and which famous Americans have ancestors who did.
And you'll also find Americanized versions – like biscotti with cranberries and butter cookies with jimmies.
If you prefer a print version, it will be coming soon.
About the authors
This book is written by two award-winning journalists, Dan and Leslie Landrigan. As authors of the New England Historical Society website, they've written thousands of stories about New England history over the past decade. They've had two books published, Bar Harbor Babylon and New England's Hidden Past, which you can buy online or in electronic form.
Dan and Leslie have written two other e-books about historic foods: 21 Historic Thanksgiving Foods and 29 Historic Apple Recipes: Cooks' Favorites from 1650 to 1960, both available from Amazon.
Love history?
Then you probably want to join the New England Historical Society community by signing up for our e-newsletter, which comes out once a week. Click here to sign up.