The oldest public high schools in the United States all stand in New England, probably because the Puritans believed in educating children so they could read the Bible.
Four of America's 17th-century public high schools started in New England. They include Hartford Public High School (1638),  the Boston Latin School (1635), Cambridge Rindge and Latin School (1648) in Cambridge, Mass., and Hopkins Academy (1664) in Hadley, Mass.
Still, they're relative babes compared to schools in England and Germany. For example, the King's School in Canterbury, England, was founded in 597.
Those old European schools provided the model for New England's first public high schools. They mimicked the Latin school of 14th– to 19th-century Europe, teaching — well, Latin.
That approach made some sense, as Latin was the universal language for academic, legal, government and liturgical matters. For the children of working families, the Latin schools allowed them to improve their station in life.
During the Renaissance, the Latin schools evolved to teach classical literature, history, rhetoric, dialectic, natural philosophy and arithmetic.
But which are the oldest public high schools in each New England state? We list them below.
Hartford Public High School
Founded as Thomas Hooker's Latin School in 1638, Hartford Public High School is the second oldest public high school in the United States. It started only three years after the Boston Latin School, and sits right next to the Harriet Beecher Stowe House and the Mark Twain House.
Mark Twain's daughters, Olivia and Clara, attended Hartford Public High School from 1887 to 1889.
Not until 1847 did the school teach anything other than Greek and Latin. Back then, that was what young men needed to enter college or the ministry. The school changed its name to Hartford Public High School in 1847.
A fire destroyed the school building in 1882, only 13 years after its construction. George Keller designed a new one (he also designed the Soldiers and Sailors Memorial Arch in Hartford). The school had better science facilities than those in most colleges, as it had a chemistry laboratory, a science lecture hall, a Clark telescope and an observatory.
Hartford built a new school in 1963 and later renovated it. Today, 1,300 students attend the school known as The Pub.
Famous alumni include Edward Gallaudet, actor Tony Todd, former Hartford Mayor Eddie Perez and NBA star Marcus Camby.
Hampden Academy
Stephen King taught English at Maine's oldest public high school, Hampden Academy. It should be no surprise then that he set his novel Carrie there.
One of his students remembered him as a great teacher, though he looked a bit like a werewolf. "I will never forget the day he came into class with a dandelion in his sport coat pocket, and announced he had sold "Carrie" including movie rights," wrote Jim Spohrer.  "He was very happy, and we were all happy for him.
"Later that week, everyone in the school was working on their novel :-)"
Hampden was founded in 1803 as a private school, then as a theological seminary and finally a public high school. Today it has about 700 students from Hampden, Newburgh, Frankfort and Winterport in a new $52 million school built in 2012. The National Register of Historic Places lists the original Hampden Academy building, which also happened to be the site of the Battle of Hampden during the War of 1812.
Boston Latin School
Founded in 1635, Boston Latin School is easily the most famous of all the old public schools.
The early Puritans established the Boston Latin School. It then evolved into a bastion for the offspring of Boston Brahmins who wanted their children to attend Harvard. Its alumni include Saltonstalls, Adamses, Lowells, Phillipses, Winthrops, Eliots and Danas.
Dropouts include Benjamin Franklin and Louis Farrakhan. Graduates include four Harvard presidents, four Massachusetts governors and five signers of the United States Declaration of Independence.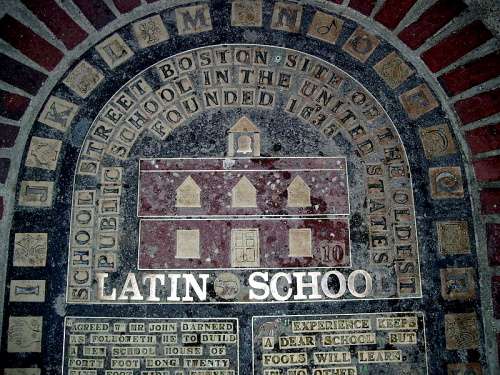 Helen Magill White was the first female student, graduating in 1877. She went on to become the first American woman to earn a Ph.D. The year she graduated from Boston Latin, the city founded Girls' Latin School (later the co-ed Boston Latin Academy).  Not until 1972 did Boston Latin admit its first co-educational class.
Famous alumni include Samuel Adams, Leonard Bernstein, Cotton Mather, George Santayana, Ed Ames, Phillips Brooks, Bernard Berenson, Ralph Waldo Emerson, Arthur Fiedler, Thomas Finneran, John Hancock, Nat Hentoff, Henry Knox, Theodore White and Sumner Redstone.
Pinkerton Academy
The Town of Londonderry established a classical high school in 1793. Then in 1814 the wealthy Pinkerton brothers, Major John Pinkerton and Elder James Pinkerton, donated $16,000 to make the private Londonderry high school permanent.
The State of New Hampshire incorporated the school on Dec. 4, 1815. Tuition cost $2 a quarter.
Three years later, the high school admitted the first female student. Coeducation didn't last long, however. In 1821, the Adams Female Academy opened and Pinkerton stopped accepting girls.
Pinkerton remained an independent day and boarding school until it agreed to accept public school students from Derry in 1948.
Robert Frost taught at Pinkerton Academy.  Murderess Pam Smart and astronaut Alan Shepard attended the school, now New Hampshire's largest. It has 3,100 students, 800 more than the next biggest school in the state.
Pinkerton Academy remains a private school, but it serves as the public high school for the New Hampshire towns of Derry, Hampstead, Chester and Auburn.
Providence Classical High School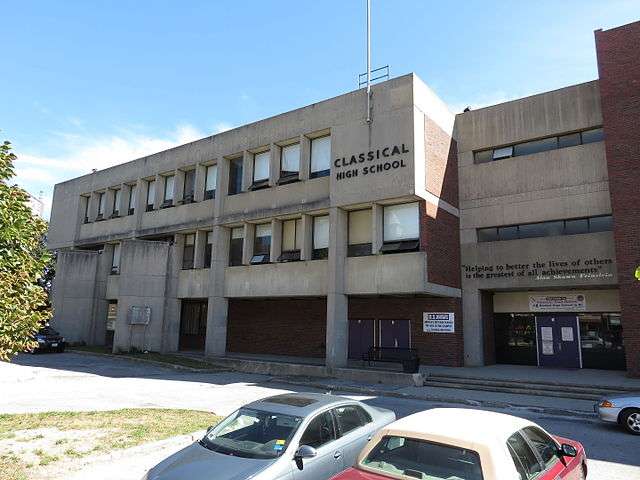 In 1800, Rhode Island's General Assembly ordered each town to open public schools. Most towns couldn't do it, but Providence managed to open elementary schools. For decades Rhode Island had no public high school.
By 1838 a heated debate raged over education. Opponents said a public high school would be 'too aristocratic' and would 'educate children above working for their support.' William Goddard, a prominent Brown professor, led the high school advocates who eventually won their case.
Providence dedicated Classical High School on March 20, 1843. At first it admitted women and African-Americans, then decided to segregate African-Americans. Four teachers taught arithmetic, algebra, Latin, English grammar, ancient history, medieval history, modern history and bookkeeping.
The school quickly grew too crowded and the city built a new one in 1878. By 1963 that building was outdated, and Providence held a competition to design a new one. The local firm Harkness & Geddes won the contest in collaboration with Boston architect Walter Gropius.
The new high school was built in 1970 in the same Brutalist style as the much-hated Boston City Hall. Today, Providence Classical High School is a demanding college preparatory magnet school. In 2012 it made Newsweek's America's Best High Schools list.
Windsor High School
Windsor High School in Windsor, Vt., is the youngest of the oldest public high schools in New England.
Sometime around 1786 a school was built in the village. It was used until about 1810, when the villagers decided to build a new brick schoolhouse. In 1838 the village decided to divide the younger students from the older, which eventually led to the establishment of the high school in 1845.
The village decided to construct a 'more pretentious school building,' one that would be an 'ornament and an honor to the place.' After much discussion, the town build the high school in 1886. Windsor boasted it had a high school 'not inferior' to any public high schools in the state.
Today it is a junior and senior high school with 300 students in grades 7-12.
Windsor draws students from the Vermont towns of Windsor, West Windsor, Weathersfield and Hartland as well as Cornish, N.H.
Photos: Hampden Academy, By Justinrussell – Own work, CC BY 3.0, https://en.wikipedia.org/w/index.php?curid=36624973. Pinkerton Academy, By Unknown – Genealogical and Family History of the State of New Hampshire. ASIN: B000K7FWIS, PD-US, https://en.wikipedia.org/w/index.php?curid=8729927; Pinkerton class of 1919, PD-US, https://en.wikipedia.org/w/index.php?curid=8789719. Classical High School, By Antony-22 – Own work, CC BY-SA 3.0, https://commons.wikimedia.org/w/index.php?curid=43545809.
This story about the oldest public high schools was updated in 2022.