Currier & Ives produced thousands of hand-colored lithographs that together create a panorama of the mid-19th century.
The firm got its start in Roxbury, Mass., before hitting on its formula for success in New York City. It produced two kinds of prints: rush prints of news events and stock prints of American life, including landscapes, religion, entertainment, sports, games, home life and city views.
Currier & Ives' most popular and enduring images are of the New England countryside, especially in winter. The iconic prints define rural New England at its most picturesque.
Currier & Ives prints can be quite valuable, and are among the collections at the Metropolitan Museum of Art, the Museum of Fine Arts, Boston, the National Gallery of Art, the Currier Gallery of Art in Manchester, N.H., the White House, the Mattatuck Museum in Waterbury, Conn., and the Smithsonian American Art Museum.
Here are 6 New England places depicted in stock prints by Currier & Ives
East Rock, New Haven, Conn.
George Durrie created the archetypal Currier & Ives images of charming, quaint rural scenes: horse-drawn sleighs, haying, gathering wood, sugaring off and coming home for Thanksgiving.
Durrie was born in Hartford in 1820 and settled in New Haven in 1842. He painted nostalgic genre scenes of the New England countryside near his home. He also made painting trips to New Jersey, New York and Virginia. His winter scenes are probably the most popular of all the Currier & Ives prints and still appear on Christmas cards, calendars, plates and posters.
Unfortunately, it's hard to tell exactly where Durrie's barns, gristmills and ice-covered ponds actually are (or were). Durrie painted several scenes at the Jones Inn (pictured above), identified as near Farmington, Conn. There is a historic house in Farmington once owned by Belinda and Clare Jones. Could it be the same?
One New Haven scene painted by Durrier is easy to identify: East Rock.
Here's what it looks like now: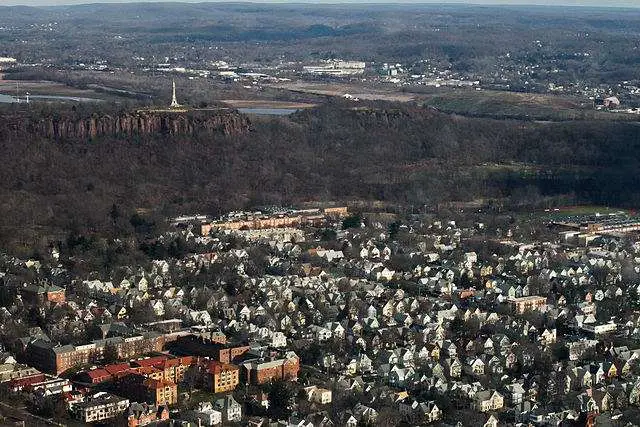 Mount Desert Light
Mount Desert Light is the farthest land from which a New England coast lighthouse shines its beacon. It is more than 20 miles from the nearest port at Mount Desert Island and sits on a rock that's 17 feet above sea level at its highest point.  Perhaps that's why Currier & Ives misnamed the print as Desert Rock Light. The auction company Skinner sold a print of it in 2008 for $711.
The current granite tower replaced a short wooden tower in 1847. The lighthouse was automated in 1977 and transferred to the College of the Atlantic in 1998. Today it is used as an ecology research station specializing in humpback and finback whales.
Boston, Mass.
Currier & Ives printed  detailed views of 40 cities by Charles Parsons and his son, Charles R. Parsons. The view of Boston appeared in the Boston & Beyond exhibit at the Leventhal Map Center at the Boston Public Library in 2008.
This map of Boston is dated 1873, the year after the Great Boston Fire destroyed 800 buildings. (The city quickly rebuilt.) The Currier & Ives print was apparently sketched before the fire.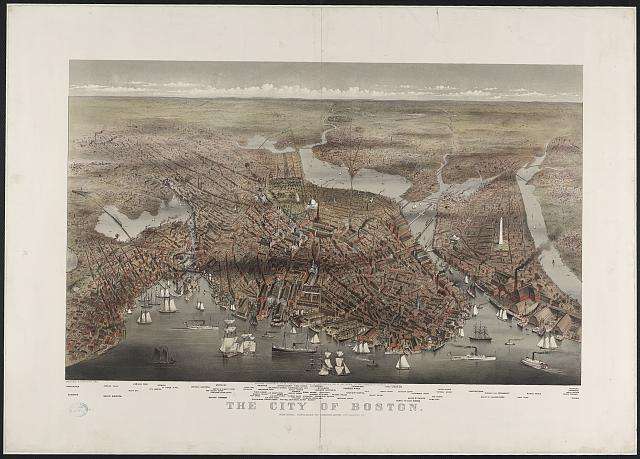 Here's a more recent view of the city:
Franklin Pierce Homestead, Hillsboro, N.H.
Nathaniel Currier printed this lithograph of the birthplace of Franklin Pierce in 1852, before Pierce took office as president of the United States, before he became one of the most hated men in America and even before Currier went into business with Ives.  Pierce was actually born in a log cabin next door while his father, former Gov. Benjamin Pierce, built the homestead.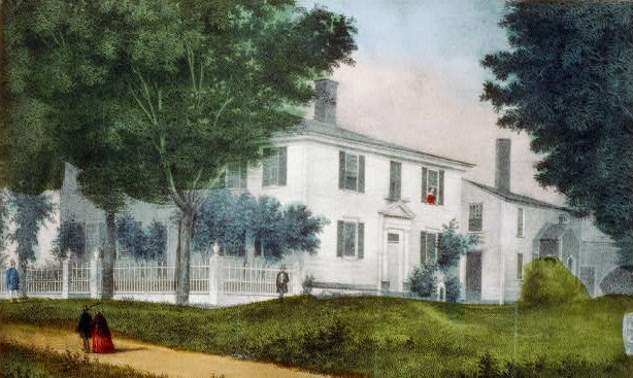 Today the Pierce homestead is a National Historic Landmark, open to visitors during the summer season. It doesn't look a whole lot different than it did in the days of Nathaniel Currier.
Yacht Squadron, Newport, R.I.
Currier & Ives nautical prints were popular then and they are popular now. In 1932, a dozen Currier & Ives experts selected what they considered the 50 best large Currier & Ives prints. The New York Sun printed one a day for 50 days. The series was so popular that another 50 'best of' small prints were chosen and run in the newspaper. The two lists stimulated market demand for Currier & Ives prints.
Nautical themes are among the most popular prints, and they can command high prices even today.
The Philadelphia Print Shop, for example, lists the print of the Clipper Ship Dreadnought off Sandy Hook on Feb. 23, 1854 at $4,200.
Yacht Squadron shows yachts, a steamboat and several rowboats in a harbor at Newport, R.I.
Here's how Newport looks today: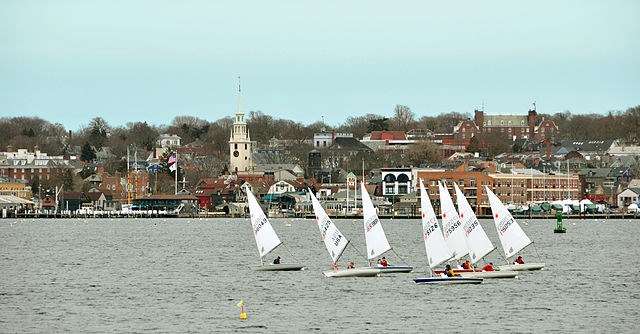 Lake Memphremagog, Newport, Vt.
Lake Memphremagog is a glacial lake between Newport, Vt., and Magog, Quebec. It's 31 miles long and mostly in Quebec.
The name Memphremagog is derived from the Algonkian language and means 'where there is a big expanse of water.'
The Currier & Ives print from 1860 shows a shepherd with three sheep, sitting on a knoll looking across lake with islands and Owls Head in the background.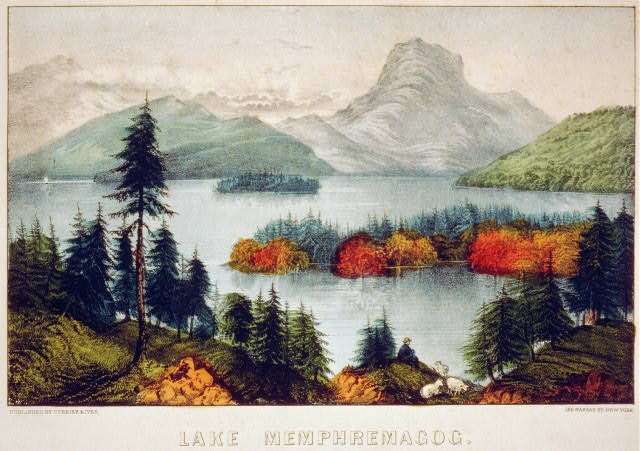 The modern photograph is taken from Owls Head.
Photos: East Rock neighborhood, By Emilie Foyer – Own work, CC BY-SA 3.0, https://commons.wikimedia.org/w/index.php?curid=31125004; Boston from Long Wharf, By Chris Wood (User:chris_j_wood). – Own work, CC BY-SA 3.0, https://commons.wikimedia.org/w/index.php?curid=984357; Newport sailboats, By chensiyuan – chensiyuan, GFDL, https://commons.wikimedia.org/w/index.php?curid=9070731; Currier & Ives prints courtesy Library of Congress.