New farmerette Alice Holway, excited but terrified, waved goodbye to her strict Methodist family at the Worcester train station in the summer of 1917. She was on her way to Rudyard Kipling's former estate in Brattleboro, Vt. There she would join 10 University of Vermont college girls in the Naulahka unit of the Women's Land Army. She had never been away from home before.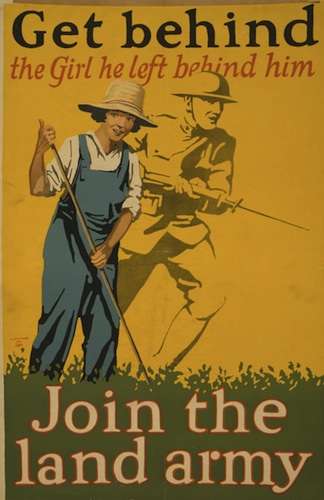 Alice Holway would then don the military-style khaki uniform, with jodhpurs, broad-brimmed hat and long belted coat. Even her shoelaces were regulation. She would work hard. But knowing the work was necessary for the war effort helped her over the hard places.
World War I drained the Yankee farms of labor because so many young men went to war. Those who didn't were lured by the high pay in munitions factories. So the Woman's Land Army then provided the labor to help feed the United States and its military.
The Woman's Land Army
It started out as a way for women to contribute to the war effort, but became a self-funded social movement. The farmerette leaders came from suffrage societies, but the young women came from all classes. Many of the farmerette units were associated with colleges. Sponsoring organizations included the Woman's National Farm and Garden Association, the state councils of defense, the Garden Club of America and the YMCA.
Frank Gilbreth, the time-and-motion guru of Cheaper by the Dozen fame, trained some of the recruits in the most efficient way to feed swine, drive tractors, eat their meals and grow potatoes.  They had to learn how to drive. Many of the units demanded a fair wage and an eight-hour day.
New England's Farmerettes
By  1918 there were 13 Woman's Land Army units in Massachusetts: in Pittsfield, Barre, Ipswich, Alford, South Natick, Hamilton, Hubbardston and Marshfield. Elaine Weiss, who wrote the definitive book about the farmerettes, estimates there were 500 in Massachusetts, including college units and unorganized groups of women who drove from home to their daily chores. Rich girls participated from their summer cottages in Osterville and Beverly, where they raised and canned food for the local hospital.
Connecticut had 300 farmerettes. New Hampshire had about 70, Vermont 50. Rhode Island had a few; only Maine had no farmerettes at all.
 Cute Uniforms
Alice Holway, at 17, was cheerful and husky. She lied about her age to become a farmerette and, like all the recruits, she had to provide two character references and a physician's certificate of good health.
Alice worked as a farmerette in Vermont for three "short and exciting months" on the old Kipling estate, a working farm. She and the others raked leaves, cared for the hens and spaded apple trees. They also helped with the haying. One girl drove the team, another raked and the rest mowed with a scythe. On Saturdays, two went to the estate under strict orders to wear their uniforms and mowed the lawn. Sometimes they were called to the Manor House for tea to show off their cute uniforms.
Naughty Songs
Alice Holway hated that attitude, hated the term farmerette. It "implied frilled overalls and picturesque garden hats." Nor did she like being viewed as a curiosity she characterized as, "tell Oscar to drive slowly, because they do want to watch the farmerettes work, they are so interesting."
Alice grew up in a family that did not allow card playing or dancing. The bold college girls shocked her.  They sang naughty songs and wrote love letters to their soldier boyfriends. That didn't sit well with their supervisor, who acted as field boss and house mother in their cottage on the estate. Alice recalled "the strangest old maid you ever did know."
She was in charge of us, and she ordered us around. She was our chaperone and thought we ought to be under her wings. The girls in the regiment with me were very independent Vermont girls, they were college girls, and they weren't used to reporting on their comings and goings and keeping tabs on their bedtimes. Susan Swanton was very irritated about these independent women.
Hot Dogs and Marshmallows
After three months, Alice Holway went home to Massachusetts to work for a market gardener along with his four daughters. There she weeded, topped and pulled vegetables, picking berries and beans.
The next year, she went back for a visit to the Naulahka unit, where the women tried a new scheme without Miss Swanton. They lived in shacks and tents and cooked their own meals. In four days she went to two corn roasts and a canoeing party, which ended with a campfire, marshmallows and stories. She wrote,
An enjoyment of outdoor life and each other is enough to fill a summer with the very happiest kind of times. A dollar will buy enough hot dogs and marshmallows.
Post-Farmerette Life
Alice Holway became a teacher's assistant at a school of landscape architecture for women.  Then she bought a farm in Putney, Vt., where for many years she welcomed anyone who wanted to come and stay. They had a choice of a tepee or a van or in the chicken house. She also taught young people about horticulture and became a local legend, living into her 80s. She praised the Woman's Land Army soon after she left it:
It meant better health and more strength, than they had ever known before.
The Woman's Land Army would then be revived during World War II.
With thanks to Fruits of Victory: The Woman's Land Army of America in the Great War, by Elaine Weiss and  'Eleventh Biennial Report of the Commissioner of Agriculture' and the State Forester of the State of Vermont, 1920-22. This story last updated in 2022.