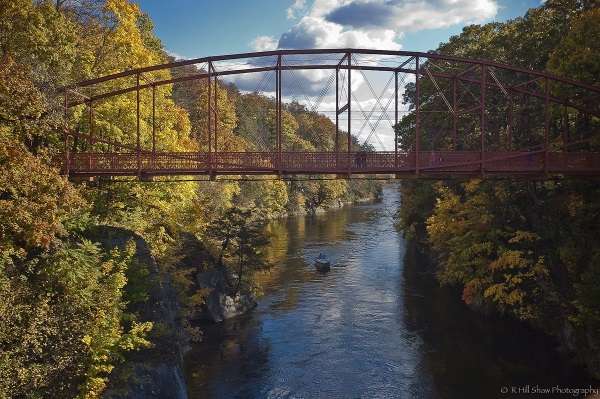 Lovers leaps are nearly always found in isolated spots where a fall could kill you. They tend to inspire tales of romantic tragedy, often involving a star-crossed Indian maiden (beautiful, of course) and her lover. Sometimes, though, the stories may surprise you.
The United States has 25 designated lovers leaps, including ones in Connecticut, Massachusetts and Maine. We had little difficulty, however, finding lovers leaps in New Hampshire, Vermont and Rhode Island.
Do you know of another lovers leap, other than the six listed below? If so, please mention it in the comments section.
Lovers Leap Bridge, New Milford, Conn.
Lovers Leap Park includes about 140 acres along the Housatonic River and a high cliff that inspired several legends. According to one, an Indian princess named Lillinonah fell in love with an Englishman. When her lover left her and didn't return, the despairing princess paddled her canoe over the Great Falls. But then, just as she entered the rapids, he reappeared. When he tried to save her they both drowned.
A second version has the two lovers forbidden to see each other, so broken-hearted and distraught they jumped off the high cliffs together.
The Housatonic widens at one point into a lake today called Lake Lillinonah. In 1895, the Berlin Iron Bridge Company built Lovers Leap Bridge, well after the mythical lovers died.
Lovers Leap Park straddles the Housatonic Gorge near Connecticut Route 67 and Connecticut Route 202.
Lovers Leap Park, Bangor, Maine
Bangor, Maine, has a lovers leap along the scenic Kenduskeag Stream Trail, which cuts through the center of the city.
Someone thoughtfully put an informational sign along the cliff known as Lovers Leap. Not surprisingly, it tells the story of a beautiful Native American maiden who fell in love with a handsome young settler. "After she was denied permission to marry him by her chieftain father, the couple leapt off the cliff hand-in-hand rather than live their lives apart," the sign says.
Old postcards featuring the lovers leap name the young woman Tahalta or Tahiti, and the young man Shawano.
People have actually fallen off the cliff. And other parts of the Kenduskeag have inspired romance. In 1882, The History of Penobscot, Maine, described a poem carved into a tree along the river:
Of lovely Sophia's eyes beware, / Mirth and mischief mingle there; / I with her have careless laugh'd, / Nor fear'd shy beauty's dangerous shaft; / But pensive now I linger here, / To trace a name forever dear.
Remnants of old mills dot the banks of the Kenduskeag Stream, and one can see the more prosaically named Shopping Cart Rapids from Lovers Leap.
The image shows a more benign section of the Kenduskeag Stream, behind Bangor's post office. Another local legend claims that section of the waterway inspired Stephen King's IT.
Purgatory Chasm State Reservation, Sutton, Mass.
There's little love in the story of the lovers leap in Sutton, Mass. The leap is a narrow 70-foot-deep chasm, with about two miles of hiking trails around it.
The legend has an Algonquin Indian woman killing a white settler and walking away from her crime. She ran into another settler and tried to run away. When he grabbed her, she called out to her god Hobomoko for help. The settler then revealed himself as Hobomoko, took her by the waist and flew to the site of Purgatory Chasm. There he stomped his feet and swung his tomahawk, forming the 70-foot-deep chasm. Then he threw his victim into it.
Geologists, on the other hand, say a glacier let loose meltwater, which ripped apart blocks of bedrock 14,000 years ago.
Massachusetts made Purgatory Chasm a state park in 1919. Since then, Purgatory Chasm has inspired a poem, a song and a novel.
Lovers Leap, West Derry, NH
Beaver Brook in West Derry, N.H., has a stone arch bridge over it, built by the Manchester and Lawrence Railroad in 1848. For years people called it Lovers Leap Bridge, assuming it had to do with the usual Indian maiden flinging herself off it after the usual doomed love affair.
But that's not it, according to a 1915 account reported in the Derry News. The story goes that an Indian chief in Derry (then Nutfield) called Flying Cloud had a beautiful daughter named Bright Eyes. She had many suitors, but the only one she loved was White Feather. White Feather, though, came from a different tribe, and her father hated him. One day he discovered them together by the stream now called Beaver Brook.
Flying Cloud ran after White Feather with a tomahawk, but the young man picked up Bright Eyes and carried her down the hill toward Beaver Brook. He reached his canoe, and they paddled toward Nassana (now Nashua), where his tribe had camped.
Eventually, Flying Cloud sent an ambassador to make peace with the young couple, and they all lived happily ever after.
The story is at best improbable, especially since it identifies White Feather as a Sioux, not exactly a tribe that hung out in New Hampshire. But you can hike to Lovers Leap Bridge along the 3.6 mile Derry rail trail.
Purgatory Chasm, Middletown, RI
In New England you can often find the same thing in two states. Such is the case of the other narrow, deep Purgatory Chasm in Middletown, R.I. The story of the lovers leap, however, is different.
Legend has it that a beautiful young heiress had received the ardent affection of a young man who was her social equal. She shared his feelings but hid them from him.
One day they stood on the edge of Purgatory Chasm and he begged her for some show of love. She told him he could prove his devotion to her by jumping across the chasm. The young man leaped across the divide, tipped his hat, praised her looks, condemned her character and then dumped her. She never saw him again, and went into mourning for the rest of her life.
Like the Purgatory Chasm in Massachusetts, a glacier formed the one in Rhode Island. It overlooks the Sachuest Beach, which interests geologists because of its peculiar elongated pebbles. The hike from the parking lot on Tuckerman Avenue to the chasm is short, only three-tenths of a mile.
Lovers Leap, Cavendish, Vt.
The Black River carves out a ravine in the lower part of Cavendish, Vt., creating falls, rapids, caves and romantic scenery. Lovers Leap rises at a turn in the ravine. Locals tell a legend about it, but it has nothing to do with love — well, at least, the love between people.
The story goes that two young farmers went to the Lovers Leap to gather some rocks for a foundation wall. They began to quarry when one of the farmers lost his balance and stumbled down the cliff. His companion looked over the edge, expecting to see a mangled corpse. However, the victim was crawling up the side of the precipice. "Are you hurt much?" the first farmer shouted.
The victim slowly and painfully stood, then began to search his pockets. A look of grave concern crossed his face. "Waal, I ain't hurt much, but I'll be durned if I haven't lost my jack-knife."
Lovers leap state park conn. By Jllm06 – Own work, CC BY-SA 4.0, https://commons.wikimedia.org/w/index.php?curid=56688546; Lovers Leap Bridge By RHSHAW57 – Own work, CC BY-SA 3.0, https://commons.wikimedia.org/w/index.php?curid=22394866; Kenduskeag Stream Attribution, https://commons.wikimedia.org/w/index.php?curid=970222; Purgatory Chasm By Dale E. Martin (Martinde) – Own work, CC BY-SA 3.0, https://commons.wikimedia.org/w/index.php?curid=5027847; West Derry postcard, Derry Public Library by Creative Commons 2.0; Purgatory Chasm, Newport, by Paul Irish, Creative Commons 2.0; Stereoscopic view of the Black River courtesy New York Public Library.