In 1918, America was at war. The country needed to devote all of its industrial might to victory in Europe. A war council considered banning all toy production and prohibiting gift-giving at Christmas. It took A.C. Gilbert, inventor of the Erector Set, to save Christmas.
Gilbert led a remarkable life. He was a medical doctor, an Olympic gold medal winner, a magician, a toy millionaire, a big-game hunter and, most of all, a kid at heart.
He wore old gabardine suits and rubber soled shoes, and he always carried a pipe that he sometimes stuck into his pocket while lit. In late October 1918, he brought a satchel full of educational toys to Washington, D.C., and let a room full of Cabinet secretaries play with them.
He persuaded them that children needed toys because the nation needed scientists and engineers. The war council decided to give Santa free rein after all.
"The toys did it," Gilbert said.
A.C. Gilbert
Alfred Carlton Gilbert was born in Salem, Ore., on Feb. 13, 1884. His strict Congregationalist father, a banker, "viewed his son with puzzled pride," according to his obituary.
Though frail, he had a competitive streak, winning a tricycle race at the age of seven. As a boy, he turned the family barn into a fire department, cutting a hole in the haymow floor and installing a wooden pole and cots. A neighbor would set a small brushfire while he and his friends would pretend to sleep on the cots. The neighbor then rang an alarm, and the boys would rush to the fire in a wagon rigged with a 110-foot garden hose.
Gilbert loved magic, and practiced his tricks relentlessly. He got so proficient he once matched a professional magician trick for trick. "My boy, you will be a great success," the magician said.
Olympic Gold
Gilbert also loved athletics, but only grew to 5 feet 7 inches and weighed 135 pounds. Still, he excelled at track, gymnastics, wrestling and boxing. Gilbert attended Pacific University, where he met and later married Mary Thompson. While dating, he'd put one arm around her and practice magic tricks with his free hand, she recalled.
He went east in 1904 to study medicine at Yale, but he didn't intend to open a physician's practice. Instead, Gilbert wanted to stay in sports as a health advisor.
He competed at the Olympic games in London in 1908, winning a gold medal for pole vaulting. During the trials he set a world record; he was the first man to top 13 feet.
After earning his medical degree in 1909, he borrowed $5,000 from his father and started the Mysto Manufacturing Co. in New Haven. The company made magic kits for kids – cards, interlocking rings, instructions. Soon he opened a store in New York.
Erector Set
One day in 1912 he rode into New York on the train. The railroad was converting from steam to electricity, and Gilbert watched the construction out the train window. The network of girders erected to carry the electricity lines fascinated him. He thought, "What fun to make things with miniature girders."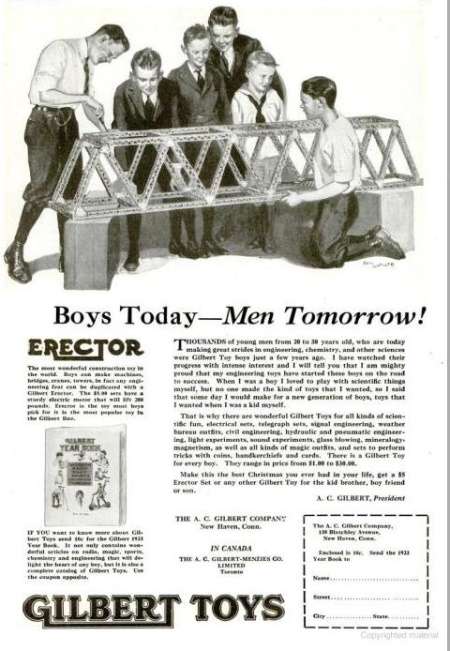 At home that night he and his wife sat at the dining room table and cut miniature girders out of cardboard. He then asked a local toolmaker to make him a set from steel.
The Erector Set flew off the shelves. Gilbert renamed his company after himself, and it thrived. It turned out chemistry sets, electric trains, tool chests, minerology sets and, into the 1960s, magic sets.
For more than 50 years, the A.C. Gilbert Co. ranked as the top producer of learning toys n the world.
"I've remained a boy at heart and only introduced items that appealed to me. I figured they would appeal to all boys," he said.
He insisted on punching the time clock just as his employees did, and he stood in line with them in the morning. The company offered benefits like paid maternity leave and health insurance contributions. From the early 1930s to the late 1950s, A.C. Gilbert employed as many as 5,000 people, the largest employer in New Haven.
World War I
As the United States prepared to enter World War I, President Wilson appointed government officials to the Council of National Defense. He tasked them with coordinating resources and industry for the war effort. The war council turned the country's industrial might to making war materiel, banning the manufacture of nonessential goods.
The council asked A.C. Gilbert to make munitions instead of toys, and he did. It asked him to promote War Bonds, and he did. Then the war considered banning gift-giving at Christmas.
A.C. Gilbert could not let that happen.
As president of the Toy Manufacturers of America, Gilbert wangled a meeting with the war council. They gave him 15 minutes to persuade them not to kiss off Santa at Christmas.
Gilbert packed a bag with toy submarines and trains, picture books and air rifles, and took the train to Washington.
As he sat outside the office of Navy Secretary Josephus Daniels, bureaucrats walked past and glanced at his toys. He tried to hide them behind his satchel.
A.C. Gilbert Saves Christmas
Finally his name was called. A naval guard inspected his toys before he could bring them in.
Gilbert spread the toys out on the table. Daniels focused on a toy submarine, asking where one could buy it.
Secretary of Commerce William Redfield pushed a toy train around the table. "I learned the rudiments of engineering on an engine like this," he said.
Interior Secretary Frank Knight Lane picked up a book on aviation.
According to the Boston Post, Gilbert told the war council.
The greatest influence in the life of a boy are his toys.

A boy wants fun, not education. Yet through the kind of toys American toy manufacturers are turning out, he gets both. The American boy is a genuine boy, and he wants genuine toys. He wants guns that really shoot, and that is why we have given him air rifles from the time he was big enough to hold them.

It is because of toys they had in childhood that the American soldiers are the best marksmen on the battlefields of France.
Finally, he said, toys that educate help boys visualize their future.
The Post ran a photo of Gilbert with his Erector Set above the caption, "The man who saved Christmas."
Not for the Money
After the war, A.C. Gilbert Co. grew into the largest toy company in the world. "He did it for the satisfaction of competition and to accomplish his goal more than he did it for money," recalled Herb Pearce, Gilbert's former plant manager.
Gilbert called his workers "co-workers," not "employees." He visited the night shift once a week to see how things were going, and almost always found something to change or improve.
The company had a credit union, offered free legal advice and threw a Christmas party for children. Co-workers could take their grievances directly to the man they knew as A.C.
But the company really stood out, said Pearce, because of its broad range of manufacturing equipment and skills. It had big presses, screw machines, die casting and toolmaking equipment. It made its own dies and plastic molds, did its own printing, made its own boxes, formed its own wires. In addition to toys, the Gilbert company made small appliances as well as educational toys.
Then in 1938, Gilbert bought American Flyer, a struggling toy train manufacturer. During World War II, the company retooled its electric train factory to make parachute flare casings.
"I love to see the wheels go 'round, love to see people develop, it's not for profits alone," he told the New Yorker in an interview. "Sure, that's part of it because no one has any fun going busted, but I know this: just the object of making money has never meant anything to me."
Living in Paradise
Glibert made plenty of money, however. He bought a country estate in Hamden with two lakes, a golf course and a lodge filled with his stuffed big-game trophies. He shot every kind of American game that had any importance, according to his obituary in the New York Times.
His Paradise Farm had a dairy herd and a pasteurization system that provided milk for the company cafeteria. He bred hunting dogs and champion German shepherds. Gilbert also developed Old Orchard Road in North Haven, one of the town's finest residential neighborhoods.
At 70, when he wrote his autobiography, he titled it, The Man Who Lives in Paradise.
The U-238 Atomic Energy Lab
In 1950, the A.C. Gilbert Co. introduced the U-238 Atomic Energy Lab, one of the companies few flops. It carried a price tage of $49.50, about $530 today.
The kit included Electroscope, Spinthariscope, a cloud chamber, four glass jars containing uranium-bearing ore samples and batteries. It also featured a comic book, "How Dagwood Split the Atom." The instructions suggested playing hide-and-seek with hidden radioactive samples and a Geiger counter.
The atomic energy lab didn't sell because of its price tag rather than its danger.
In 2006, Radar Magazine listed it as the second most dangerous toy of all time. First on the list: lawn darts.
The A.C. Gilbert Legacy
A.C. Gilbert died in Boston on Jan. 24, 1961. His son, also A.C., had been running the company, but it didn't survive long after the founder's death.
Gilbert had a showroom in New York called The Gilbert Hall of Science, a forerunner of today's science museum. Today, the Eli Whitney Museum & Workshop in Hamden has an exhibit on A.C. Gilbert. It also collects and studies the products and legacy of A.C. Gilbert and his company.
The Erector Set has a legacy of its own. Bill Sewell, a Yale Medical School student, in 1948 built a heart bypass device in 1948 with Erector Set parts and an Erector Set motor. origins of the artificial heart.
Then in the early 1990s, Mark Summers had an assignment to build a virtual reality ride for Disney's California Adventure in Anaheim. He used Erector set parts to design a way for cars to fly over the virtual-reality screen.
Dr. Jack Kevorkian created his suicide machine from an Erector set, old toys and some jewelry.
 *  *  *
The Christmas holiday actually began in ancient Rome — and so did Italian cookies. The New England Historical Society's book, 24 Historic Italian Christmas Cookie Recipes, tells you how to make those delicious treats. It also tells you the history of the Italian immigrants who brought them to New England. Available now in paperback and as an ebook from Amazon; just click here.
With thanks to the Library of Congress Inside Adams blog, A.C. Gilbert's Successful Quest to Save Christmas and to Mental Floss, A.C. Gilbert, The Toymaker Who (Actually) Saved Christmas.
Images: Atomic Energy Lab By Tiia Monto, CC BY-SA 3.0, https://commons.wikimedia.org/w/index.php?curid=62037438. Early Erector set: By Cullen328 – Own work, CC BY-SA 3.0, https://commons.wikimedia.org/w/index.php?curid=75997438. Santa: CCO public domain. American Flyer locomotive: By James G. Howes, Attribution, https://commons.wikimedia.org/w/index.php?curid=6096168. Gilbert Chemistry Set By Joe Mabel, CC BY-SA 3.0, https://commons.wikimedia.org/w/index.php?curid=3344050. Cloud chamber By Science History Institute, CC BY-SA 3.0, https://commons.wikimedia.org/w/index.php?curid=29337436. This story updated in 2023.