On June 1, 1908, John Albert Krohn dressed up in colonial garb and set out to win $1,000 by walking the U.S. border within 400 days – pushing a wheelbarrow. He called himself Colonial Jack.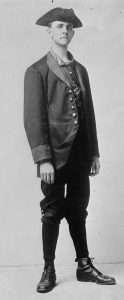 Krohn told the same story to the newspapers he talked to along the way (with some variations). Ten of his neighbors in Newburyport, Mass., put up the money for the bet. If he lost, he would give them 2,000 copies of the book he planned to write about his adventure.
He had to meet several conditions: He had to push the wheelbarrow to show he couldn't get a ride. And he had to get cancellation stamps from 635 post offices along the way.
By the end of his journey, Krohn walked 9,024 miles and visited 1,209 cities. He went through 11 pairs of shoes, 112 pairs of socks and five wheels and three tires on the wheelbarrow. The trip cost an average of $3.25 per day.
Colonial Jack
Krohn, a 35-year-old former newspaperman, relied on his flair for publicity to defray his expenses. As "Colonial Jack," he dressed in broad-brimmed hat and homespun clothes. His wife traveled ahead of him by rail and put up posters announcing his imminent arrival. She also restocked his supply of commemorative tokens.
Colonial Jack had made the aluminum tokens stamped with his image on it, which he sold along the way. He also collected money from the sale of souvenir postcards and the public talks he gave.
On a hot summer day, a large crowd gathered at City Hall in Portland, Maine, to send him off. He carried a letter from Mayor Adam P. Leighton, which he would present to the mayor of Portland, Ore. He also had a letter from the editor of the Portland Evening Express addressed to the editor of the Oregonian.
He started long the northern tier of New England states, from Maine to New Hampshire to Vermont and into New York. Local newspapers covered his exploits, and he was often offered free food and lodging.
He walked along the southern shores of the Great Lakes, fainting once but recovering. In Bay City, Mich., the police chief arrested him for being a "highwayman" and sentenced him to the best meal at the best hotel in town, free of charge.
All Alone
In Idaho his wife turned back home because of illness. Jack trudged on, making his best progress along railroad tracks. In Portland, Ore., he delivered his letter from the mayor of Portland and headed south to San Francisco. The San Francisco Call reported he "covered nearly 40 miles yesterday in spite of a sprained ankle." The Los Angeles Herald called him a "pedestrian who is trundling a wheel barrow around the United States" and reported he was 30 days ahead of schedule.
To cross the desert, he bought large water canteens and camping equipment, which he hadn't needed until then. He pinned a note to his jacket, saying "If you should find my lifeless body, communicate immediately with Mrs. J.A. Krohn, Newburyport, Mass." He made it through the desert, once covering 46 miles in 24 hours in Texas.
On he went through Louisiana, Mississippi, Alabama and Florida and then up the East Coast. In New York City, his reception was not so friendly. The New Yorkers insulted his colonial garb. Things went better for him in Connecticut, Massachusetts, along New Hampshire's seacoast and in Portland, Maine, on July 21, 1909, 357 days after he left.
One round-about cross country trip would be plenty for most men. The trip was actually Krohn's second. He walked across the country in a sailor's outfit and pushing a "trolleyette" under the moniker "Sailor Jean" in 1903, using a similar strategy of selling tokens and entertaining the people he met, often charming them into offering him dinner.
But he never wrote up his story as Sailor Jean. Instead, he reinvented himself as Colonial Jack several years later and set out once again. This time the ending was different. Upon returning to Newburyport he wrote the book he had planned, The Walk of Colonial Jack: The Story of a Long-Distance Walker. He sold it himself by – of course – walking from town to town.  And published it through several newspapers in New England.
Ask Colonial Jack
His wife died in 1917, and Krohn settled in Salisbury, Mass., where he ran a fruit and vegetable stand and continued selling his tokens and telling stories of his travels. He died on Aug. 12, 1956 and is buried in Salisbury.
One final note, though, about Colonial Jack's book: The Interchangeable Rubber Heel Co. of Taunton, Mass., advertised on the back of it.
The ad read, "You will not know rubber heel comfort until you have worn our detachable heel… Ask Colonial Jack ." He would certainly know.
This story updated in 2022.