The New England roots of W.E.B. Du Bois shaped his thought and his activism, and led to his rise as a leading American intellectual.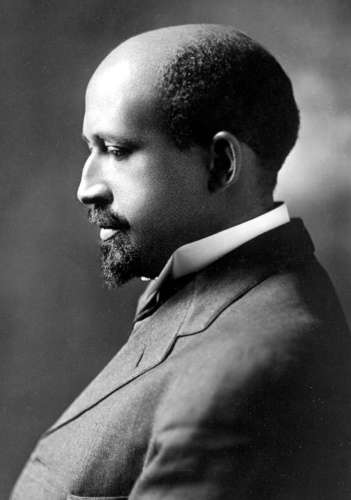 For more than 50 years, William Edward Burghardt (W.E.B.) Du Bois dedicated his life to ending racism. He worked as a writer, activist and teacher, founded the NAACP and edited its magazine, The Crisis. Du Bois wielded influence as a monumental, and sometimes controversial, leader of black thought.
W.E.B. Du Bois
His life began in a small town in Western Massachusetts. Scholars have identified his New England roots as shaping his personality and inspiring his drive to overcome racism with rigorous intellectual argument.
Here are five facts about New England and Du Bois:
1. Grandfather led a protest in New Haven.
The apple did not fall all that far from the tree when Du Bois made equal rights the cornerstone of his activism. His grandfather, Alexander Du Bois, belonged to New Haven's Trinity Episcopal Church. He and others took offense when the white leaders of the church decided in 1842 to segregate the black members in a single set of pews. They gathered their funds and in 1844 opened St. Luke's Episcopal Church.  St. Luke's still exists today as one of the oldest black Episcopal Churches in America.
2. He found no racism in Great Barrington as a child.
Raised in the Massachusetts town of Great Barrington, Du Bois would write that he had to travel to the South before he experienced the racism of the late 1800s. Roughly one percent of Great Barrington was black when Du Bois grew up there, and he recognized that no doubt some of his neighbors shied away from him because of his race. But it was not a barrier to him in a community where he was more often a leader among his contemporaries than just one of the crowd. Irish and German immigrants, he noted in his autobiography, were more often the target of discrimination.
3. Vacationed in Maine all his life.
Du Bois began coming to Maine for summer vacations beginning in the 1930s. He regularly returned over a 30-year span until he died in Ghana. His vacations took him to the laid-back Cambridge Gun & Rod Club's lakeside retreat in West Gardiner, Maine. There, removed from the stress of the world, the multi-racial membership of the club took part in recreation and discussions about the affairs of the world. For whatever unknown reason, the FBI — which monitored his activities closely — left him alone in Maine.
4. Sparked a protest 1fter his death.
Great Barrington may have held fond memories for him, but some elements in his old home town turned against him after his death. Some may have disliked him because of his race. Others because he had declared himself to be a communist at age 93, a few scant years before he died. Still others may have been susceptible to the FBI's smear campaign against him.
But whatever the reason, the proposal to establish a memorial at his birthplace bitterly divided the town in 1968. Ultimately, in October 1969, the W. E. B. Du Bois Memorial Park was dedicated. State authorities feared unrest and had police and National Guard standing by ready. No problems developed, however, and the dedication succeeded with more than 800 people in attendance.
5. Du Bois Loved Town Meeting.
His roots are clear in his admiration for Town Meetings and direct democracy. He wrote reports about Town Meeting activities as a young man, and they were published in the Berkshire Eagle. Data, persuasion and reason were hallmarks of his activism and scholarship, values learned at the New England Town Meeting.
This story about the New England roots of W.E.B. Du Bois was updated in 2022. 
Images: Great Barrington Town Hall By John Phelan – Own work, CC BY 3.0, https://commons.wikimedia.org/w/index.php?curid=11124596. Memorial Park by Google Maps. Kennebec River By Thomson M, CC BY 3.0, https://commons.wikimedia.org/w/index.php?curid=59195226.