When the much-loved television special How the Grinch Stole Christmas first aired on Dec. 18, 1966, optimists thought it might run for 10 years. More than half a century later, television networks still broadcast the Grinch during the holiday season. And in 2018 a second feature-length film was released nationally.
The show developed with difficulty and at great expense. It was conceived in 1966, when animator Chuck Jones of Bugs Bunny fame called up his old Army buddy Theodor Geisel – aka Dr. Seuss.
Jones suggested they adapt one of his books for TV. Geisel said no. Geisel's wife Helen urged him to at least listen to Jones, so Geisel invited him to come to his house in La Jolla, Calif.
By the end of the visit Geisel gave in. They would work together on How the Grinch Stole Christmas, published in 1957 as a book and in an issue of Redbook magazine.
Dr. Seuss
Geisel grew up in Springfield, Mass., the son of well-to-do German parents. Born in 1904, he experienced anti-German prejudice during World War I. Though he had moved to New York City at 23, he never really left Springfield.
Dr. Seuss's art originated from his boyhood in the western Massachusetts city. In Grinch, for example, the town of Whoville looks like Easthampton, Mass., just north of Springfield, and the Grinch's mountain resembles Mount Tom nearby.
No one thought How the Grinch Stole Christmas would become one of the most successful Christmas shows in history. MGM had lukewarm interest in producing it and had a hard time finding sponsors. After 20 rejections, the Foundation for Commercial Banks finally agreed to do it.
The next challenge: Fill a half-hour show with a narrative that took 12 minutes to read as a book. Geisel had to add dialogue and songs to lengthen situations and enhance characters.  He added a comical scene where the Grinch climbs up the mountain to Whoville to stretch out the plot.
The Grinch
Jones and Geisel fought throughout the arduous creative process. Jones, for example, wanted the Grinch to have green eyes, Geisel wanted them to be pink.  But Jones prevailed.
Jones also wanted to make the Grinch seem even meaner than he was in the book. He decided to lengthen and deepen his frown.
Boris Karloff, an inspired choice for the voice of the Grinch, went a long way toward making the Grinch nasty. Geisel especially liked the song: 'You're a mean one, Mr. Grinch' and the lyrics, "You're cuddly as a cactus, you're as charming as an eel."
Jones used the full animation technique, which meant 25,000 drawings rather than the 2,000 more typical of the era. Two-hundred-fifty backgrounds were used. The musical numbers were produced by a 34-piece orchestra and a 12-voice chorus. Variety reported it may have been the most expensive show ever made for television.
Obvious
When he first wrote The Grinch Who Stole Christmas in 1957, Geisel found it easy to name his character. "I just drew him and looked at him, and it was obvious to me who he was," Geisel later said.
But he had a hard time coming up with the right ending for the book. He faced the same problem nine years later for the television show. Finally he wrote the Whoville song, which ends: "Christmas day will always be Just so long as we have we."
For millions of viewers, he struck the perfect note.
You can get a Dr. Seuss fix in Springfield at the Dr. Seuss National Memorial Sculpture Garden. Or you can watch two movie versions, The Grinch (2000) and Dr. Seuss' The Grinch (2018).
 *  *  *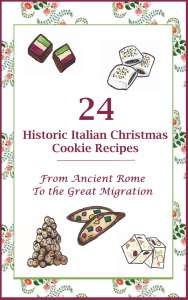 The Christmas holiday actually began in ancient Rome — and so did Italian cookies. The New England Historical Society's new book, 24 Historic Italian Christmas Cookie Recipes, tells you how to make those delicious treats. It also bring you the history of the Italian immigrants who brought them to New England. Available now on Amazon; just click here.
With thanks to Dr. Seuss and Mr. Geisel – A Biography, by Judith Morgan and Neil Morgan. This story was updated in 2022.