Harriet Jacobs, held in slavery, wrote a book about her sexual oppression that people didn't believe for more than a century.
Then a historian did some detective work and discovered not only that Harriet Jacobs wrote the book in 1861, but that it was all true.
Called Incidents in the Life of a Slave Girl, it belonged to a popular genre called the slave narrative. But it was one of the first written by a woman, and the only one that described the sexual oppression of female slaves.
Harriet Jacobs wrote it in order to 'arouse the women of the North to a realizing sense of the conditions of two millions of women at the South.'
Those conditions included rape, insanity and murder. They included the suffering of mothers when their children were sold or killed. They included the story of a young slave girl who died after delivering a light-skinned baby. A woman who was tortured and sold after naming her master as the father of her child. A woman who committed suicide after being stripped and whipped for a small offense.
And then Harriet Jacobs told her own story.
Harriet Jacobs
Harriet Jacobs was born into slavery in Edenton, N.C., in 1813. Her mistress, Margaret Horniblow, taught her to read and sew. When Harriet was 12, though, Horniblow died and Harriet ended up the property of a doctor named James Norcom.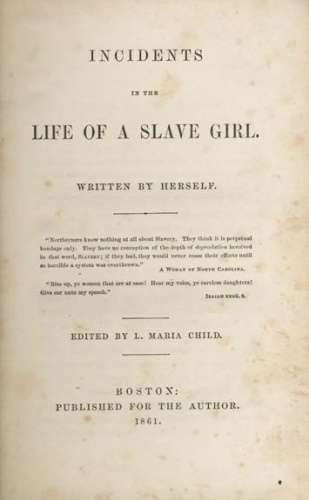 Using the pseudonym of 'Linda Brent,' she told the story of how 'Dr. Flint' began to harass her.  When she turned 15,
My master began to whisper foul words in my ear. Young as I was, I could not remain ignorant of their import. I tried to treat them with indifference or contempt.
She counted 11 slave children fathered by 'Dr. Flint.' She didn't want to have his twelfth. But he persisted.
My master met me at every turn, reminding me that I belonged to him, and swearing by heaven and earth that he would compel me to submit to him. If I went out for a breath of fresh air, after a day of unwearied toil, his footsteps dogged me. If I knelt by my mother's grave, his dark shadow fell on me even there.
Her light heart turned heavy, and the other slaves noticed. They knew the reason, but they also knew the terrible punishment for speaking about what went on.
When she fell in love with a black carpenter, Norcom wouldn't let her marry him.
Motherhood
Then Norcom insisted that his four-year-old child sleep in his bedroom, and that Harriet sleep with them. Though he swore he'd kill her if she told anyone about his advances, she told his wife when she demanded the truth.
"The mistress, who ought to protect the helpless victim, has no other feelings towards her but those of jealousy and rage," she wrote. "The degradation, the wrongs, the vices, that grow out of slavery, are more than I can describe."
Finally, she figured that if she got pregnant Dr. Norcom would leave her alone. She willingly became the mistress of another white slave owner, Samuel Sawyer, who lived nearby and had more power and status than Dr. Norcom. Sawyer, in fact, later won election to the U.S. Congress
Harriet had two children with Sawyer, and he promised he'd buy their freedom. He bought them, but he didn't free them.
Seven Years in Hiding
Dr. Norcom punished her by sending her out of the house to work as a field slave. She decided to run away, because she thought Dr. Norcom would then sell her children to their father.
At first she hid in the home of a slaveowner in Edenton so she could still see her children. Then she took refuge in a swamp. Finally she hid in a crawl space in her grandmother's attic – for seven years. Occasionally she could hear her children's voices outside and glimpse them through a peephole.
Then in 1842, Harriet Jacobs managed to escape to Philadelphia by boat. She made her way to upstate New York, where she found a job as a nursemaid to author Nathaniel Parker Willis. Harriet worked on her own autobiography in the Willis household, and also reunited with her daughter, Louisa.
In Boston, she met abolitionist Lydia Maria Child, who edited Incidents in the Life of a Slave Girl. She got a contract with Thayer & Eldridge, which also published Walt Whitman's Leaves of Grass. In the book, Harriet Jacobs tried to show how slavery deprives black women of the purity and domesticity so important to 19th century white women.
Rest of Story
Published in 1861, the book sold well, though it did better in England than in America. But then the Civil War overshadowed it, and soon people forgot about it.
During the war, Harriet Jacobs helped orphaned black children find homes in Boston. Afterward, she raised money for orphans and campaigned for equal rights. She died in 1897, and was buried in Mount Auburn Cemetery in Cambridge, Mass.
For the next century, people accepted it as a work of fiction. They though Lydia Maria Child or perhaps Harriet Beecher Stowe wrote it.
In 1987, historian Jean Fagan Yellin published a book that showed Harriet Jacobs told the truth in Incidents in the Life of a Slave Girl. She had scoured various archives, finding newspaper articles, letters and documents that corroborated Harriet Jacobs' story.
Then in 2013, a Japanese translation of the book became a best seller in Japan.
Watch an interview with Jean Fagan Yellin here.
This story was updated in 2023.