Victory gardens helped win World War II because they allowed the U.S. government to divert scarce tin supplies for military use.
They also promoted healthier eating habits, as fresh, home-grown vegetables supplied 40 percent of the produce grown in the United States by 1944.
People planted 20 million victory gardens across the United States during World War II. They sprang up on school grounds, in vacant city lots, in apartment window boxes and on rooftops.
Today, only two survive: the Richard D. Parker Memorial Victory Gardens in Boston's Fenway and the Dowling Community Gardens in Minneapolis.
Some Bostonians celebrate the Fenway Victory Gardens in much the same way as baseball fans revere nearby Fenway Park.
Patriotic Victory Gardens
Victory gardens helped solve several problems facing the United States during the war.
Most important, the Japanese cut off Malaysian tin supplies used in cans. Without cans, it was hard to distribute food any distance. And the military needed the little tin available to carry food to the battlefront. So the U.S. government rationed food, but the allotment of canned goods wouldn't feed a family.
At the same time the supply of fresh fruit and vegetables fell short of demand. Plus, food cost a lot. Many Rhode Islanders, for example, couldn't afford the A&P's tomatoes at the exorbitant price of 19 cents a pound, advertised in the Pawtucket Valley Daily Times.
Victory gardens solved several problems: They helped feed a nation, and they gave civilians a sense that they were helping the war effort.
The Women's Land Army directly helped win the war when its members filled in for the 3 million farmworkers who went to war or the defense industry. And they also planted victory gardens.
Sunday Gardeners
Community leaders like University of Rhode Island professor Ernest K. Thomas advised so-called 'Sunday gardeners' on how to plant and maintain victory gardens. They ran ads and held photo opportunities in local newspapers.
Meanwhile, the federal government put forth a massive propaganda effort to persuade civilians to grow victory gardens. The U.S. Department of Agriculture churned out how-to pamphlets, recipes, posters and handbooks for local leaders. Agricultural companies gave tips on how to make seedlings grow in different climates.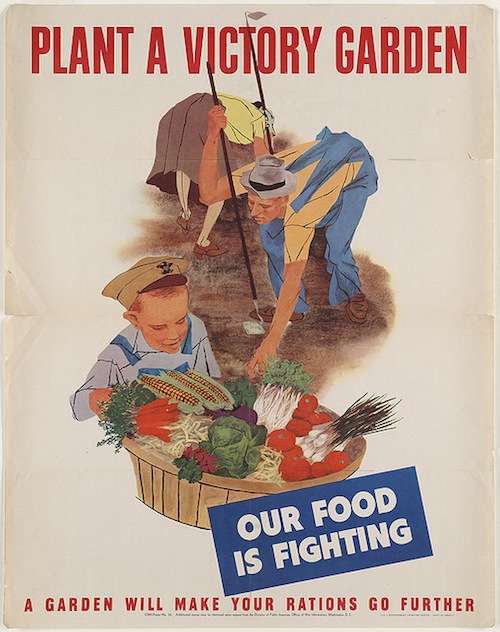 Above, a World War II poster promoted victory gardens. The government advised growing tomatoes, carrots, lettuce, beets and peas. And for the first time, Swiss chard and kohlrabi made their appearance in many U.S. gardens because they were so easy to grow.
Local committees helped identify land for victory gardens and volunteer gardeners. In Boston, parks department employees and public schoolteachers supervised the city's 49 community gardens — including one on Boston Common.
The vacant lots could be hard to till. Many, like the seven-acre Fenway Victory Gardens, sat on landfill. The early gardeners struggled to pull deep-rooted weeds. They came up with carloads of bricks, parts of boilers, large rocks, paving and building rubble.
To encourage better gardening, competitive exhibits open to all victory gardeners were held in Boston's Horticultural Hall from 1943 to 1945.
A Vermont Victory Garden
Jane Atwood Barlow was a high school student living in Larchmont, N.Y., during those war years. She recalled visiting her aunt's victory garden in World War II Remembered:
Toward the middle of August, Mother managed to persuade the Larchmont rationing board that we could save food and contribute to the war effort if she and the children visited her sister's family, the Arkleys, who had a vast "victory garden" in Burlington, Vermont. The board granted a small extra allowance of gasoline for the trip. … Two weeks later we returned from Burlington with jar after jar of green beans, beets, carrots, tomatoes, corn and other vegetables; there may also have been some fruits, such as berries or applesauce. These all helped during the following winter, when the impact of the War on our daily lives became clear even to us youngsters. It was clearest in the acute shortages of food.
By 1944, strict rationing had loosened, but the government kept up the drumbeat for victory gardens. Above, the photo shows U.S. Secretary of Agriculture Claude Wickard and the Boston Parks Commissioner plowing a furrow on Boston Common. They actually used Daniel Webster's plow.
As the war centered on the Pacific theater in 1945, rationing picked up again. It didn't end until June 1947, well after the war ended.
Fenway Gardeners
When World War II wound down, the Fenway victory gardeners felt sad and frustrated that their community garden would eventually make way for something else. At a meeting of the Harvard Club in 1944, an informal group started what became known as the Fenway Garden Society. Community leaders, including Richard D. Parker and public school employees, headed the effort.
For decades, Parker and a sturdy group of fellow gardeners fought off efforts to turn the Fenway Victory Gardens into a school, a hospital or a parking lot.
Richard D. Parker gardened until his death in 1975. The gardens were renamed in his honor. And sometime this summer, the gardeners will uphold their tradition of giving off a cheer at the plucking of the first tomato.
With thanks to Mark Somos for his invaluable help in researching this story. If you enjoyed this story, you may also want to read about victory gardens in World War I and Pingree's Potato Patch Plan. This story was updated in 2023.