In the early 1930s, a Harvard graduate student named Leroy Anderson almost made the biggest mistake of his life. He had taken a job teaching languages at a school in Pennsylvania. Though he was a trained musician, he didn't think a musical career held much promise.
At the last minute, Leroy Anderson changed his mind and became director of the Harvard University Band. He composed some witty pieces for the band, which Boston Pops conductor Arthur Fiedler heard and loved. Fiedler asked him to write something for the Pops.
Anderson then became one of the most successful composers of light orchestral music ever.
You may not recognize the name Leroy Anderson, but you know his music. Sleigh Ride, which he wrote in an August heat wave in 1948, has been performed by a wider variety of musicians than any other piece in the history of Western music.
Sleigh Ride wasn't his only hit.
Leroy Anderson, Hitmaker
His recording of Blue Tango in 1952 was the first orchestral piece reach No. 1 on the Billboard charts. Plink, Plank, Plunk was the theme song for the popular television show I've Got A Secret from 1962 to 1971. AndTypewriter has been the theme song of the BBC 4 Radio Show The News Quiz since 1977.
Leroy Anderson was born June 29, 1908, in Cambridge, Mass., the son of Swedish immigrants. His father, Bror, worked as a clerk in the Central Square Post Office; his mother, Anna Margareta, played organ at the Swedish Evangelical Mission Church. He grew up on 12 Chatham Street in Cambridge. He said he got all his education on one street: Broadway.
Anderson attended Harvard Grammar School, Cambridge High and Latin (now Cambridge Rindge and Latin) and Harvard University. He also studied at the New England Conservatory of Music in Boston.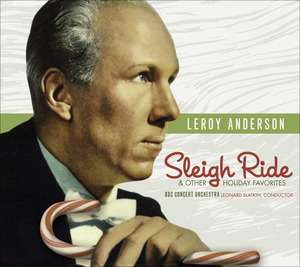 And yet he worked toward a PhD in German and Scandinavian languages while working as a music tutor at Radcliffe College. He enlisted as a private in the U.S. Army in 1942 and was sent to Iceland as a translator and interpreter for the U.S. Counter Intelligence Corps. While there he wrote an Icelandic grammar book for the army. He was promoted to captain and sent to the Pentagon in 1945 as chief of the Scandinavian Desk of Military Intelligence. That didn't stop him from composing. In 1945 he wrote The Syncopated Clock. He was then offered the post of U.S. military attaché to Sweden, but he had finally decided to make composing his full-time profession.
Accolades
It was a good call. Leroy Anderson won many accolades during his life, including a star on the Hollywood Walk of Fame and election to the Songwriters Hall of Fame.
Harvard named its new band headquarters after him and Cambridge named the corner near his boyhood home Leroy Anderson Square.
In 1972, the Boston Pops Orchestra paid tribute to Leroy Anderson in a nationally broadcast concert. He guest conducted one piece. He then told his wife, Eleanor, it was the most important evening of his life.
Leroy Anderson died on May 18, 1975, in Woodbury, Conn., where he and his family lived since 1946.
The Leroy Anderson House in Woodbury, Connecticut is on the National Register of Historic Places. You can hear the Boston Pops play Sleigh Ride here, Syncopated Clock here, Typewriter here and Fiddle Faddle here.
Image of Anderson conducting By MCA Records – Original publication: Cover of "The Best of Leroy Anderson: Sleigh Ride" (Mca, 1997)Immediate source: Cover of "The Best of Leroy Anderson: Sleigh Ride" album, Fair use, https://en.wikipedia.org/w/index.php?curid=36467649.
To learn more about Anderson, click on http://www.leroyanderson.com/. This story updated in 2022.