A plume of smoke near Dolliver's dump signaled the end of Bar Harbor's splendid era and the worst of the terrifying Maine fires of 1947.
Mrs. Gilbert called the Bar Harbor Fire department on Oct. 17, 1947, to alert them to the smoke rising from a nearby cranberry bog. What caused the fire, no one ever knew. But the world would soon find out about the inferno that destroyed half of Acadia National Park and nearly all of the mansions on Millionaire's Row in Bar Harbor.
From October 13 to October 27, firefighters tried to fight 200 Maine fires, consuming a quarter of a million acres of forest and wiping out nine entire towns. The Maine fires destroyed 851 homes and 397 seasonal cottages, leaving 2,500 people homeless.
The year 1947 became known as the Year Maine Burned.
Warnings of Maine Fires
Warning signs of the Maine fires appeared as early as March. An abnormally warm spring caused snow to melt early in the woods. Mid-July to October were unusually dry, with 108 consecutive days without rain.
Ninety percent of the state was forested, and the state had made little preparation for fighting wildfires. Most towns didn't have a fire department. There was no warning system, no mutual aid agreement and no centralized command and control structure.
By early October, Maine was in a 'high state of inflammability.' People were urged to clean their chimneys and the Forest Service reopened fire watch towers normally closed on September 30.
Fires broke out during the first week in October in Portland, Bowdoin and Wells. By October 16, 20 separate Maine fires were burning.  Three days later, many Maine towns were covered with a smoky haze and smelled of burning wood. The night sky glowed red.
Maine Fires Trap 60
When the alarm went out, men and boys dropped what they were doing and rushed off to fight the fires. Men who went to work in small towns didn't know if they'd be called on to fight the Maine fires that day. Volunteers came from all over Maine, New Hampshire and Massachusetts.
An eight-mile-long wall of fire burned in Kennebunkport. In North Waterboro, nearly 60 residents and volunteers were trapped for more than an hour behind a line of fire before escaping.
In York County, the fires destroyed most of the homes in Shapleigh and Waterboro. then swept toward the sea and consumed swathes of Alfred, Lyman, Newfield, Kennebunk, Kennebunkport, Arundel, Dayton, Wells, Biddeford and Saco.
The Army-Navy Day in Boston scheduled for October 26 was cancelled. The USS Little Rock, a light cruiser harbored in Boston for the celebration, sailed to Portland instead with 1,000 servicemen and equipment to help fight the Maine fires. They saved the town of Hollis and many other small villages, working 'as if their own homes were endangered.'
On October 29, with 40 fires still burning, the Navy joined the Army and General Electric in a novel method of fire suppression: creating artificial rain.  Two B-17s took off from Schenectady, N.Y., and dropped dry ice into clouds over York County.
But it had already begun to rain.
Bar Harbor Destruction
After Mrs. Gilbert notified Bar Harbor fire officials of the smoke on October 20, the fire smoldered underground.  For three days it blackened only 169 acres. Then on October 21, strong winds spread the blaze until it consumed over 2,000 acres in Acadia National Park that day alone. Firefighting crews were joined by the Army Air Corps, the Navy, the Coast Guard, National Park Service workers from the East Coast and students from the University of Maine and Bangor Theological Seminary.
The next day nearly 2,300 acres burned on Mt. Desert Island. That afternoon, the wind strengthened and turned toward Bar Harbor, traveling six miles in less than three hours. Fire engulfed 67 seasonal estates known as Millionaire's Row on the shores of Frenchman Bay. The fires missed the business district but destroyed 170 homes and five grand historic hotels near downtown.
Rescue
Bar Harbor residents fled for their safety, first to the athletic field then to the town pier. When fire blocked all the roads, fishermen from Winter Harbor, Gouldsboro and Lamoine evacuated 400 people by sea.
By 9 pm, bulldozers carved a pathway was through the rubble on Route 3 and 700 cars carrying 2,000 people slowly drove to Ellsworth. Sparks pelted the cars and flames flared overhead, but the motorcade made it to safety.
The fire continued to destroy acres of forest and the Jackson Laboratory before it blew itself out over the ocean in a fireball. It was declared under control on October 27, but smoldered underground until November 14.
Five people in Bar Harbor died as a result of the fire – two in a car crash and two of heart attacks. The fire destroyed 17,188 acres, including 10,000 in Acadia.
Aftermath
The fire changed the composition of the forests in Acadia National Park. It wiped out mature spruce and fir stands and replaced them with sun-loving birch, aspen and oak. Acadia's forests now turn to red and yellow autumn colors instead of the monochromatic green that reigned before the Maine fires.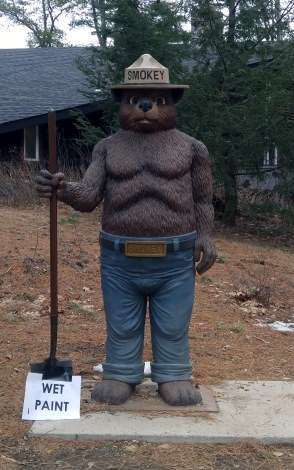 On Jan. 13, 1948, officials held a statewide firefighting and prevention conference in Augusta. As a result, many Maine towns established volunteer firefighting departments within the next two years. They began to use standard equipment and to train to national standards.
In addition, the State of Maine got a license for a two-way public safety radio network. The state granted the forest commissioner  more authority to respond to Maine fires and launched a public education program about fire safety.
This story was updated in 2023.