In 1835, an angry mob of 5,000 "gentleman" surrounded the building where Maria Chapman and 45 members of the Boston Female Anti-Slavery Society were meeting. The mayor then begged the women to leave for their safety.
But Maria Chapman refused. ""If this is the last bulwark of freedom, we may as well die here as anywhere," she said.
Not only did the mob fail to intimidate her, she decided during the crisis the Boston Female Anti-Slavery Society should hold annual fairs. She and her sisters would then run it for years as a major source of funds for the abolitionist cause.
She made an unlikely radical: a well-educated socialite married to the wealthy Henry Grafton Chapman.
Maria Chapman and Her Sisters
Maria Weston was born July 25, 1806, the eldest of six daughters and two sons born in Weymouth, Mass., to Warren and Nancy Bates Weston. They were descended from the Pilgrims.
During her 12-year marriage to Henry Chapman, an abolitionist, she became so ardently opposed to slavery. She enlisted three of her five sisters: Caroline, Anne and Deborah.
They were described as a formidable group: "talented, articulate, witty, energetic, and good-looking."
Boston Female Anti-Slavery Society
Maria Chapman founded the Boston Female Anti-Slavery Society with her sisters and eight other women. They circulated petitions, raised money, wrote and edited publications and corresponded with each other frequently.
The gentlemen rioted against the abolitionists when she was in her late 20s.  On Oct. 21, 1835, British abolitionist George Thompson spoke to a meeting of 45 abolitionists at the office of William Lloyd Garrison's anti-slavery publication The Liberator.
An angry mob of men tied to the cotton industry stood outside the building. Mayor Theodore Lyman asked the women to leave. Despite Maria's refusal, the women were escorted through the crowd to safety. The rioters, however, got hold of William Lloyd Garrison.
For a long time, Maria couldn't walk down the street without hearing epithets shouted at her.
Anti-Slavery Fair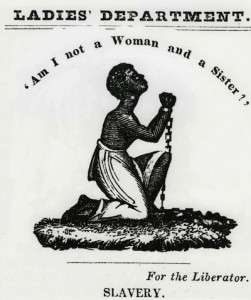 From then on, Maria Chapman and her sister Anne Weston took charge of the Boston anti-slavery fair, a major fund-raiser for the next 23 years.
An anti-slavery fair held in a home before the riot had raised $360. In December 1835, she extended the fair to two days at her in-laws' home on Beacon Hill. By the third year it grew so big she had to hold it at the Artist's Gallery Hall.
From January on, women knitted and sewed goods to sell. Abolitionist societies around the state then competed to contribute the most items. By 1838, the fair raised more than $1,000, and by 1840 they had to hold it in Faneuil Hall.
The image of the kneeling slave appeared on handicraft goods such as quilts and purses – "reticules" — sold at the anti-slavery fair. Maria Chapman used her connections in Europe to procure desirable goods.
The 15th National Anti-Slavery Bazaar was held in Faneuil Hall.  William Lloyd Garrison's The Liberator included an advertisement for the event.
The variety, beauty and elegance of the exhibition will be far greater than any former year, owing to increased exertions of members of the committee now in Europe, and to the generous donations of friends of the Cause, both at home and abroad.
Rare and Beautiful
Among the most rare and beautiful of the objects of taste and art, are a selection of fine groups and statuettes in biscuit, and porcelain, with many choice specimens of smaller objects, ornamented with flowers. . .a very great variety of silk-crocheted and beaded ladies' bags and purses. . ., glove and ribbon boxes, Jewel cases, &c. . ..

Paisley and Edinburgh shawls, of every variety, and of a beauty and fineness never imported in trade— scarfs of the clan tartans for ladies and gentlemen. Every variety of knitted and netted scarfs, neck ties, polkas, cephalias, and opera caps. Ladies silk and satin aprons, plain and richly embroidered; children's dresses, of every variety of material. Infants' cloaks and bonnets, of remarkable beauty. Splendid Afghan blanket. Every variety of toilette, sofa, carriage and elbow cushions. Silk patch work, table, piano and sofa covers. . . .

An immense cheese, from the Ladies Garrisonian Anti-Slavery Society of Austinburgh, Ohio, may be found at the Refreshment table.
In 1858, Maria Chapman declared the anti-slavery fair passé. She then replaced it with a fancy soiree she called the Anti-Slavery Subscription Anniversary. After President Lincoln issued the Emancipation Proclamation in 1863, Maria Chapman retired from public life.
She died on July 12, 1885.
With thanks to Strained Sisterhood: Gender and Class in the Boston Female Anti-Slavery Society by Debra Gold Hansen. This story last updated in 2022.