The Pilgrims celebrated a Mayflower Christmas in 1620 with holly, ivy, plum pudding and a gift exchange with Indian children – at least according to a romanticized version written by suffragist Elizabeth Cady Stanton of all people.
The preposterous Christmas on the Mayflower story was published by Woman's Journal in 1900. Stanton had done plenty of writing by then — speeches, books, documents and letters, all serious stuff. But in 1900 she was an 85-year-old grandmother, perhaps ready to move on from diatribes to treacly tall tales.
Mayflower Christmas
In the story, Stanton got around the Puritan hatred of Christmas by inventing "Dutch foremothers" (the Pilgrims were all English) who had a "love for festive occasions."
As they sailed up Plymouth Harbor, wrote Stanton, the Pilgrim mothers prepared for Christmas. They brought a box of beads which they strung for the little Indians. The mothers also made wreaths from a barrel full of ivy, holly, laurel and immortelles to decorate their log cabins. (One wonders if they left their Martha Stewart Living magazines in England.)
Elder William Brewster and several Pilgrims went ashore to explain the meaning of Christmas to the Indians through an interpreter who had magically joined them on the voyage. Never mind that Brewster viewed Christmas as an unnatural ideological marriage between the Roman Catholic Church and pagan Rome. Or that people then celebrated Christmas with drunken merrymaking, licentiousness and hooliganism. Or that Brewster would have called it Foolstide.
Stanton then wrote a charming but wildly improbable scene. She described how Massasoit, a "splendid specimen of manhood," came on board with two squaws and six little boys and girls.
The children were "all in their ornaments, paint and feathers, the children in bright scarlet blankets, and caps made of white rabbit skins, the little ears standing upon their foreheads, and squirrel tales hanging down their backs." They brought small baskets with nuts and wintergreen berries. Then they presented them to the English children, who the interpreter taught to say, "Happy to see you," "Welcome" and "Farewell" in the Indian tongue.
The English children then gave the Indians little tin pails with "fried cakes, almonds and raisins, some bright English pennies, a horn and a drum." Exactly the kinds of things the Pilgrims had room for in the tiny Mayflower.
Brussels Sprouts?
The Indians didn't stay for dinner, wrote Stanton, because Massasoit feared the children didn't understand English table manners. They paddled away in their canoes, and the Pilgrims enjoyed a feast that included plum puddings, gooseberry tarts, salt fish, bacon and Brussels sprouts, all of which somehow survived the 66-day voyage.
Then, wrote Stanton, the Pilgrims sang God Save the King. Not likely, though, since the song first appeared in 1619, a decade after the Pilgrims left for the Netherlands. They didn't like King James much, either.
Then the children took their baskets to their berths and fell asleep, according to Stanton.
The Real Mayflower Christmas
What really happened on the Mayflower on Dec. 25, 1620? The men went ashore to cut down trees for their cabins.
There was no friendly gift exchange with the Indians, according to the Pilgrims' Journal.
…towards night some, as they were at work, heard a noise of some Indians, which caused us all to go to our muskets, but we heard no further.
There was also no pudding, no tin horns, no bright English pennies, no singing and no rest. But they did have one thing.
…we had divers times now and then some beer.
 *  *  *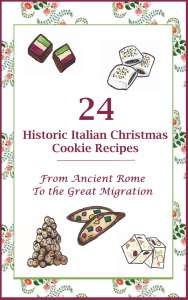 The Christmas holiday actually began in ancient Rome — and so did Italian cookies. The New England Historical Society's new book, 24 Historic Italian Christmas Cookie Recipes, tells you how to make those delicious treats. It also bring you the history of the Italian immigrants who brought them to New England. Available now on Amazon; just click here.
This story was updated in 2022.