New England candy ruled the American confectionery industry from colonial times right through the mid 1900s. Many candy makers made their sugary treats in factories throughout New England, especially in Boston and Cambridge, Mass.
The Puritans weren't too puritanical to enjoy chocolate, as the first chocolate factory started making candy in 1764.  Even today, New England candy makers are churning out the same sweet stuff soldiers enjoyed during the Civil War.
Here are 15 sweet morsels about the history of New England candy:
1. Here's something to chew on
The first commercial chewing gum was made in 1848 on a Franklin stove in Bangor, Maine. State of Maine Pure Spruce Gum was the brainchild of John B. Curtis. His family cooked up the first batch at home from tree sap. Chewing gum was around for centuries, but Curtis commercialized it. Eventually he moved to a factory in Portland that employed 200 people and made 1800 boxes of chewing gum a day.
2. Dispense with the cigarettes
If you've ever tasted Pez candies, you might strongly suspect it wasn't their flavor that made them so popular. And you'd be right. They were originally marketed to adults as alternatives to smoking. That's why the dispensers resemble cigarette lighters. (They didn't have heads until 1955.) Pez was first invented in Austria in 1927. In 1973, Pez built its New England candy factory in Orange, Conn.
3. The cure for spring fever
Has cabin fever ever driven you outside in Vermont on one of those March days when the icicles are dripping and the sun is wilting the last of the winter snow? Then you have likely stumbled across a group of people who appear to be eating snow. They're not necessarily crazy. They're partaking of a quintessential New England candy: sugar on snow. It's nothing more than freshly made, hot maple syrup drizzled on the last of the winter snow. It forms a sweet, stringy-then-chewy delicacy best eaten with a fork. Many also choose to accompany it with a doughnut, coffee and a sour dill pickle to mix the sweet and sour and savory flavors.
4. When candy was king
Boston could once claim to be the candy capital of America. In 1950, Boston and Cambridge, Mass., were home to 140 candy companies. Main Street in Cambridge, known as 'Confectioner's Row,' was lined with New England candy makers: James O. Welch (Junior Mints), Fox-Cross (Charleston Chew), Jack Smiley (hard candies), Graylock Confection (Tweet) and Daggett (chocolates).
5. The (mostly) unstoppable wafer
The NECCO Wafer was the oldest continuously manufactured product in the United States until it wasn't. The first wrapper still resembles today's packaging.
The company was founded in 1847 by Oliver Chase and his brother. Chase invented the first candy machine, a lozenge cutter. He originally called the wafers  "Hub Wafers" because they were made in Boston (Hub of the Universe — get it?).  The company merged in 1901, becoming the New England Confectionery Company.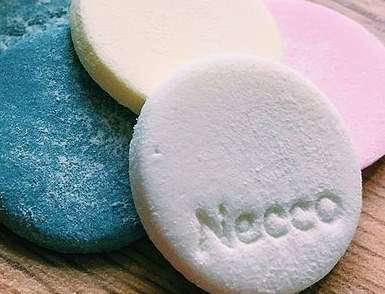 NECCO Wafers went to the Arctic and Antarctica.  Explorer Donald MacMillan took them along in 1913 on his journey for nutrition and 'as rewards to Eskimo children.'  Adm. Richard Byrd took 2-1/2 tons of NECCO Wafers on his expedition to the South Pole in the 1930s.
NECCO moved production to Cambridge in 1947 and then to Revere, Mass., in 2003. In 2018, Ohio-based Spangler Candy Co. bought the company and NECCO wafers went on hiatus. But in 2020 they returned to the store shelves.
6. Chocolate as medicine.
Central Falls, R.I., was once known as 'Chocolateville.' William Wheat ran a chocolate mill on the Blackstone River there from 1782 until sometime after it flooded in 1807. The mill sold chocolate to the villagers and to the military and mariners. At that time, people thought hot chocolate had medicinal qualities that revived tired soldiers and sailors.
7. How did the Lolly Pop get its name?
In New England, at least, it came from a racehorse. George Smith of New Haven made and sold Lolly Pops for years. But he struggled mightily to officially register 'Lolly Pop' at the U.S. Patent and Trademark Office. He'd been making a hard candy on a stick since 1908. The patent office said the term 'lollipop' had been in use in England, but Smith said the name Lolly Pop was inspired by a racehorse he'd seen at a local fair.
He finally got his trademark on Oct. 13, 1931, 23 years after he started making the New England candy.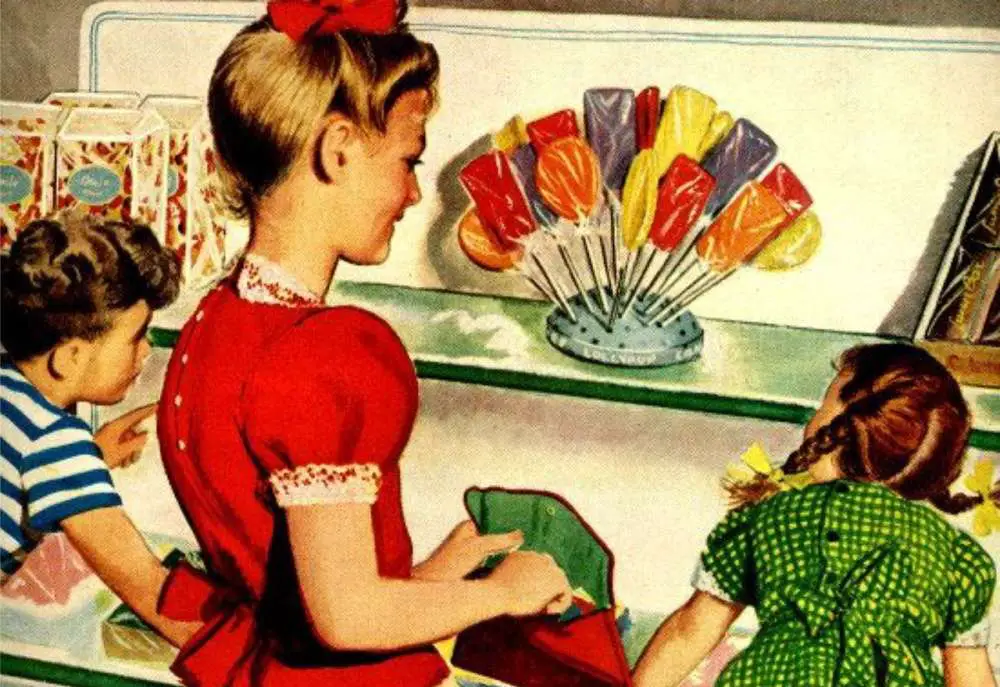 8. Remember when your mother threw away your baseball cards?
Well, here's one more reason to still be mad. A mint condition Cy Young baseball card with an overprint of Cambridge candy maker George Close Co. sold at auction for $14,000. George Close made chocolates, suckers, butter balls and lemon drops from 1861 to the 1930s. Didn't you used to have that card in your collection?
9. Ribbon candy takes a bow
Long after the tourists leave New Hampshire's Lakes Region, a tiny traffic jam develops on Route 3 near Weirs Beach. It lasts for only a few days and then it's gone. The source of the tie-up: The Kellerhaus candy and ice cream shop posted the sign that it has ribbon candy.
Not the sweetest or easiest to eat, the New England candy is still a favorite of customers who've been buying it since Otto Keller founded the shop in 1906.
Ribbon candy appeals more for its beauty than its taste, and for its ability to resurrect Christmas memories. But the weather conditions have to be just right to make it, so most years it's in limited supply. Get there early, because it sells out very early in the holiday season.
10. An eyeful of candy
The longest candy counter in the world can be found at Chutters, a candy store at 41 Main St. in Littleton, N.H. It's 111 feet ¾ inches long, as measured by the Guinness Book of World Records. An eye-popping display of sweets is guaranteed to fill any five-year-old head with sweet dreams for a year.
A Congregational minister named Frederick George Chutters founded the store in the late 1800s. Chutters came to Littleton to preach, but quit to sell dry goods. Sweet ones.
11. Chocolate moves to the factory
Boston is home to the first chocolate factory in America. Dr. James Baker and Irish chocolatier John Hannon started the business in 1764 in a water-powered gristmill on the Neponset River. Hannon went to the West Indies in 1779 and never returned, so his widow sold her share to Baker. Baker's Chocolate Company was bought by a series of corporations starting in 1896; the old mill buildings are condos now.
12. A spoonful of sugar (without the spoon)
As long as people have been making medicine, they've been trying to mask its taste. And that concept inspired the Davis Drug Store in Pawtucket, R.I. In the 19th century, the store made and sold cough medicine that Dr. Davis concocted.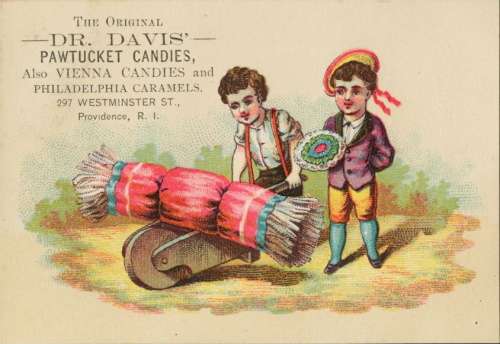 The flavoring of the medicine was so good, Davis also developed a candy recipe. Dr. Davis Braided Candies were so popular that people visiting Pawtucket 'would be sure to take some away with them, they liked it so much,' according to Catherine E. Martin Larkin in 1928.
13. Nuts to you, pal! 
Squirrel Nut Zippers were reputedly named after an illegal drink during Prohibition.  The story goes that a Vermont man was arrested for public intoxication and blamed his behavior on local hooch he called "that dang nut zipper."
The vanilla, caramel and nut taffy was a favorite New England candy. Its maker, the Squirrel Brand Co., survived from 1890 to 1999, when it was the last independently owned candy company in Cambridge. NECCO bought up the license as it evolved into a retro candy maker. Squirrel Nut Zippers made a national comeback during the 1990s when a retro swing band named itself after the candy and gave it out at performances. Then, alas, when NECCO ceased operation the Squirrel Nut Zipper disappeared.
14. A Charlestown landmark
The Schrafft's building in Charlestown, Mass., once reigned as the largest candy factory in the world, employing 1,600 people. The old New England candy plant is a landmark and still visible today when driving through Boston. It was built in 1928 to turn out boxed chocolates.
William F. Schrafft founded the company in 1861, originally making gumdrops and candy canes. Frank G. Shattuck bought Schrafft's in 1898 to run the company's retail stores, which by 1968 evolved into 55 genteel restaurants, mostly in New York. According to the New York Times, one of Shattuck's descendants said, "Everyone wore hats and handmade suits. And if you were a lady, it was safe to sit at the soda fountain and drink gin from a teacup."
Corporate ownership destroyed Schrafft's, as it was first sold in 1967 and then passed from corporation to corporation. The Charlestown factory closed in 1984 and was renovated as offices. The neon red Schrafft's sign still lords it over the surroundings.
15. Kisses from the seaside
In 1896, Edward and Mattie Talpey established The Goldenrod in York Beach, Maine. Generations of beachgoers have been thankful ever since for the store's delicious meals and ice cream. It's still in its original location, just a stone's throw from the beach. But the real attraction is the 8 million or so saltwater taffies, Goldenrod Kisses, which the business turns out each year.
If you don't know where to find it, don't worry. Just look for the crowds. Every day during the summer, hundreds of visitors press up against the glass windows to watch the taffy makers. The use the same New England candy recipes they have for generations. They cook, mix and pull the taffy until it finally is rolled, wrapped and spit out by the classic machine that whirs in the window all summer long. For a look at The Goldenrod in operation, here's a video tour of the store.
Images: Curtis & Son By Doug Coldwell – Own work, CC BY-SA 4.0, https://commons.wikimedia.org/w/index.php?curid=104324658. Necco wafers, By Lkeers1415 – Own work, CC BY-SA 4.0, https://commons.wikimedia.org/w/index.php?curid=51834197. Dr. Davis candy by Boston Public Library via Flickr, CC By 2.0. Schrafft's  By Josephew – I created this image entirely by myself., CC BY-SA 3.0, https://en.wikipedia.org/w/index.php?curid=17639951. Lolly pop by Oberholster Venita from Pixabay. Ribbon candy By Adrigon – Own work, CC BY-SA 3.0, https://commons.wikimedia.org/w/index.php?curid=8628127. This story about New England candy was updated in 2023.