The red, white and blue New York coffee cup with the Greek lettering started life in Berlin, Conn., and made its way to countless Greek diners, into world-class museums and in the hands of Leonardo diCaprio, Tommy Lee Jones and John Hamm.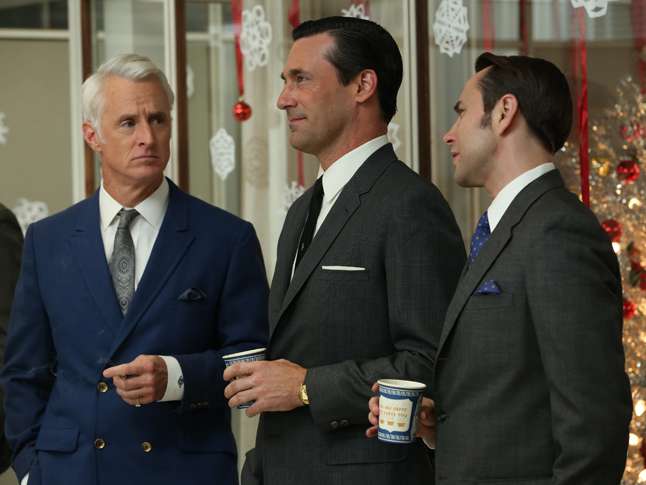 For decades hundreds of millions of New York coffee cups were manufactured in a huge brick factory along the Mattabesset River in the Kensington section of Berlin. Generations of Berliners worked for Sherwood Industries, known as the Sherri Cup Company.
The New York coffee cup was designed by a Holocaust survivor who had no art training. It became an icon of New York City and then it disappeared – a victim of Starbucks' success, some said.
And now it's back.
New York Coffee Cup
Sherwood Industries was built on a site that had been used for industry since 1830, when a mill was built there. In 1963, the company hired a salesman named Leslie Buck.
Buck was born Laszlo Buch on Sept. 20, 1922, in Khust, Czechoslovakia, now part of Ukraine. His family was Jewish. His parents died in the Holocaust, but he survived captivity in Auschwitz and Buchenwald.
After the war he moved to New York City, where he and his brother started several small companies. He Americanized his name to Leslie Buck and left the family business to work for Sherri, then starting up a paper cup business.
He saw an opportunity to sell paper cups to the Greek diners ubiquitous in the Northeast. Buck hit upon the idea of a Greek-themed cup. He did considerable research into Greek culture before settling on the look. It was blue-and-white, the colors of the Greek flag. It had a Greek key, or meander, along the rim. The sides had images of a Greek amphora, a tall wine vessel, and three golden coffee cups with the motto "We are happy to serve you."
He called it the Anthora Cup, the way he pronounced 'amphora' in his heavy Eastern European accent.
Rise and Fall
Sales of the New York coffee cup took off from its start in 1965. By the 1990s, the company sold hundreds of millions a year. When Leslie Buck retired in 1992, Sherri Cup made 10,000 cups for him with the words, "It was our pleasure to serve you."
In 1994, Sherri sold 500 million of the New York coffee cup. The company grew to occupy a 100,000-square foot, four-story brick building with its own power plant.
Then the Solo Cup Company absorbed Sherri and the factory shut down in 2004. Sales of the New York coffee cup fell to 200 million a year by 2005. A developer bought the Berlin factory and turned it into trendy lofts, selling the first unit in the fall of 2010.
And then the company discontinued the iconic New York coffee cup in 2012. It survived, though, in popular culture. Television producers put it in the hands of characters in NYPD Blue, Law and Order and Mad Men. The New York Historical Society included it in an exhibit called "A Brief History of New York: Selections from A History of New York in 101 Objects." Art museums began selling ceramic mug versions of the cup, and its likeness was licensed for coin purses, cufflinks and watches.
The cup's new owner, the Dart Container Corp., came to understand the public's affinity for Leslie Buck's creation.
In 2015, Dart brought back the New York coffee cup. It is now made in Federalsburg, a poor community on the Eastern Shore of Maryland.
This story about the New York coffee cup was updated in 2023.