Caldwell's Newburyport Rum may or may not have been the best of the so-called Boston rums, but it lasted the longest.  Except for a hiatus during Prohibition, the stuff was made along the Newburyport waterfront for 171 years.
The rum business boomed in colonial Massachusetts, mostly along the North Shore. Ships from the West Indies arrived with barrels of molasses destined for distilleries in Boston, Ipswich, Salem, Medford and Newburyport. Newport, R.I., also produced its share of rum.
Rum had been invented in the West Indies in the 17th century, where sugarcane was plentiful. It was cheap, popular and easy to make. Practically anything made from sugarcane or its byproducts could be called rum.
Many Puritans had stills in their homes to make rum for medicinal purposes and to offer to guests, according to the Medford Historical Society & Museum.
By 1770, the colonies imported 6 million gallons of molasses a year. Massachusetts alone had 51 rum distilleries.
Newburyport had  70 rum distilleries by 1790, when Caldwell's Newburyport Rum got its start.
Caldwell's Newburyport Rum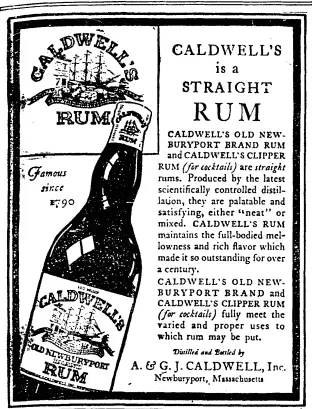 Alexander Caldwell, born in Litchfield, N.H., in 1746, moved to Newburyport and got a job in the distillery. Eventually he bought the company and named it The Caldwell Rum Co.
Caldwell aged its Newburyport rum in barrels, which gave it a butterscotch aroma. It came in thick glass bottles, eventually embossed with a trademark three-masted schooner.
New Englanders consumed most Newburyport rum, but Caldwell's exported some of it as part of the triangular transatlantic slave trade. Caldwell's family and Moses Brown reigned as the two largest rum merchants in Newburyport. The Lawrence family in Medford also made a famous rum prized for its quality.
By the 19th century, New England's rum business went into decline. The British cut off access to cheap molasses. Once the westward migration got going, the U.S. interior produced a huge source of grain, used to make whiskey. Most New England distilleries closed.
Caldwell's continued making Newburyport rum until Prohibition. When Prohibition ended, Alexander Caldwell's descendants resumed production in 1934. But the New England rum era had ended, and Caldwell's, the last survivor, closed its Newburyport operation in 1961. The Lawrence family had already shut down in 1905.
In 2008, New England rum started to make a comeback, according to the New York Times. That year,  Newport Distilling began making Thomas Tew Rum, naming it after a famous pirate of the Caribbean. Four years later, more than a half dozen rum distilleries had opened in New England.

Photo courtesy Museum of Old Newbury. This story was updated in 2022.