Rose Kennedy didn't drink and she didn't smoke. She told people who offered her a drink or a cigarette, "Well, I am just an old-fashioned girl. I don't drink and I don't smoke and I have a lot of children."
She and her husband, Joseph P. Kennedy, had nine. One served as president of the United States. Three became U.S. senators. Two of her sons were assassinated, one was killed in World War II. One of her daughters died in a plane crash. Another was mentally disabled.
Rose Kennedy knew triumph and tragedy, and she accepted that.
Rose Kennedy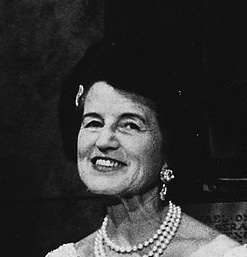 She was born Rose Fitzgerald on July 22, 1890, in the North End of Boston, one of six children born to John Francis "Honey Fitz" Fitzgerald and Mary Josephine Hannon. Her father served as Boston mayor and as a congressman. Though she yearned to attend Wellesley College, her father wouldn't let her. She did study at a convent school in the Netherlands and at the New England Conservatory of Music before attending Manhattanville College of the Sacred Heart, which didn't offer degrees. Her father made up for his refusal to send her to Wellesley by taking her on a tour of Europe when she was 18.
Rose Kennedy traveled widely throughout her life. She spoke several languages fluently and was interested in fashion and the arts. In those respects she resembled her famous daughter-in-law, Jacqueline Bouvier Kennedy Onassis. And both married powerful, ambitious, unfaithful men.
Frustration
Rose found motherhood frustrating. She wrote,
I used to say, 'Why did I spend time learning to read Goethe or Voltaire if I have to spend my life telling children why they should drink their milk or why they should only eat one piece of candy each day and then after meals.' But then I thought raising a family is a new challenge and I am going to meet it.
She put a little better spin on motherhood in her 1974 autobiography, Times to Remember, she wrote:
I looked on child rearing not only as a work of love and a duty, but as a profession that was fully as interesting and challenging as any honorable profession in the world and one that demanded the best I could bring to it….. What greater aspiration and challenge are there for a mother than the hope of raising a great son or daughter?
Joe Kennedy
Rose courted Joe Kennedy for seven years because her father disapproved of him. He had good reason: Joe liked women, both inside and especially outside marriage. He had a two-year affair with film star Gloria Swanson, which he didn't try to hide from Rose.
Some historians claim Rose Kennedy didn't mind her husband's serial adultery because of the wealth and status the marriage brought to her. Joe brought her to a pinnacle of social success when President Franklin D. Roosevelt named him ambassador to the Court of St. James's in England. The large, attractive Kennedy family made a huge splash in London.
But evidence suggests Joe's philandering bothered her. When pregnant with her fourth child, she returned home to her parents. Her father told her she could not get a divorce. So she took solace in the Roman Catholic Church and in heavy medication.
In 1951, Pope Pius XII granted her the rank of Papal countess, the sixth American woman to receive the honor.
Her devotion did not impress her daughter-in-law. Jackie Kennedy said she'd rather say a rosary that read a book.
Tragedies
The 1940s brought three tragedies into the life of Rose Kennedy. Her third child, daughter Rosemary, acted out and seemed duller than her bright, active siblings. Joe, without telling his wife, had Rosemary lobotomized. The operation failed, leaving her with severe mental disabilities, and Joe shunted her off to a sanitarium in Wisconsin.
Then in 1944, her eldest son Joseph was killed in action when his plane blew up on an Allied mission during World War II. Her daughter Kathleen died in a plane crash four years later.
The 1950s brought no more tragedy, but then in 1963 an assassin killed her second son, President John F. Kennedy. Then in 1968, her third son Robert suffered the same fate.
Last Years
Her husband had suffered a stroke in 1961, which confined him to a wheelchair and deprived him of the power of speech. He died in 1969.
Rose remained active with charity work and took daily swims outside her home on Cape Cod. The image of the stoic, grief-stricken mother walking on a windswept beach took hold in the public imagination.
So did the frequent gatherings of the Kennedy clan — she had 29 grandchildren — at the family compound in Hyannisport. She remained especially close to her youngest son, Sen. Edward M. Kennedy.
Rose Kennedy died Jan. 22, 1995 in Hyannis, Mass.

Photo of Rose Kennedy a detail from "President Kennedy with his mother crop" by Abbie Rowe. "The Kennedy Family" by Richard Sears. Both from the John F. Kennedy Presidential Library and Museum and licensed under Public domain via Wikimedia Commons. With thanks to 'Finding Her Way in the Clan,' by Kevin Cullen, Boston Globe, May 13, 2007.  This story was updated in 2022.