The beloved poem House by the Side of the Road by Sam Walter Foss is now pretty much forgotten but it was once one of the most popular poems in America.
People recited it at meetings, stitched it into samplers, framed it and hung it on thousands of walls. Sportscaster Ernie Harwell alluded to it when a batter was out on a called third strike, as in "He stood there like the house by the side of the road."
Sam Walter Foss
Foss had no pretensions, which may be why he doesn't appear in many anthologies of great American poems. He wrote hundreds of comic, homespun poems that championed the common man in his battles against pretentiousness and authority.
He was born June 19, 1858, to Polly and Dyer Foss, farmers who lived in Candia, N.H. His father died when he was four, and his mother then moved to Portsmouth, N.H. After he graduated from Portsmouth High School, he earned a degree from Brown University in Providence. He married the love of his life, had two children and for many years worked as the librarian of the Somerville Public Library.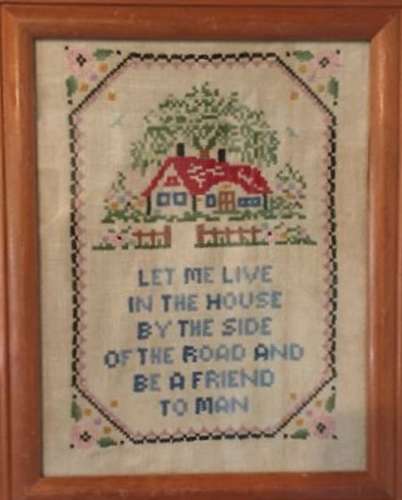 In a poem that typified his theme of the virtuous common man versus sanctimony, a storekeeper wants to join a church but the church doesn't want him. The storekeeper is told to go talk to the Lord. He then comes back and tells the congregation he did talk to the Lord.
"I'm trying to git in," sez I, "to the church of Elder Ford,
An they won't let me in at all." "Don't worry," sez the Lord.
"You're not the only one," sez He, "they've laid upon the shelf.
I've tried ten years without success to git in there myself."
The House by the Side of the Road
Foss died Feb. 26, 1911. A historic marker in Candia commemorates 'his homespun verse and country poems,' believed to have been inspired by his boyhood home on Brown Road (though others take credit).
A postcard of a house in Tilton, N.H., claims that's the inspiration for the poem.
The House by the Side of the Road, published in 1897, starts off like this:
THERE are hermit souls that live withdrawn
In the place of their self-content;
There are souls like stars, that dwell apart,
In a fellowless firmament;
There are pioneer souls that blaze the paths
Where highways never ran-
But let me live by the side of the road
And be a friend to man.
To read the entire poem and others by Sam Walter Foss, click here.
Image of the Sam Walter Foss birthplace: By Craig Michaud at English Wikipedia, CC BY SA 3.0, https://commons.wikimedia.org/w/index.php?curid=66605127. Sampler image courtesy Art By Katy, artbykatygallery.com. This story was updated in 2023.