Covered bridges have been around since the late 18th century in the United States.
Uncovered bridges had short lifespans of about 15 to 20 years. So people started to cover them to protect the timbers underneath from the wind, rain, and snow.
Today covered bridges are more about rural charm than practicality.
Pennsylvania, Ohio, and Indiana each has more covered bridges than any New England state, according to the National Society for the Preservation of Covered Bridges.. Pennsylvania, with 219, has the most. But Vermont can claim the densest concentration of the old timbered structures, with 106.
New Hampshire once had close to 400 covered bridges, but that number has dwindled to 54. Rhode Island is the only New England state with fewer than eight covered bridges, with but one.
Here, then, are six covered bridges, one in each state. If you know of a covered bridge worth mentioning, please include it in the comments section.
West Cornwall Covered Bridge
There are about 90 covered bridges in Connecticut, where Ithiel Town invented the lattice truss in 1820. His design used latticework to carry a bridge's load and allowed unskilled workers to build covered bridges quickly with local materials. Town, by the way, also designed the Wadsworth Athenaeum in Hartford and Trinity Church on the Green in New Haven.
In 1864, the current incarnation of the West Cornwall Covered Bridge was built of red spruce and held together with wooden pegs. It's one of the oldest covered bridges in the country. The key to its longevity was Town's lattice truss design – and some heavy metal later in its life.
As more and more automobiles and trucks crossed the bridge, the West Cornwall Covered Bridge was closed to pedestrian traffic in the 1920s. In 1945, an oil truck weighing 20 tons fell through the bottom of the bridge. The State of Connecticut decided to replace the bridge in 1968, but a local group persuaded the state to save the bridge. Connecticut built a steel support deck that saved the bridge and won a Federal Highway Administration award.
It wasn't painted red until 1957, which gave it iconic status. The bridge is featured in the opening scenes of the 1967 film Valley of the Dolls.
The bridge carries the Sharon-Goshen Turnpike (now Rte 128) over the Housatonic River in West Cornwall.
Sunday River Bridge or Artist's Bridge
Maine once had 120 covered bridges, but fire, flood, development and the great freshet of 1896 reduced their number to eight.
Artist's Bridge dates to 1872, deep in Maine's back country on Sunday River Road in Newry. Some say the name of the bridge reflects its position as Maine's most photographed and painted covered bridge. Other suggest plein air master painter John Enneking gave the bridge its name because he painted it so often. Locals then started calling it Artist's Bridge.
Since then, artists may have put more paint on their canvases to illustrate the bridge than peoole ever put on its sides.
The Artist's Bridge is northeast of the Sunday River Ski Resort, next to the crossing of the Sunday River by Sunday River Road.
Burkeville Covered Bridge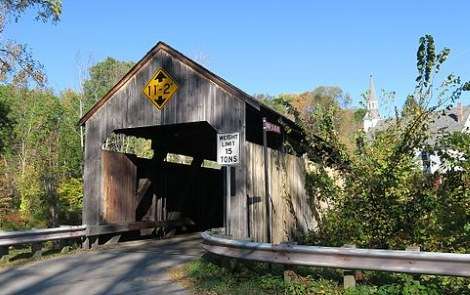 Timothy Palmer built Massachusetts' first covered bridge in Amesbury in 1792, though it didn't get its roof until 1810. Timber covered bridges were revived in the second half of the 20th century, and a handful of 'Massachusetts Modern' covered bridges replaced historic wooden bridges that couldn't be saved.
The Burkeville Covered Bridge in Conway is one of the oldest surviving covered bridges in the United States, having been built in 1870. It's 107 feet long and considered a fine example of state-of-the-art wooden bridge building of the era.
A flood washed away the previous bridge. The roof caved in under a heavy load of snow in 1975, but volunteers restored it. In 1985, the Burkeville Covered Bridge was closed for safety reasons, but renovated and opened to vehicles in 2013.  It is located on Main Poland Road just off of Route 116 in Conway.
The bridge is beloved in Conway, where it has been the site of fundraising dinners, memorial services and weddings (not to mention wedding photos).
Honeymoon Bridge
Think a bridge can't be romantic? Think again. The Honeymoon Bridge in Jackson, N.H., got its name because so many couples share a kiss in front of it — and take photographs of themselves doing so.
The bridge dates to 1876 when Union Army Sgt. Charles Austin Broughton and his son Frank built it to access their dairy farm on Route 16A. Broughton was land agent for the Swift River Lumber Company in Albany, New Hampshire, an avid bear hunter, an accomplished fiddler, and a carpenter. Today the bridge ranks as one of the most photographed — and photogenic — covered bridges in New England.
The Honeymoon Bridge carries Village Street over the Ellis River in Jackson.
(Thanks to New Hampshire Covered Bridges by Richard Marshall.)
Swamp Meadow Covered Bridge
Rhode Island has but one covered bridge on a public road: The Swamp Meadow Covered Bridge in Foster, R.I.
Foster proposed building a covered bridge in honor of Rhode Island's 350th anniversary in 1986. Volunteers began building the bridge in September 1992, using an Ithiel Town lattice truss on top of an existing steel bridge. The bridge was dedicated in May 1993, but vandals burned it four months later. The Foster Town Council immediately voted to rebuild it, and it was dedicated on Nov. 5, 1994.
The Swamp Meadow Covered Bridge, in the rural northwest corner of the state, crosses Hemlock Brook on Central Pike.
Mount Orne Bridge
Dating to at least the 1870s, the Mount Orne Bridge was built in the days when people could make money charging tolls to cross covered bridges.
The Union Bridge Company operated the span as a link between River Road in Lunenberg, Vt., and Elm Street in Lancaster N.H., until a log jam wiped it out in 1908. Thereafter the two towns rebuilt it.
The Mount Orne Bridge enjoyed a small spot of notoriety in 1969 when a fully loaded salt truck tried to test its limits and plunged through the bridge deck. The truck was a sight, with its rear-end caught on the bridge and its nose resting on the frozen river below. Fast-acting rescuers dislodged it and scooted it off to the shore before the salt that spilled from the truck could melt through the ice and plunge it into the river.
The Mount Orne Bridge joins Elm Street (N.H. Rte. 135 in South Lancaster) with River Road (Town Highway 1) in Lunenberg.

Images: West Cornwall Covered Bridge, The George F. Landegger Collection of Connecticut Photographs in the Carol M. Highsmith's America, Library of Congress, Prints and Photographs Division.; Forms part of: George F. Landegger Collection of Connecticut Photographs in Carol M. Highsmith's America Project in the Carol M. Highsmith Archive.; Gift; George F. Landegger; 2011; (DLC/PP-2011:166). Sunday River Bridge, By Magicpiano – Own work, CC BY-SA 3.0, https://commons.wikimedia.org/w/index.php?curid=33815556; Burkeville Covered Bridge, By John Phelan – Own work, CC BY-SA 4.0, https://commons.wikimedia.org/w/index.php?curid=52272138; Mount Orne Covered Bridge, By Denimadept – Own work, CC BY-SA 3.0, https://commons.wikimedia.org/w/index.php?curid=2609551
This story was updated in 2023.