Illicit love affairs are as much a part of history as are war and elections, and the New England Historical Society doesn't hesitate to publish stories about them. In honor of Valentine's Day, we bring you six places connected to illicit love affairs. They include a movie star's home, a racy monument, several historic houses and a watch tower. There is one for each New England state.
Hepburn House
Katharine Hepburn had a 25-year love affair with her married co-star Spencer Tracy. It only ended with his death.
At their introduction on the set of Woman of the Year, Katharine famously said, "I fear I may be too tall for you, Mr. Tracy." Film director George Stevens retorted, "Don't worry, he'll soon cut you down to size."
Instead, he fell in love with her and she with him. "I loved Spencer Tracy. I would have done anything for him," she said.
They starred in nine movies together, but lived apart and kept their affair private. Tracy and his wife were estranged, but neither sought a divorce.
Tracy and Hepburn did stay together at Hepburn's summer home in the Fenwick beach colony in Old Saybrook, Conn. Her caddy remembers them having breakfast together.
When Tracy died in 1967, Hepburn didn't attend his funeral service out of respect for his two children. She did follow his hearse on the six-mile trip through Los Angeles and, when it reached the church, whispered, "Goodbye, friend – this is where I leave you."
The house, on Mohegan Ave., is privately owned, but you can visit the Katharine Hepburn Museum in Old Saybrook. It's at 300 Main St. Click here for more information.
Cliff Walk Path and Many (Supposed) Illicit Love Affairs
What's worse than not getting any Valentine's Day cards or letters? How about getting a letter announcing that your wife has a heartthrob — just not you.
Allen Ryan received just such a jolt in 1922 about his wife Sarah and her "friend," entertainment lawyer George Maxwell. Ryan, a one-time king of Wall Street, had so much money and clout he could move the stock market at will.
The shock of the poison pen letter received by Allen Ryan jolted society all the way from Philadelphia to Maine, where the Ryans summered at York Harbor. York Harbor in the Roaring 20s was a popular destination for wealthy summer travelers escaping the cities.
The ensuing scandal resulted in Maxwell being charged with sending the poison pen letter himself, along with letters to husbands of 40 other society women with whom he was supposedly having illicit love affairs. George proclaimed his innocence and blamed his enemies. Predictably, the affair ended in the Ryans' divorce.
York Harbor has changed a lot since the Ryan-Maxwell scandal of the 1920s, but you can still get a flavor of the old days on the Cliff Path along York Harbor, where gracious cottages of long-ago York remain perched on the edge of the sea.
Emily Dickinson Museum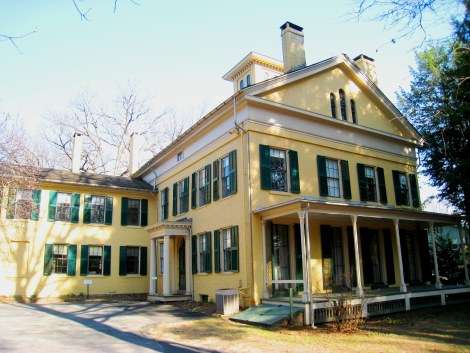 Emily Dickinson's married brother Austin carried on an illicit love affair for 13 years with Mabel Loomis Todd, also married. The whole town of Amherst, Mass., including Todd's husband, knew about the affair. He was okay with it. Austin's wife was not.
On Sept. 10, 1882, Austin took Mabel to sing and play the piano for his two reclusive sisters and mother, who lived next door to him. Emily listened to her from the shadows of the hall, but never appeared. Only Emily's sister Lavinia ,,met Mabel face-to-face.
The next night, Austin and Mabel paused on their way to a whist party and confessed their love for each other. "Rubicon," Austin wrote in his diary afterward.
Their liaison was one of the better-chronicled of the illicit love affairs. Austin and Mabel kept diaries, in which they called their love 'overwhelming,' 'God-inspired,' 'beyond any love that ever was.'
Mabel described their sex life in her diary: "Sweet communions. Oh joy! Oh! Bliss unutterable" and "A little Heaven just after dinner."
Emily Dickinson died in 1886, and Lavinia asked Mabel Loomis Todd and Thomas Wentworth Higginson to publish her poems. They did, and Mabel embarked on a lecture tour that made famous the reclusive Emily.
Mabel's affair with Austin ended with his death in 1895.
The Emily Dickinson Museum includes both Emily's and Austin's house at 280 Main St. in Amherst, Mass. Click here for more information.
John Parker Hale House Museum
In the 1860s, Valentine's Day was the perfect opportunity for a young man to flirt with a girl from a different class. People then viewed a Valentine's note as an acceptable way to express their affection without fear of giving offense.
In 1862, one of the South's most notorious villains took the opportunity to express his affection for one of New Hampshire's leading ladies. To his surprise, perhaps, John Wilkes Booth captured the eye of Lucy Lambert Hale.
Hale charmed a great many men in both Washington and New England. John Hay, Oliver Wendell Holmes and Robert Todd Lincoln were all said to have expressed some interest. Her father was John Parker Hale, a U.S. senator, abolitionist leader and Lincoln supporter. But an anonymous Valentine in 1862 from Booth caught Lucy Hale's fancy, and soon the two got better acquainted.
Hale was mad enough that his daughter was involved with an actor. Imagine his shock when his daughter's beau turned out to be an assassin.
When Booth was captured after killing President Lincoln, he had Lucy Hale's picture in his pocket. Senator Hale spread word far and wide that Lucy was not engaged to the actor-turned-murderer. Father and daughter then departed for an extended visit to Europe.
One of Lucy Hale's gifts to New Hampshire is the house where she grew up. The Woodman Museum at 182 Central Ave. in Dover, N.H., acquired the Hale house in 1915, and it's open to visitors.
Hannah Robinson Tower
Hannah Robinson fell for a poor French dancing teacher and set off one of the greatest scandals of colonial America. Her love affair was less illicit than unapproved and tragic.
Born in 1746, she was the daughter of a wealthy Narragansett planter. The family lived in a large stone house in Newport near Narragansett Bay. During the American Revolution, the Marquis de Lafayette and Comte de Rochambeau visited the Robinson house.
Hannah wanted for nothing, and one of her favorite pastimes was to sit on a large rock and look out at Narragansett Bay. She was sent to finishing school in Newport, where she fell in love with her French dancing teacher, Peter Simons. Peter returned Hannah's feelings, but the lovers knew her father wouldn't consent to a marriage. He believed Peter wanted Hannah's money.
They eloped one night and set up house in Providence.
Unfortunately for Hannah Robinson, her father was right – and he cut her off financially.
Peter abandoned Hannah after he realized he wouldn't get any of her money. When her father learned his daughter was poor, ill and suffering in Providence, he finally relented and went to fetch her.
On their slow journey home, she asked them to stop when they reached the large rock where she had watched the bay. Unfortunate Hannah Robinson died soon afterward at home on Oct. 30, 1773.
In 1938, the Civilian Conservation Corps (CCC) built a new watch tower at the site where Hannah Robinson watched the Bay.  The Hannah Robinson Tower, is now owned by Preserve Rhode Island and managed by the Rhode Island Department of Environmental Management.
You can find it at the interchange between U.S. Route 1 (Tower Hill Road) and Route 138 (Bridgetown Road) in South Kingstown, R.I.
An Illicit Love Affair Revealed in Hope Cemetery
Most of the people buried in Hope Cemetery in Barre, Vt., carved their own memorials and tombstones.  Barre calls itself the granite capital of the world, and skilled stonecutters flocked to it from Europe, especially Italy, in the late 19th and early 20th centuries.
The 65-acre cemetery attracts tourists with its beautifully carved and sometimes unusual granite memorials. They include images of a soldier smoking a cigarette, a race car, a bored angel, a soccer ball and an 18-wheel truck.
Louis Brusa was an Italian-born master stonecutter. He practiced his craft in Barre with the new compressed air tools, which made his work go faster but sent granite dust into his lungs.
Louis, born Luigi Giovanni in 1886, became a partner with the Brusa Brothers. He developed silicosis from the granite dust and died at the age of 51.
As he was dying, Brusa decided to warn others about the disease. He then commissioned Don Colletti to carve a memorial of a man dying in the arms of a woman. When the monument was placed over his grave, it caused a local scandal. The woman looked not like Brusa's wife Mary, but just like his mistress.
This story about illicit love affairs was updated in 2022.