Sarah Josepha Hale famously campaigned to make Thanksgiving a national holiday, but less well known are her stealth efforts to bring the Christmas tree into American living rooms.
Puritan New England had in the 17th century banned Christmas – a rowdy celebration quite unlike the family holiday we celebrate today. By the Civil War, Christmas started to make a comeback. Charles Dickens' 1843 story A Christmas Carol popularized the idea of a secular holiday that celebrated the Christian values of kindness and generosity.
Immigration also changed the way Americans viewed Christmas. German immigrants especially brought with them their Christmas traditions, including the Christmas tree.
A German Harvard professor named Herman Bokum published the first known image of a Christmas tree in America.  In 1836, he published a book called The Stranger's Gift, illustrated with an image of a mother and small children standing around a tree lit with candles. Another German-born Harvard professor, Charles Follen, put up a Christmas tree in his house on Follen Street.
The German Christmas Tree
Sarah Josepha Hale, born in 1788 in Newport, N.H., was in 1848 the editor of Godey's Lady's Book, a popular magazine for women published in Philadelphia. She published a story that December about the German celebration of Christmas. German parents on Christmas Eve led their children into a darkened room to ponder what 'the little infant Jesus' brought them. Then they took them into a room with a brightly lit Christmas tree with beautiful presents hung from its branches.
That year, the Illustrated London News printed a woodcut of Queen Victoria, her German husband Prince Albert, five of their children and a governess gathered around a tabletop Christmas tree.  Two years later, Hale ran with the image of Victoria and Albert next to their tree — after editing out Albert's sash and moustache, Victoria's tiara and boxes of German cookies under the tree. It was supposed to depict the modern American family.
The next year, a woodsman named Mark Carr cut down evergreen trees in the Catskills. He then hauled them by oxen sled to New York City and sold every last one in Washington Market.  In 1856, Franklin Pierce put up the first Christmas tree in the White House.
In 1860, as families anticipated being separated by the Civil War, Hale ran the picture again. She called it The Christmas Tree and accompanied it with instructions on how to make a Christmas tree stand up in a sand-filled stoneware jar. She showed how to put a green chintz skirt around it and how to dress it with ornaments for children. And she described stringing holly berries and attaching candles to the branches with wires.
Christmas Spreads
Godey's 150,000 readers paid attention. Not for nothing did the magazine call itself 'the queen of the monthlies.' Other magazines such as Harper's followed Hale's lead in promoting Christmas and the rituals that went along with it.
By then, four New England states had declared Christmas a bank holiday: Maine, Vermont, Connecticut and Rhode Island. Throughout the Civil War, 13 more states would make Christmas a legal holiday.
Christmas then came to mean family sentiments and benevolence. And it meant an escape from carnage and destruction for soldiers and the families they'd left behind.
In 1870, the federal government declared Christmas a national holiday. By then, most American families put up a Christmas tree at Yuletide.
 *  *  *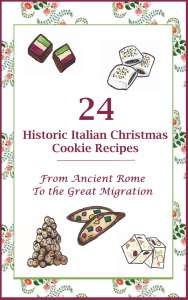 The Christmas holiday actually began in ancient Rome — and so did Italian cookies. The New England Historical Society's new book, 24 Historic Italian Christmas Cookie Recipes, tells you how to make those delicious cookies. It also bring you the history of the Italian immigrants who brought them to New England. Available now on Amazon; just click here.
This story was updated in 2022.