New England's fall foliage inspires so much imagery we were pretty sure we could find six autumn paintings of New England. Then we thought we could identify each location and find a current photo, with help from Google Maps, Wikipedia and our own archives.
Sure enough, we found a painting of an identifiable scene in each New England state – all beautiful, of course, and all of autumn. We even found photos of the subjects of some of the six autumn paintings from the artist's vantage point.
Here then are six autumn paintings of New England, one for each state.
Old Lyme, Connecticut
We naturally turned to the village of Old Lyme in New London to find an autumn landscape painting.
Old Lyme was the site of an artist colony, arguably the largest and most important in the United States for 20 years from about 1900. It started when Florence Griswold and her sister Adele fell on hard times, as had New London. The Griswold sisters began to rent rooms to boarders in their family's old Georgian home. When New York artists learned about the picturesque seaside town, they flocked to Miss Florence's art colony.
Guy Wiggins, who painted Reflections of Old Lyme, was one of the youngest members of the Old Lyme art colony. He painted with his father, Carleton Wiggins, also a landscape artist. Guy Wiggins was better known for his paintings of New York skyscrapers in winter.  
The painting was in the archives of the Caldwell Gallery in Hudson, N.Y.
Today, the Old Lyme Art Colony lives on as the Florence Griswold Museum (open from May through October), and Old Lyme has regained its prosperity.
Mount Katahdin
Marsden Hartley, born in 1877 in Lewiston, Maine, was a renowned Modernist artist who painted manly, rugged scenes of fishermen, mountains and rocky seashores. He often painted Mount Katahdin, Maine's highest mountain in Baxter State Park.
He moved to New York to embrace Greenwich Village Bohemianism, then in 1901 began a pattern he would repeat throughout his life: He left New York for Maine for the first of many summers. Hartley would forever bounce between the city and the country, tiring of one, then the other. In 1937, after a long stint in Europe, he returned to Lewiston, declaring he wanted to become 'the painter of Maine.'
He made no money and almost abandoned art at the age of 29. Then he got a job as a handyman as a utopian community in Eliot, Maine, and continued to paint. He decided to continue as an artist after he put on a successful one-man show at the home of one of the community members.
Marlborough Street, Boston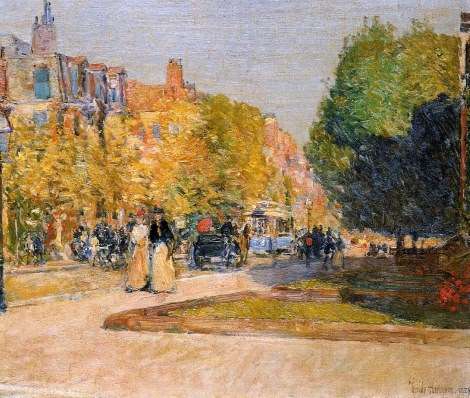 Frederick Childe Hassam, a New Englander through and through, painted many landscapes of the region throughout his life. Born in the Dorchester section of Boston in 1859, he was related to Nathaniel Hawthorne on his mother's side.
Despite an uncle's offer to send him to Harvard, Hassam dropped out of high school at 17 and got a job at Little, Brown & Co. He then worked as an engraver and an illustrator, until 1893 when he had his first solo exhibition of watercolors. The next year, his friend Celia Thaxter convinced him to stop calling himself 'Fred' and use his middle name instead. Hassam often painted the Isles of Shoals when he visited Thaxter at her salon there.
Starting in the mid-1890s, Hassam painted in Massachusetts in Gloucester and Provincetown, and at Connecticut art colonies in Cos Cob and Old Lyme.
He married Kathleen Maud Doane in 1882 and moved to Boston's then-tony South End. Hassam began painting Boston cityscapes – an unorthodox choice at the time.
Later, Hassam painted cityscapes in Paris and New York. He died in 1935, and for years he was considered one of the abandoned geniuses of American Impressionism. He was rediscovered in the '60s and '70s, and his paintings sold for millions.
Mount Washington
More than 400 artists painted landscapes of the White Mountains of New Hampshire beginning at the turn of the 19th century. They wanted to promote the region and sell their paintings. It worked. Their dramatic images of a mountain wilderness attracted tourists from northeastern cities, especially in the summertime.
Albert Bierstadt was known for his paintings of the American West and considered a member of the Hudson River School. He was born in Germany in 1833, but his family moved to New Bedford in 1850. He studied art in Boston, and developed an interest in topography. It was natural for him to be drawn to Mount Washington, the tallest mountain on the East Coast.
Bierstadt studied painting in Germany for several years before returning to New Bedford. He painted Autumn in the Conway Meadows Looking Towards Mount Washington in 1858 just as he was getting noticed as an artist. The next year he headed west. There he was inspired to paint the large landscapes that gained him enormous popularity.
Sakonnet Point, R.I.
The Great Hurricane of 1938 destroyed nearly all the buildings in the seaside village of Sakonnet Point in Little Compton, R.I.
Thomas Worthington Whittredge got there many years beforehand. Like his friend Albert Bierstadt, he was a member of the Hudson River School of Art. Like Bierstadt, he was famous for his paintings of the West.
Whittredge was born in 1820 in Ohio, and studied painting in Europe with Emmanuel Leutze. Leutze used Whittredge as a model for George Washington and his steersman in his iconic painting, Washington Crossing the Delaware.
Worthington Whittredge painted A Breezy Day–Sakonnet Point, Rhode Island, sometime around 1880. Four years later, Sakonnet Light was built. Preservationists made sure the historic lighthouse is still there.
Bob Slater's Hill, South Royalton, Vt.
From the time he was 29 in 1912, Edward Hopper spent nearly every summer in New England until his death in 1967.
He is mostly associated with Cape Cod, Boston's North Shore and New York City, but he spent some little-known time in and around South Royalton, Vt. He visited first in 1927 and then in the latter 1930s.
Hopper painted two dozen known works of Vermont, all watercolors and mostly ignored until rediscovered and assembled in an exhibit recently. Many of the scenes he painted then haven't changed much.
There is actually a book and an entire blog devoted to Finding Edward Hopper in Vermont, both by Bonnie Tocher Clause. Of the painting Bob Slater's Hill, she writes,
From the window of the upstairs guest room on Wagon Wheels Farm, Edward and Jo Hopper looked out over another South Royalton hill — Jigger Hill, or "Bob Slater's Hill," as Edward dubbed it.  He recorded his fascination with the changing light and shadows in a watercolor, a striking study of contrasting views, near and far… In Bob Slater's Hill and others of the Vermont watercolors, Hopper captured the particular shade of yellowish-green that's a harbinger of fall in Vermont.
It isn't clear to us which hill is "Bob Slater"s" or "Jigger" Hill. But today a historical marker stands in front of the old farm, with the message, "Tourists Accommodated 1937-1942." It notes that the Hoppers stayed there, as well as Eleanor Roosevelt (not at the same time).
Image of  Mount Katahdin By TJ aka Teej – Self-photographed, Public Domain, https://commons.wikimedia.org/w/index.php?curid=1091663. This story was updated in 2021.