Back in the 1950s and 1960s, anyone who walked into a New England tavern and ordered a beer probably got a Narragansett. That wouldn't have been a surprise, since the sign outside probably said, "Narragansett Lager Beer" along with the name of the tavern.
Narragansett, fondly known as 'Gansett, ranked for decades as New England's most popular beer. The Red Sox drank it, Dr. Seuss created its mascot and Captain Quint crushed a can of it in Jaws. You just couldn't miss its slogan, "Hi, Neighbor! Have a 'Gansett!"
Though Narragansett beer survived Prohibition, it couldn't escape the U.S. Justice Department. Government lawyers actually tried to enforce antitrust laws back in the 1960s . However, they ignored other threats to competition — including a certain St. Louis-based beer maker.
The old Rhode Island beer died in the 1980s, but that isn't the end of the story.
Birth of Narragansett Beer
In December 1890, the Narragansett Brewing Co. brewed its first commercial beer in its new brewery in Cranston, R.I. Six German-Americans had pooled $150,000 to start the company. You may recognize one of their names: Jacob Wirth. He was the same Jacob Wirth who ran a popular restaurant in Boston's Theater District that survived until 2018.
Rounding out the original six were John H. Fehlberg, Augustus F. Borchandt, Herman G. Possner, George M. Gerhard and Constand A. Moeller.
People liked the light, sparkling beers that came out of the German breweries cropping up after the Civil War. In New England they really liked Narragansett lager.
By 1914, Narragansett had enough customers to build its own bottling plant on its 42-acre complex. That made it the biggest beer brewery in New England.
Prohibition
On Jan. 17, 1920, Prohibition took effect, banning the sale of alcoholic beverages in the United States. Many breweries went under, but Narragansett survived. Fortunately for the company, it already had a business delivering ice, with its own icehouse, ice pond and refrigeration machines. Narragansett continued to deliver ice through Prohibition.
Narragansett also obtained a license to brew and sell porter for medicinal purposes. People then thought its low-alcohol and high-iron content benefited pregnant women.  Only five other U.S. breweries were allowed to do so. The brewery called it Narragansett Dark.
Narragansett also survived by turning its pilsner into a near beer with an alcohol by volume content of less than 0.5 percent. And it made ginger ale, sarsaparilla and root beer, along with a malt tonic for recovering invalids.
Narragansett, Part of the Culture
Shortly after Prohibition ended in 1933, the Haffenreffer family of Boston brewers bought the Narragansett brewery. One of the Haffenreffers attended Dartmouth College with Theodor Geisel, later Dr. Seuss. Narragansett hired Geisel to illustrate advertisements for the beer. Today people collect the company's metal trays imprinted with Chief Gansett, along with such slogans as "Gangway for Gansett."
After World War II, the Haffenreffers decided to make Narragansett the dominant beer in New England. The company embarked on an aggressive advertising and promotional campaign.
In 1944, Gansett officially sponsored the Boston Red Sox, thus becoming the first alcohol company to sponsor an American sports team. People still remember Red Sox announcer Curt Gowdy praising the "straight from the barrel taste." Mike Nichols also called it a "straight from the barrel taste" in a hilarious animated commercial with Elaine May. (You can watch it here.)

Then Narragansett beer began its "Hi, Neighbor! Have a Gansett!" ad campaign. The company promoted Gansett beers at ball parks, concert arenas and golf courses with attractive young women called Gansett Girls. Irehne Hennessey, Betty Vickowski and Penny Sojka started off as the female faces of Narragansett, also known as the Hi Neighbor Girls.
Becoming the Biggest
Narragansett grew into New England's largest brewery. In 1959, it brewed for the first time one million barrels of beer. To celebrate, the brewery gave each employee a gold-plated bottle of Gansett. By the 1960s it had an 80 percent share of the Rhode Island market, and 65 percent throughout New England. At its peak, Narragansett employed 850 people.
During the 1950s and 1960s, J. Joseph Garrahy worked for Narragansett as one of its top salespeople. According to legend, the many, many people he met in his job ended up voting for him, first for the Rhode Island state Senate, then as lieutenant governor and finally for four terms as governor. A popular governor, people viewed him as a friend of the working class.
Then when the U.S. Navy announced plans to scrap the battleship USS Massachusetts, her former crew campaigned to save her as a museum ship. Narragansett Brewery led the fundraising effort with paid advertisements, which ultimately succeeded in saving "Big Mamie," now in Battleship Cove in Fall River, Mass.
Falstaff Buys Narragansett — Finally
In 1964, the St. Louis-based Falstaff Brewing Co. offered to buy the Narragansett company for about $20 million. Falstaff, then the fourth largest U.S. brewery, had no market share in the Northeast. It intended to run Narragansett as a wholly owned subsidiary.
Two days before the sale closed, the U.S. Justice Department brought an antitrust suit against Falstaff. It took nine years for the resolution of the case, which finally ended in 1973 when a U.S. district court ruled in favor of Falstaff. But nine years of legal wrangling couldn't have helped the Rhode Island brewery.
In hindsight, the case shows how much attitudes have changed about corporate concentration. When the antitrust case reached the U.S. Supreme Court, Justice Byron White wrote the decision that acknowledged the consolidation of the New England beer market.
He noted that the number of brewers operating plants in New England fell from 32 in 1935, to 11 in 1957, to six in 1964.
But White suggested Falstaff would have figured out a way to enter the New England market anyway, and sent the case to a lower court. In the end, Falstaff won the case and took over Narragansett in 1974.
Modern Times
While government lawyers tried to prevent Falstaff from entering the New England market by buying a brewery, Anheuser-Busch built a state-of-the-art brewery in Merrimack, N.H. It opened in 1970 and gave stiff competition to Narragansett.
Then in 2008, a multinational brewing company called InBev bought Anheuser-Busch, creating a beery behemoth. The consolidated company, based in Leuven, Belgium, acquired more companies and ultimately grew into a multinational giant called Anheuser-Busch InBev SA/NV. Meanwhile, Falstaff and its new acquisition, Narragansett, sputtered.
In 1964, Falstaff and Narragansett had combined sales of about $155 million. In fiscal year 2020, Anheuser-Busch InBev reported sales of $46.9 billion, more than 300 times the combined revenue of Falstaff and Narragansett back in the day.
Rebirth of Narragansett Beer
Beset by competition, legal problems and an aging facility, Narragansett shut its doors in 1983. The company sold its equipment to China and tore down buildings in Cranston, leaving a small trolley barn that burned in 2005.
That year, Rhode Islander Mark Hellendrung, former Nantucket Nectars president, began to restore the Narragansett brand as a heritage beer. According to Bloomberg News, Narragansett beer is cool again as millennials in Brooklyn, N.Y., bars now drink it.
When the COVID-19 pandemic struck, Narragansett Beer came up with a novel promotion: Get a vaccine or get a friend vaccinated, and the next round is on us.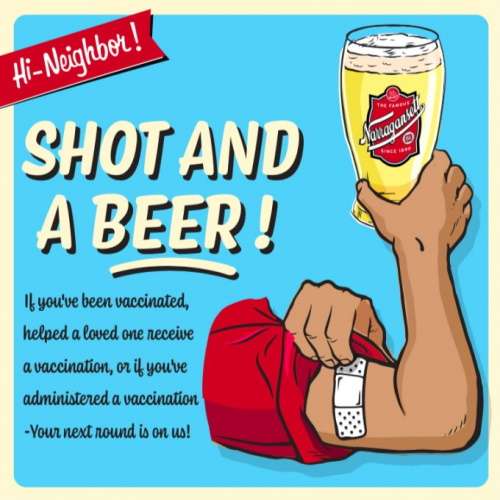 With thanks to Ashleigh Bennett and Kristie Martin, "Rhode Island Beer: Ocean State History on Tap" and to David Zax, "The Many Pop-Culture Moments of Narragansett, the "Forrest Gump of Beers"" in Fast Company.
Image: Narragansett logo By Source, Fair use, https://en.wikipedia.org/w/index.php?curid=32655382. Narragansett beer ads courtesy NarragansettBeer.com. Jacob Wirth By Biruitorul – Own work, Public Domain, https://commons.wikimedia.org/w/index.php?curid=4004137. This story was updated in 2022.