New England may be associated more with summer stock theatre than the silver screen, but it didn't take much to find 6 Hollywood stars buried in 6 New England states.
Plenty of films have been shot in the region, many of them classics. That's not why our stars were laid to rest here. Each had a profound attachment to the place. Some were born and raised here, others fell in love with the mountains or seashore.
Here, then, are 6 Hollywood stars buried in New England.
Katharine Hepburn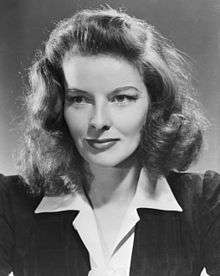 The Academy Award winning actress was born in Hartford, Conn., into a privileged and liberal family. Her mother, Katharine Houghton Hepburn, brought her daughter to women's rights protests and demonstrations.
In 1928, she graduated from Bryn Mawr College, where she got interested in the theater. After graduation she struggled on stage, including a summer in Ivoryton, Conn., at the Ivoryton Playhouse.  Her breakthrough role came in The Warrior's Husband, which led to her first film, Bill of Divorcement, directed by George Cukor.
She appeared in 10 more Cukor films, including such classics as Holiday, The Philadelphia Story, Adam's Rib and Pat and Mike. In the last two films, she starred with her secret lover of 26 years, Spencer Tracy.
She won an Oscar for Best Actress in Morning Glory, Guess Who's Coming to Dinner, Lion in Winter and On Golden Pond.
Hepburn always kept close ties to Connecticut, frequently visiting her family's summer home in the Fenwick section of Old Saybrook. When the 1938 hurricane washed the house away, she dug the family silver out of the sand and rebuilt it.  She used a set of building blocks from FAO Schwartz to design the new house.
In 1965 she narrated a documentary about pollution of the Connecticut River, called The Long Tidal River.
She spent her last years at the Fenwick home, taking a daily swim regardless of the weather. Hepburn died there in 2003 at the age of 96. She was buried in Cedar Hill Cemetery, designed by Jacob Weidenmann, who also designed Bushnell Park. A simple gravestone reads 'Katharine Houghton Hepburn, 1907-2003.'
Plenty of other movie stars rest in peace in Connecticut, including Jason Robards, Jr., Art Carney, Mary Tyler Moore, Patricia Neal, Frederick March, Raymond Massey and Gilda Radner, to name a few.
Rudy Vallee
His parents named him Hubert Prior Vallee when he was born on July 28, 1901 in Island Pond, Vt. He kept the Vallee, but swapped out Hubert to become Rudy, the name of a popular saxophone player.
Rudy Vallee was raised in Westbrook, Maine, where his father worked as a pharmacist. After an aborted attempt to enlist in the Navy during World War I – he was sent home because he was only 15 – Vallee went on to college at the University of Maine and then transferred to Yale.
He signed a recording contract in 1928, and his career took him from a crooning teen idol in the 1920s to a character actor on a campy television series in the 1960s. Vallee launched his film career with Vagabond Lover in 1929.
He claimed to have slept with more than 145 women, and he married four of them. He was a tyrant to work with, starting fistfights with people he didn't like. Few who worked for him could stand him, and he had few friendships in the entertainment business.
In 1961, he finally took his talents to Broadway. He conquered the Great White Way in the hit musical, How to Succeed in Business Without Really Trying, and he played Lord Marmaduke Ffogg in the show Batman.
A bit of Vallee always remained in Maine. Though he lived in California, he maintained a summer home at Kezar Lake. He also composed the University of Maine fight song, the Stein Song.
Rudy Vallee is buried in Saint Hyacinth Catholic Cemetery in Westbrook, Maine. His family had to replace his gravestone after someone stole it.
Gary Moore and Garry Merrill are also buried in Maine.
John Belushi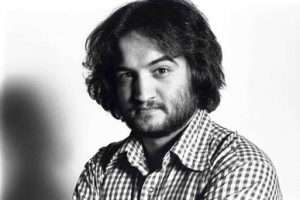 In 1974, John Belushi and Judith Jacklin, his high-school sweetheart from suburban Chicago, visited Martha's Vineyard for the first time.  Still in his early 20s, he had a part in  National Lampoon's off-Broadway revue Lemmings in New York. He and Judith drove up to New England for a vacation.
They fell in love with Martha's Vineyard. One year after that first visit, he rocketed to fame on NBC's Saturday Night Live. His wild comic characters included Bluto Blutarski, in Animal House, Blues Brother Joliet Jake Blues, Samurai Futaba, Pete, the counter guy at the Olympia Café ('Cheezborger, Cheezborger'), Joe Cocker and the Killer Bee.
In the summers of 1977 and 1978, the Belushis rented houses on the Vineyard. Then they bought a house in Chilmark from former Defense Secretary Robert McNamara. "This is where I like being me," John Belushi once said.
He died of a drug overdose in Los Angeles in 1982 at the age of 33 and buried in Abel's Hill Cemetery on the Vineyard. He wanted a Viking funeral, but his mother wouldn't allow it.
His gravestone reads, "I may be gone, but Rock and Roll lives on." After his fans trashed the gravesite, Judith had his body be moved to an unmarked grave some distance from the tombstone.
Also buried in Massachusetts: Thelma Todd and Anne Revere.
Claude Rains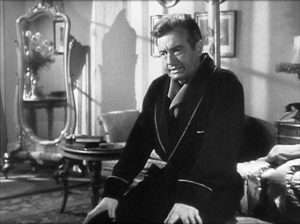 Claude Rains, one of the great character actors of Hollywood's golden age, was laid to rest next to the last of his six wives, Rosemary Clark Schrode.
They are buried in Red Hill Cemetery in Moultonborough, a small town on the north shore of Lake Winnipesaukee.
He was born in London, England, in 1889, the son of a stage actor. He first appeared on stage at age 11, and continued his acting career in New York in 1913.
Eventually he made his way to Hollywood. He was nominated four times for an Academy Award, but never won. Rains played the title role in The Invisible Man, the corrupt police chief in Casablanca, a spy in Alfred Hitchcock's Notorious. He failed his screen test, though, for Katharine Hepburn's first film, Bill of Divorcement.
Claude Rains spent his last years in a country house in Sandwich, N.H., a big white place with columns in front. He was introduced to the area when he and his fourth wife brought their daughter to summer camp in New Hampshire.
Rains already had a house in Pennsylvania, but after regular visits to friends at Squam Lake he bought the Sandwich house in 1963. Rosemary died soon after. Rains died of an an abdominal hemorrhage in Laconia on 30 May 1967, aged 77. He designed his own tombstone in Red Hill Cemetery in Moultonborough. It reads, ""All things once are things forever, Soul, once living, lives forever."
Also buried in New Hampshire: Tammy Grimes.
Anthony Quinn
Anthony Quinn was born in 1915 in Mexico and grew up in East Los Angeles. He fathered 13 children and starred in 100 feature films, including the Bedouin leader in Lawrence of Arabia in 1962 and the title role in the 1964 film Zorba the Greek.
Quinn won two Oscars, one for his performance the 1952 film Viva Zapata! and another for the 1956 drama Lust for Life. He was nominated for two more, Wild is the Wind and Alex Zorbas.
Quinn fathered 13 children and lived around the world, but spent his last years in Bristol, R.I. He bought a 10-acre compound on Poppasquash Neck with views of Narragansett and Mt. Hope Bays. He and his family lived on the estate from 1995 until 2001.
Quinn explained in an interview with Larry King why he moved to Rhode Island: "I went up there because — in New York, it was very difficult for me to live, and New York is a very competitive town, and I got tired of competition."
He died in 2001 of throat cancer. His funeral service was held at the First Baptist Church in America in Providence.  His widow asked the Town of Bristol for permission to bury him on his property. Her wish was granted.
Charles Bronson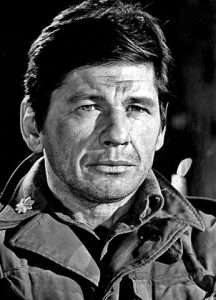 Charles Bronson was born Charles Dennis Buchinsky in 1921 in Pennsylvania coal country north of Johnstown. He was the 11th of 15 children in a family of Lithuanian coal miners.
Bronson  followed his family into the mines until World War II, when he enlisted in the Army Air Force. He served as a tail gunner on B-29 bombers in the Pacific, flying 25 missions, and getting wounded in action.
After the war, Bronson went to art school on the GI Bill in Philadelphia. He decided he wanted to act after working as a set designer, and moved to Pasadena, Calif. He appeared in bit parts as a tough guy, gangster or Indian, until his breakthrough film, The Magnificent Seven.
Bronson then appeared in The Great Escape and The Dirty Dozen, next to Elvis Presley in Kid Galahad and in television roles. He made his most famous film, Death Wish, in 1974.
Charles Bronson starred in 14 films with his second wife, Jill Ireland, who died of breast cancer in 1990. They had seven children, who traveled with them to film locations. The family also vacationed at their colonial farmhouse in West Windsor, Vt., called Zuleika Farm. Ireland raised horses there and trained them for their daughter, Zuleika.
Bronson then married Kim Weeks, and stayed married from 1998 to his death from Alzheimer's and pneumonia in 2003. He is buried in Brownsville Cemetery in West Windsor.
Engraved on his tombstone is the poem Do Not Stand At My Grave And Weep by Mary Elizabeth Frye.
Photos: Katharine Hepburn gravestone, By Bunkosquad – Own work, CC BY-SA 3.0, https://commons.wikimedia.org/w/index.php?curid=16637740; John Belushi, By Source (WP:NFCC#4), Fair use, https://en.wikipedia.org/w/index.php?curid=43755377. This story was updated in 2023.  Brownsville Cemetery (Charles Bronson superimposed) By Djmaschek – Own work, CC BY-SA 4.0, https://commons.wikimedia.org/w/index.php?curid=80171222.