For many years, oceans of Aqua Velva after-shave lotion poured out of the J.B. Williams Co. factory in Glastonbury, Conn., and into grandpa's medicine cabinet. It became one of the best-selling brands of aftershave on the strength of aggressive advertising. Aqua Velva, according to the hype, was (and still is) a manly product that left men feeling "cool and refreshed."
Today it's still available in drugstores, viewed as a cheap, old-school brand. Its retro appeal was acknowledged by the television series Frasier with references to Martin Crane, the retired cop, as an Aqua Velva man.
The blue aftershave also inspired a blue cocktail called the Aqua Velva. Made of gin or vodka, blue curacao and Sprite, it was featured in the 2007  film The Zodiac Killer. It also inspired another cocktail during World War II.
For the people of Glastonbury, Aqua Velva created hundreds of jobs. But that was back when it seemed important to actually make things.
J.B. Williams
For decades, the J.B. Williams Co. was the largest employer in Glastonbury, Conn. J.B. was James Barker Williams, born in 1818 in Lebanon, Conn. At 16 he got a job in a general store in Manchester. Four years later, he owned half the business. But his real interest was in chemistry, and he experimented with different kinds of soap. By 1840 he had come up with a shaving product he called Williams Genuine Yankee Soap.
James Barker Williams was born in 1818 in Lebanon, Conn. At 16 he got a job in a general store in Manchester, Conn., and owned half the store four years later. But he wanted to make a product better than any soaps the store carried. He experimented for a while and In 1840 he left the store and put his first shaving product on the market. Genuine Yankee Soap was the first soap  made exclusively for use in a shaving mug.
Glastonbury
By 1849 he had moved to Glastonbury with his brother and began making soap in his father-in-law's gristmill.  Beards were fashionable then, and shaving with a straight razor – the only option – was dangerous. J.B. Williams Co. grew slowly. The first year after his start in Glastonbury he employed seven people blacking and ink along with the Genuine Yankee Soap. The soap label boasted that its lather was unequalled for richness and permanence anywhere in the world.
Thirty years later, the company had grown to 15 employees making shaving soap.[ He exhibited Williams Barber's Bar Soap at the 1876 Centennial Exposition in Philadelphia.
In 1880, his son David began making a laundry soap he called Ivorine. By 1885, the company had a division in London (London ad). But was still pretty small. According to the U.S Park Service, an 1890 group photo shows 17 factory workers.
Other members of the Williams took over when J. B. died in 1917. "His courtesy was unfailing and his generosity widespread," read his obituary.
The Birth of Aqua Velva
People considered the J.B. Williams Co. "a wonderful place to work," according to Robert J. McKeown. He had worked at J.B. Williams Co. during its golden age of prosperity and growth. McKeown started as an office boy in 1915, rose to plant foreman and then retired in 1960 after the company changed hands.
J. B. Williams grew rapidly after the turn of the century as beards fell out of fashion. Another Yankee innovator, King Gillette, in 1901 had patented the safety razor, which allowed men to shave themselves without fear of slashing their throats. When Germans began using poison gas, the U.S. Army started issuing gas masks and safety razors. Soldiers had to be clean shaven for the masks to fit properly.
The company expanded quickly, building new brick factories in Glastonbury. By the 1950s about 40 people worked in the office and perhaps 300 production workers, men and women, according to McKeown. J.B. Williams had more than 225,000 square feet of floor space. Today, those old factories along with the Williams family houses comprise the J.B. Williams Historic District. The factories are now known as the Soap Factory Condos.
J.B. Williams trademarked Aqua Velva  in 1917, the year the U.S. entered World War I.
Aqua Velva, Ya or Nay?
Opinion is divided on the merits of Aqua Velva. The Art of Manliness blog calls it "a nice, clean, masculine smell that's heavy on the menthol, but also includes hints of vanilla, lavender, and oakmoss." The strong menthol smell fades to a "pleasant manly oakmoss."
Detractors describe a "toxic scent cloud," calling it "Thunderbird Ripple Wine of aftershaves," and "the toiletry of choice for used-car salesmen."
Face Fitness
By the early part of the 20th century, J.B. Williams had global reach. It made talcum powder and toilet soaps, expanding to Montreal (around 1922) andto  Argentina.  The company spent heavily to advertise Aqua Velva with sometimes-preposterous claims. During the Depression years of the 1930s, for example, one Aqua Velva ad promised prosperity.
"Swing around and meet prosperity," proclaimed one magazine ad featuring a handsome, well-dressed businessman turning around from his desk. "Chin-up — sales line up! The man who looks like business, meets better business more than halfway. Confidence. Calm. Sure of himself. And you can be sure he has the right idea about face-fitness."
Until World War II, J.B. Williams ad promised Aqua Velva would produce "A Face That's Fit." One detractor, not a fan of the Aqua Velva fragrance, complained the only guarantee Aqua Velva could make was a seat on a crowded bus.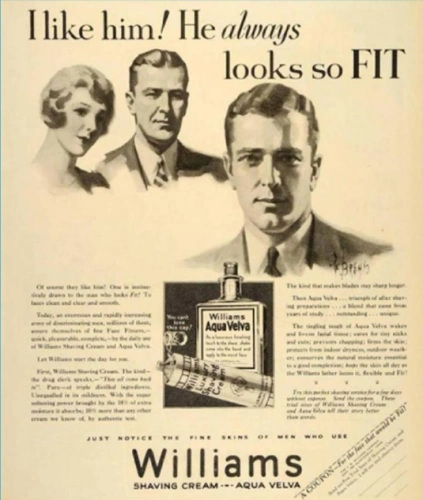 Man-Style Perfume
The company always took care to stress that Aqua Velva was not a ladies' perfume but a manly scent.
"It delights with its he-man fragrance," boasts a 1925 ad in National Geographic. Or By June 1925, J.B. Williams was advertising in "The Journeyman Barber," offering barbers a free one-ounce bottle of Aqua Velva after shave. "It tingles delightfully when applied," and it "is pleasant with its man-style perfume."
Tones Up. Protects.
During the 1930s, the aftershave featured macho sports figures like Pepper Martin and Lou Gehrig in its advertising. It also promised success to those who used Williams shaving cream and Aqua Velva.
"Some day those hopes of yours for success are to be realized. Be ready for that day by looking the part. Neat grooming. A smooth, clear-toned skin. These things count. And Williams Shaving Service can help you."
Aqua Velva ads also offered a scientific explanation of its health benefits. "It cares for nicks and cuts, usually too small to see," reads an ad featuring a collage of football players. "Tones up. Protects."
Gentlemen's Shaving Club
James Jones, in his World War II novel, The Thin Red Line, describes an incident during the Battle of Guadalcanal. A PX store set up behind the lines got a shipment of Barbasol and Aqua Velva.
"Inside of seven hours the entire stock of Aqua Velva was sold out, although there was plenty of Barbasol left for those who wanted it….Nevertheless, members of the company managed to buy enough bottles of Aqua Velva so that everybody was able to get solidly drunk for one night."
Mixed with canned grapefruit juice, wrote Jones, "the shaving lotion did not taste at all…Everyone loved it."
J.B. Williams later denatured Aqua Velva with denatonium benzoate.
The company, however, did not promote Aqua Velva as a cheap drunk for scared soldiers. It ran an ad campaign that appealed to snobbery, Anglophilia and wartime patriotism. In a series of magazine ads, it invited men to join an exclusive shaving club.
"Gentlemen everywhere enjoy the cool, bracing lift of Aqua Velva, the world's most popular after-shave lotion," read an ad that appeared in Life Magazine on June 11, 1945. "But now, with essential ingredients being used for war production, there is less Aqua Velva to go around. Avoid Waste. Only a few drops of refreshing Aqua Velva leave your face feeling softer and smoother — with a clean, pleasant scent."
Perhaps the company wanted to distance itself from its boozy image.
'For the vital look they admire'
The year 1950 began the era of consolidation for J.B. Williams, which ultimately spelled its departure from Glastonbury.
In 1950, J.B. Williams merged with Brooklyn, N.Y.-based Conti Products Corp., which made Conti Castile Soap. J.B. Williams then merged with R. B. Selmer Inc., and in 1957 New York-based Pharmaceuticals, Inc., bought the company and moved it to Cranford, N.J. Ten former Williams employees took over the plant and named themselves Glastonbury Toiletries. It had a contract with the J.B. Williams Co.
By 1955, the company dropped face fitness and the exclusive after-shave club for sex appeal. A 1955 ad featured a handsome man's face and two women in the background, preening in their bathing suits.
For the vital look they admire…" reads the ad copy.
For those who didn't care about attracting the ladies, Aqua Velva tried fear.
More men, dermatologists say, come to them with skin infections due to shaving than for any other cause. These infections often spring from tiny nicks and scratches you can't even see. Often, these tiny cuts become more serious than major ones because you take care of major cuts but neglect little ones.
The Aqua Velva Man Appears
Then came the '60s and one of the most famous advertising slogans of the late 20th century: There's something about an Aqua Velva Man.
And then Pete Rose interrupted your television program to say: "A man wants to smell like a man!" The Lone Ranger and Tonto were Aqua Velva men.
So was Jimi Hendrix, though it's hard to believe this ad isn't a hoax.
In 1971, Nabisco bought J.B. Williams. Six years later, Glastonbury Toiletries closed. In 1982, the same year the Beecham Group bought J.B. Williams. Beacham became SmithKline Beecham, then GlaxoSmithKline; finally, Combe Incorporated bought the company in 2002. None of those mergers did much to sell more product, and Aqua Velva fell to the bottom shelf of the local drugstore.
Images: Aqua Velva-1930s By Eric.cat – Own work, CC BY-SA 4.0, https://commons.wikimedia.org/w/index.php?curid=61817339. J.B. Williams Co. Historic District By Magicpiano – Own work, CC BY-SA 4.0, https://commons.wikimedia.org/w/index.php?curid=72852635. First Church of Christ By John Phelan – Own work, CC BY-SA 4.0, https://commons.wikimedia.org/w/index.php?curid=68476551. This story last updated in 2023.