Once the most famous architect of his day, Ralph Adams Cram designed many churches, schools and libraries throughout New England. He also planned much of Princeton University, the U.S. Military Academy at West Point and the great cathedral St. John the Divine in New York City.
Ralph Adams Cram
Cram was born Dec. 16, 1863, in Hampton Falls, N.H., to an old New England family. His parents named him for Ralph Waldo Emerson and John Adams.
He became not only a prominent architect but an Anglo-Catholic, or High Episcopalian. He also founded the Catholic magazine Commonweal. Cram headed MIT's architecture department for seven years. In 1926, he made the cover of Time magazine.
Though an ardent advocate of Gothic Revival, Ralph Adams Cram also designed buildings in the Colonial Revival and Art Deco styles.
Cram died Sept. 22, 1942. Unlike his contemporary, Frank Lloyd Wright, his fame has dimmed. The Episcopal Church, though, celebrates his birthday as a feast day.
Here, then, are six churches designed by Ralph Adams Cram, one in each state. If you know of another, please mention it in the comments section.
Seymour St. John Chapel
In 1924, The Choate School in Wallingford, Conn., had 339 male students and a pressing need for a chapel. (John F. Kennedy would later attend Choate.)
Then-headmaster George St. John wrote in his autobiography, "To run a school without a chapel seemed like running a line for light and power without a powerhouse."
To raise the $100,000 to pay for the chapel, alumni, parents and friends contributed, as  did students who sold bricks for $5.
Ralph Adams Cram designed the chapel in the Colonial Revival style. Choate broke ground for the building in May 1924 and dedicated it in 1925.
Choate merged with a girl's prep school in 1971 and became Choate Rosemary Hall. In 1998, the school rededicated the chapel and renamed it after the Rev. Seymour St. John, headmaster from 1947 to 1973.
All Souls Congregational Church
In 1911, a great fire destroyed much of Bangor, Maine, including the First Congregational church, which overlooked the central business district. The Third Congregational Church also burned in the fire, so the two parishes joined together to build a new church on the site of the First's old one.
The two parishes commissioned Ralph Adams Cram, who designed an exceptionally creative (some say odd) Gothic Revival church. He incorporated flying buttresses, a rose window, a slender copper-clad spire, a small bell tower and stone from the Third's building.
The church, which occupies a city block, once faced a row of stately homes. Today it looks across at offices, gas stations and retail stores.
All Saints Church, Ashmont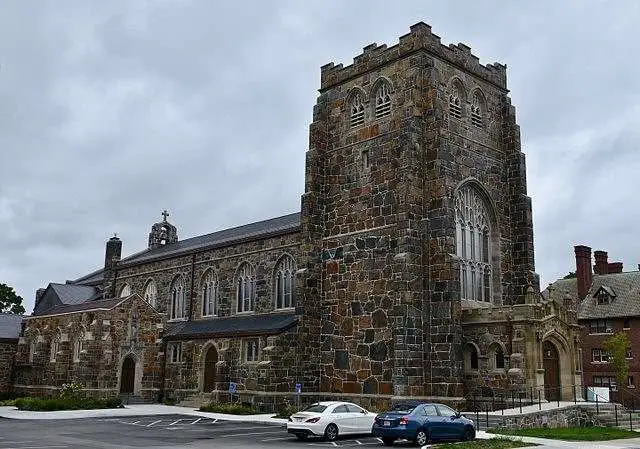 One stormy Sunday, a snow squall stranded Mary Lothrop Peabody and her husband Oliver near the small wooden chapel of All Saints in Boston's Dorchester neighborhood. They were on their way from their estate in Milton to church. They had just lost a young child. Coincidentally, so had the rector of the All Saints chapel. The storm hit them on Dec. 28, 1879, the Feast of the Holy Innocents.
The Peabodys stopped in the chapel instead of forging on to church in Boston. The sermon moved them deeply. The minister preached, "Rachel, weeping for her children, and would not be comforted, because they are not."
Oliver had co-founded the investment bank Kidder, Peabody. He and Mary decided to build a new All Saints church. They, like Cram, were children of Unitarian ministers who became Anglo-Catholics, aka High Episcopalians.
The Peabodys hired young architects, Ralph Adams Cram and his partner Bertram Goodhue. They persuaded the Peabodys (or perhaps they needed little persuading) to revive the Gothic style in the design of All Saints. It was Cram's first church. Cram biographer Douglas Shand-Tucci said of All Saints, Cram's first church:
A significant landmark in American architectural history, All Saints' is, of its type, Cram and Goodhue's masterpiece, and a model for American parish church architecture for the first half of the 20th century.
All Saints Church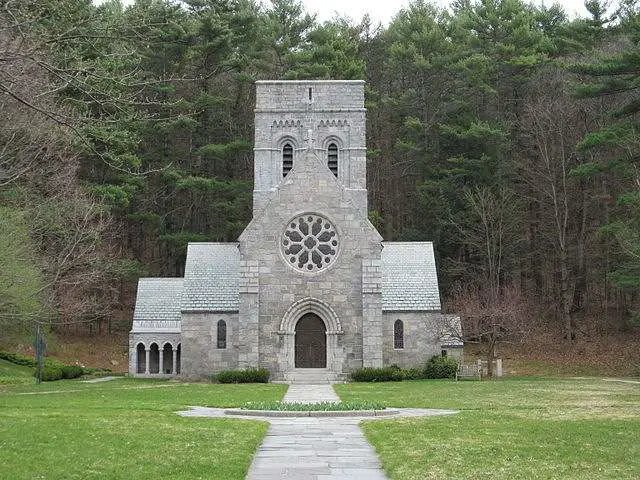 The Episcopal All Saints Church, Peterborough, is one of Cram's small masterpieces, considered by some to be the most beautiful church in America. It's set back from the road on four acres in the Monadnock Region of New Hampshire. Ralph Adams Cram modeled it after St. Mary the Virgin Church in Iffley, Oxfordshire, England.
Cram stressed local workmen and local materials – hence, he ordered the building built of granite. Some of the finest Arts and Crafts artisans in the region decorated the interior: woodcarver Johannes Kirchmayer, ironworker Frank Koralewski and stained glass artisan Charles Connick.
Mary Lyon Cheney Schofield commissioned the building in 1913 to honor her family. Her first husband, Charles Cheney, was the son of the founder of American Express. He died in 1897, shortly before their third child was born. Her second husband, Harvard professor William Schofield, died in 1920. One of her sons died in World War I. Mary lived until 1947. She, her husbands and her son are interred in the chapel.
Emmanuel Church
In the early 19th century, many residents of South Newport, R.I., couldn't afford to attend church because they had to buy pew seats. So in 1841, three women from Trinity Church began to hold religious meetings in their homes.
Eight years later, with 88 members, they bought an empty Baptist church. Within three years, the Rhode Island Episcopal diocese admitted Emmanuel Church. The parish soon built a wooden Tudor-style church.
By the turn of the century, the old church needed repair or replacement.
Rhode Island's prominent Brown family stepped in and commissioned Ralph Adams Cram to design Emmanuel Church in Newport. He later designed other buildings for the princely Browns.
Natalie Bayard Brown built the church in memory of her husband, John Nicholas Brown I. It took two years to build, reaching completion in 1902. Cram's partner, Bertram Goodhue, designed the rich interior ornamentation, which went wildly over budget.
In the early 1930s, concert organist E. Power Biggs served at the church.
Today, Emmanuel still prides itself on welcoming anyone who wishes to worship.
St. James Episcopal Church
The parish of St. James was organized in the summer of 1826, when Woodstock, Vt., was a prosperous mill town that produced scythes, carding machines, woolens, carriages and tack.
It was built in time for Christmas Eve service in 1827 and consecrated the next year. The founders of the parish bought stone for the church, but discovered quicksand under the land donated for the site. They built a wooden frame church instead, and put a Paul Revere bell in the tower.
In 1907, St. James got the stone church its founders wanted. Ralph Adams Cram designed the building, considered one of his most distinguished smaller churches. He incorporated the brass pulpit and lectern, the marble font and three stained glass windows, one of which came from Tiffany studios.
If you'd like to read more about Gothic Revival buildings in New England, see our story about Henry Vaughan.

Photos: St. James Episcopal Church, AlexiusHoratius~commonswiki; Emmanual Church By Swampyank at English Wikipedia, CC BY-SA 3.0, https://commons.wikimedia.org/w/index.php?curid=20434397; All Saints Church, By John Phelan – Own work, CC BY-SA 3.0, https://commons.wikimedia.org/w/index.php?curid=19104034; All Saints, Ashmont By Jim Roberts – Own work, CC BY-SA 4.0, https://commons.wikimedia.org/w/index.php?curid=51960817; Seymour St. John Chapel, Wallingford, Conn. By Daderot (Own work) [Public domain], via Wikimedia Commons.
This story about Ralph Adams Cram was updated in 2021.