Trying to pick six historic apple orchards in New England may be a fool's errand. As Maine apple expert John Bunker explains, the notion of a commercial orchard is relatively modern.
"At a certain point, everyone had an orchard," Bunker told the New England Historical Society. "Everyone lived on a farm, and every farm had an orchard."
In the 1920s, a New Hampshire farmer came up with the idea of bringing tourists from Boston to pick their own apples in the fresh air and sunshine. The idea took hold. Today, 200-year-old farms are weathering developers (if not the weather) by diversifying with farm-to-table meals, cider, kids' play areas, ready-to-eat food, hayrides, sleigh rides, corn mazes and even seasoned firewood.
Agritourism today is just as much a feature of the New England landscape as history tourism. Here, then, are six historic apple orchards, one in each New England state.
Lyman Orchards, Middlefield
Lyman Orchards can trace its roots back more than 275 years to John and Hope Lyman, who bought 37 acres of land in 1741 to establish their farm. Today the huge farm covers more than 1,000 acres, with a big history to match.
In 1830 the farm was headed by William Lyman, who became a leader in the abolitionist movement and a supporter of the Underground Railroad. The original 1785 Lyman homestead still stands on the property (though it's been moved – pulled to its present location by oxen). The family tree sprouted a host of entrepreneurs who helped incorporate the town and build railroads, washing machines and gun sights.
The farm itself took on many flavors over the years, producing peaches, lambs, cattle and even supporting a golf course. Today it's one of the most popular family attractions in Connecticut.
Lyman Orchards is located at 3 Lyman Rd., Middlefield, Conn.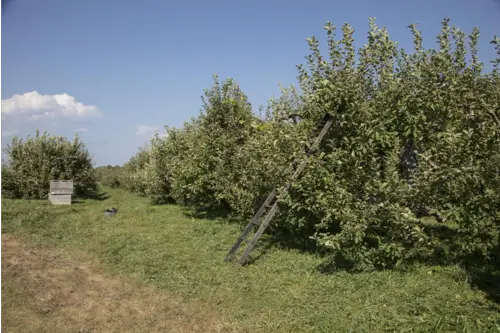 Jonathan Fisher House, Blue Hill
Parson Jonathan Fisher was the first Congregationalist minister in Blue Hill, Maine, serving from 1794 to 1837. He was also a jack of all trades, a scientist who farmed, surveyed, wrote, bound his own books, made buttons and hats, built furniture, painted sleighs, reported for the local newspaper and helped found Bangor Theological Seminary.
Today his homestead is a house museum on the National Register of Historic Places. Around 2010, Leslie Cummins and Tim Seabrook of 5 Star Nursery in nearby Brooklin replanted his orchard around a 200-year-old pear tree still standing. They planted three trees he wrote about in his journals: Ribston Pippin, Golden Russet, and Roxbury Russet. The heritage orchard includes a group of apple trees that existed in New England before 1800, including the Rhode Island Greening.
The Jonathan Fisher House is at 44 Mines Rd., Blue Hill, Maine.
Lookout Farm, Natick
In 1650, Natick, Mass., was founded by Puritan missionary John Eliot and a small group of settlers who paddled down the Charles River in canoes. The settlers established a farm on the banks of the river in 1651. They planted beans, turnips, strawberries, grapes – and of course grew apples. In 1761, Capt. David Morse bought the farm, and he and his family lived and worked there for nearly 75 years. It got the name Lookout Farm in 1894, when Charles Whittemore and his brothers took over.
After a series of owners worked the farm, Joan and Steve Belkin bought it in 2005.
Today the farm comprises 180 acres with 60,000 fruit trees, a pick-your-own fruit business and a hard cider taproom. The Belkins also sell holiday pies and seasoned firewood.
They grow 11 varieties of apples, Asian pears, pumpkins, peaches, plums, strawberries and nectarines.
Lookout Farm is at 89 South Pleasant Street, South Natick, Mass.
Applecrest Farms, Hampton Falls
In the late 19th century, the railroad came to New Hampshire's seacoast. It let farmers ship milk, apples, potatoes and lumber to Boston. A Hampton Falls farmer had another idea. He brought tourists once a week from Boston via an 'Apple Train' – one that stopped near his farm – so they could pick their own apples.
It was a novel idea back in the 1920s, but it worked. Four generations of the Wagner family have farmed the land, and today, Applecrest claims to be the oldest continually operated apple orchard in America. At the very least, it's probably one of the oldest agritourist destinations.
Today, as many as 15,000 people visit Applecrest Farms on an autumn Sunday. There's a 200-year-old barn on the 225-acre farm and buildings that date to the 18th century. The farm offers pick-your-own apples, hayrides in season, apple cider and farm-to-table dining at its Farm Bistro. Their Idared apple dates to 1942, developed in Idaho as a cross between the Jonathan and Wagener.
Applecrest Farms is at 133 Exeter Rd. (Rte. 88), Hampton Falls, N.H.
Steere Orchard, Smithfield
Historic Smithfield, R.I., once had so many orchards it was known as 'Apple Valley.' Apple growing reached its peak in Smithfield during the 1930s, but the Great Hurricane of 1938 wiped out many trees. Real estate developers wiped out many of the orchards that the hurricane missed.
Steere Orchards in the Smithfield village of Greenville is Rhode Island's largest orchard. According to its website, Arthur W. Steere with his son, Henry J. Steere, started the orchard around 1930. Arthur's grandson John and great-grandson Jim now run the family apple business.
You can pick your own apples at the Steere Orchards, which offers 12 varieties: including Macoun, Honeycrisp, Gala, Cortland, Red and Golden Delicious, Macintosh and the famous Rhode Island Greening. The Greening was said to grow in only two places: heaven and Rhode Island.
They're at 150 Austin Ave, Greenville, R.I.
Apple Barn, Woodford
Edward Hamlin Everett established Southern Vermont Orchards in 1910. He made millions in the glass business. Then he built a baronial mansion in his hometown of Bennington, and planted 75,000 apple trees, 3,000 plum trees and 2,000 quince trees. The orchards covered 10 miles. He planted 65 varieties of apples, cherries, quince, pears and plums. It was said to be the largest privately owned orchard in the world.
Everett died in 1929. He left most of his estate to his second wife and shortchanged his three daughters by his first wife, or so they thought. The daughters challenged the will after he died, and during the trial one of his daughters stayed at the family mansion. (He also had a house in Washington that is now the Turkish Ambassador's residence.)
They're at 150 Austin Ave., Greenville, R.I.
One night she heard weeping coming from her father's study. She went to the room and found her mother lying on the floor, clearly a murder victim. At least that's the story.
Today, Southern Vermont Orchards operates over 300 acres of orchard remaining from Everett's original spread. Among the varieties they grow are Northern Spy, which originated in upstate New York in 1800; the 17th-century Gravenstein; and the Paula Red, discovered in Michigan in 1960. The orchard's Apple Barn offers beer, wine and cider tastings. They're at 604 US Rt 7S, Bennington, Vt.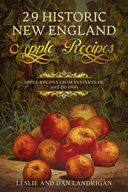 Are you looking for a book to help you explore apple recipes from yesteryear? The newly revised  29 Historic New England Apple Recipes includes recipes for traditional New England apple dishes, fun facts about the unique history of apples and a guide to making cider and cider vinegar. An Amazon #1 New Release. 
Available now from Amazon.
Photos courtesy Library of Congress, except for Bramley apple By David Wright – Flickr: Bramley's Seedling Apples, CC BY 2.0, https://commons.wikimedia.org/w/index.php?curid=16594109.
This story about historic apple orchards was updated in 2023.