So much of New England looks like a Currier & Ives print over the holidays that it was hard to choose the best of the Christmas towns.
We ended up choosing a town or city that offers history along with the carols, greenery, lights, Santas, skating rinks and horse-drawn sleighs.
So here are six of the best historic Christmas towns, one for each New England state.
Wethersfield, Conn.
Wethersfield, one of the three oldest Connecticut towns, has the state's largest historic district. Some of Wethersfield's most historically significant houses dress up and offer tours over the Christmas holidays.
The Webb-Deane-Stevens Museum goes all out with its annual Three Centuries of Christmas event in its three historic houses. The museum shows the evolution of the Christmas holidays in America with authentic decorations, house tours and candlelight tours led by guides in period dress.
The Silas Deane House presents the 18th century, when the household celebrated New Year's Day as the main holiday when the Puritanical dislike of Christmas still lingered.
The Isaac Stevens House celebrates the holidays the way a middle-class household would during the early to mid-1800s, when New England adopted many of today's Christmas traditions.
Finally, the Joseph Webb House shows a lavish Christmas open house typical of the early 20th century.
Webb-Deane-Stevens: 211 Main St., Wethersfield, Conn. Click here for more information.
Kennebunkport, Maine
The historic seaside town of Kennebunkport, Maine, has celebrated Christmas in a big way since 1982.
In 2022, Kennnebunkport's Christmas Prelude stretches from Dec. 1-11 and features craft fairs, rides through the woods aboard a festive historic trolley and boat rides aboard a Maine fishing boat.
On December 9, the second annual Prelude Family Street festival will feature strolling carolers, food vendors and entertainment from Dock Square through Lower Village.
White Columns, a historic Greek Revival home, offers house tours and stunning Victorian Christmas decorations. The  11th annual fireworks display takes place right after the tree lighting on Friday, Dec. 9.
For more information, click here.
Boston, Mass.
Hundreds of thousands of lights throughout Boston proper put a nighttime sparkle in the historic seaport city.
Faneuil Hall puts on a seven-minute light show with 350,000 lights, along with the city's largest Christmas tree. String lights twinkle throughout the Public Garden and the Boston Common, which also has a lighted Christmas tree and ice skating on the Frog Pond.
City Hall Plaza features a European-style Christmas market with a winding skating path, Santa's House and a traveling wine and beer exhibit.
The Boston Opera House stages the classic holiday ballet, The Nutcracker, and the Paramount Theatre stages Langston Hughes' Black Nativity. It's one of the hottest tickets in Boston, where the play is in its 49th year. The Boston Pops Orchestra plays classic holiday favorites in a cabaret setting at Boston Symphony Hall.
To find out what's going on in Boston over the holidays, click here.
Portsmouth, N.H.
Few holiday traditions evoke the past as well as the Strawbery Banke candlelight stroll, now in its fourth decade in Portsmouth, N.H.
Strawbery Banke, an outdoor history museum, comprises dozens of restored Colonial, Georgian and Federal style buildings clustered around a large green. At Christmas, hundreds of candle lanterns light the grounds, evergreens garnish the houses and holiday music fills the air.
Costumed role players recreate past traditions including a 1919 Hanukkah celebration and a Victorian Christmas. The outdoor Puddle Dock skating rink offers skating every day of the week from December through February.
Strawbery Banke anchors Portsmouth's 'Vintage Christmas' celebration. A big part of Portsmouth's charm lies in its walkability and in its many family-owned shops, restaurants and inns. Fresh green garlands and balsam wreaths decorate nearly every shop and the period homes nearby, while the city illuminates Market Square with a Christmas tree.
The Music Hall Theater in Portsmouth's downtown, along with the Ogunquit Playhouse, present Elf The Musical.
For those who don't want to walk, a free Holiday Trolley circulates through the neighborhoods. And when you pass those shops, remember that New Hampshire doesn't have a sales tax.
For more information, click here. 
Newport, R.I.
Three Newport mansions present over-the-top Christmas tours worthy of the last Gilded Age. The Preservation Society of Newport County decked the halls of The Breakers, The Elms and Marble House with extravagant Yuletide finery through January 1. Thousands of poinsettias, evergreens and flowers decorate the magnificent rooms, while holiday music fills the air and tables glisten with silver and china.
Outside the Breakers, a half-mile-long path glitters with hundreds of thousands of holiday lights at night, including a 50-foot tunnel of light. Friendly gnomes point the way and music fills the winter air.
Santa makes several appearances throughout the holiday season, and on December 9, St. Barnabas Church in Portsmouth  presents a Christmas in Song concert.
Newport recaptures past candlelit holidays with thousands of clear bulbs. For the 52nd annual Christmas in Newport, the lights illuminate the harbor, restored colonial buildings and Bellevue Avenue.
Historic churches and museums hold open houses and high teas, while musicians and thespians stage Christmas concerts and Christmas plays throughout the month.
For more information click here.
Woodstock, Vt.
The quintessential Vermont town of Woodstock throws itself into the holidays with lights, greenery, activities and plenty of shopping action.
The Billings Farm & Museum demonstrates the traditions of a late 19th century Vermont Christmas at Wassail Weekends beginning December 9 from 10 am to 4 pm.
The Woodstock YOH Theatre Players present a live radio play, Miracle on 34th St.,  on Dec. 14, 15 and 16.
The Woodstock Inn offers seasonal culinary treats during the holidays. And on Sunday, December 16, A Festival of Nine Lessons & Carols is presented at the St. James Church in Woodstock.
Local stores stay open late so locavores can do their holiday shopping, and the town's art galleries feature holiday exhibits.
For more information, click here.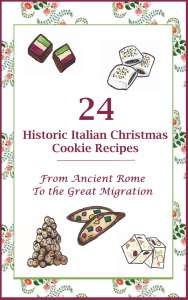 The Christmas holiday actually began in ancient Rome — and so did Italian cookies. The New England Historical Society's new book, 24 Historic Italian Christmas Cookie Recipes, tells you how to make those delicious treats. It also bring you the history of the Italian immigrants who brought them to New England. Available now on Amazon; just click here.
Images: Faneuil Hall by Tony Fischer Photography; Jackson House Inn by Mark Goebels, Creative Commons License; Kennebunkport Tree by Amy Meredith, Creative Commons License. Tree lighting at Faneuil Hall, via Flickr , CC by ND 2.0.  This story was updated in 2022.