Does your holiday shopping list have a history lover on it? Check out these holiday gift ideas for the history lover to help get your imagination sparking.
23 and Me Ancestry Kit
23 and Me Ancestry +Traits
package. One simple test and you'll know more about your own personal history, including where your ancestors came from and ho you're connected to the 1500+ regions of the world 23 and Me has mapped. Opt into the relative search and you'll be put in touch with others from near or distant corners of your family tree.
Curiosity Stream Documentary Subscription
Curiosity Stream
. There's a streaming service for everyone these days. And now there's one for the curious-minded. History, Anthropology, Nature – Curiosity Stream has it all. With over 2,500 original and licensed titles, the service is perfect for the young (or not-so-young) student on your Christmas list. Priced at less than $20 a year and best of all Curiosity Stream is so sure you'll love its service you get a free seven day trial to make sure.
Replacements Ltd.
Replacements. Know someone with a set of vintage china with a piece or two missing or maybe they'd just like an extra place setting or two. Replacements.com can help out. Now closing in on 40 years old, the replacement service has helped countless people add the missing piece to their collection, and it now includes cutlery, collectables and a host of other items in its enormous inventory. And they'll even help you figure out what pattern your object is and submit a "find it for me request."
Fandango Films
Fandango. In this golden age of film, historical movies are hitting the big screen at a rapid pace. In December alone, World War I drama 1917 and the remake of Louisa May Alcott's Little Women – sure to be a blockbuster – are due in theaters. A Fandango gift certificate is a great way to spring for a movie for someone on your list.
Photo calendar
The New England-o-file in your life can have their favorite scenes on their office or kitchen wall all year round with a calendar with a New England theme from Calendars.com, which calls itself the largest collection of calendars in the known world. Or if a history-themed calendar is more up their alley there are dozens of those to choose from as well.
Solve a Mystery
Not strictly a history-related gift, but a fascinating concept for the curious mystery lover on your list, Hunt A Killer is a month-by-month game in which the player receives a box of clues to help solve a cold case. True-crime lovers will be delighted when they receive the monthly installment of clues buried in photos, crime reports, letters and other materials to sort through to solve the murder.
That Perfect  Book
Of course, you can't go wrong with a book are an artifact for most history lovers. Since ABEBooks.com came along, finding antiquarian books and prints has never been so easy. A 1765 map of the route from Boston to the Penobscot Bay can be had for a modest $275,000 or $ 195,000 will get you a collection of Rockwell Kent photographs – along with thousands of more affordable choices.
Betty's Attic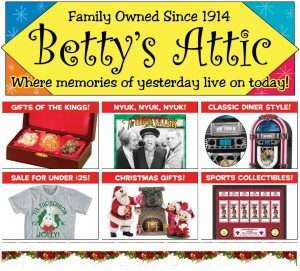 Feeling nostalgic? Look in Betty's Attic where hundreds of quirky, tried and true gifts are lurking: Lincoln Logs, Simon games, and our favorite – candies from decades past. The enterprise began as a catalog outfit in 1914 and lives on today in its current online iteration. If retro is what your looking for, visit Betty's Attic.
Bar Harbor Babylon
Finally, at the risk of sounding immodest, we'd also suggest Bar Harbor Babylon, published just six months ago and written by the New England Historical Society authors, makes a fine gift for anyone curious about the sleazier side of Northern New England's premier summer colony.
FYI: New England Historical Society contains affiliate links. If you make a purchase through these links, this site will earn a commission at no extra cost to you. Thanks for reading!