New England films number in the hundreds since the turn of the last century, partly because the region provides such rich material for stories and characters set against quaint fishing villages, Gilded Age resorts and prep school campuses.
Familiar themes appear again and again in those settings. The theme of the salty sea captain fighting a sea monster inspired films from Moby Dick through Jaws.  Family secrets inspired Eugene O'Neill's fictional Ah Wilderness in 1906 as well as Peyton Place.
Local characters populate many New England films: the rustic Yankee in The Trouble With Harry, the stalwart fisherman in Jaws and the outsider struggling to assimilatein A Separate Peace.
Here, then, are six New England films, each shot on location in at least one of the New England States. If you know of other New England films worth mentioning, please share in the comments section.
The Effect of Gamma Rays on Man in the Moon Marigolds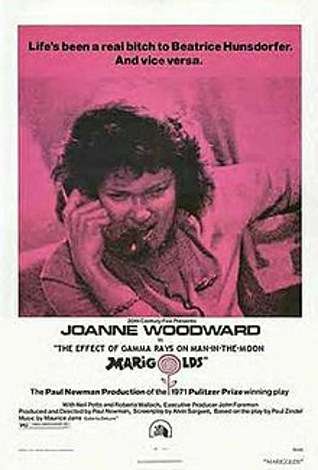 The Effect of Gamma Rays on Man in the Moon Marigolds was based on the Pulitzer Prize winning play by Paul Zindel about an eccentric, unhappy middle-aged widow, Beatrice Hunsdorfer, and her teen-aged daughters, Ruth, an epileptic doomed to repeat her mother's mistakes and Matilda, who is quiet, ambitious and intelligent.
Joanne Woodward played the lead, her husband Paul Newman directed and their daughter Nell Potts (who later ran Newman's Organics) played Matilda. Roberta Wallach, Eli Wallach's daughter, played Ruth.
Though the story took place on Staten Island, the film was shot in Bridgeport, Conn., because it was only 17 minutes from Paul Newman's home in Westport, Conn. The set was constructed inside an abandoned Hungarian church, and scenes were shot at Warren Harding High School.
Joanne Woodward immersed herself in the role, and later admitted to taking her angry, humorless persona home with her. One night Paul Newman arrived at a friend's house carrying his clothes in a shopping bag. "I'd like to occupy your spare room," he said. "If I spend another night in bed with Beatrice Hunsdorfer, one of us will not be on the set tomorrow."
Peyton Place
Peyton Place was based on New Hampshire writer Grace Metalious' best selling novel of the same name. It told the story of sordid secrets – adultery, sexual abuse, murder and hypocrisy – hidden behind New England's closed doors.
Producers looked long and hard for a New England location. Vermont and New Hampshire rejected them because of the racy content. So they turned to the Maine towns of Skowhegan, Waterville and Wiscasset. Ultimately they chose Camden, where the public library wouldn't put Peyton Place on its shelves.
The 1957 film, which starred Lana Turner, was shot mostly in Camden, Maine, with some exteriors filmed in Belfast and Rockland (also Lake Placid, N.Y.). About 500 local people appeared in the film as extras, though some ended up on the cutting room floor.
The film premiered in Camden two days before everyone else saw it. Peyton Place didn't do well at the box office for the first four months. Then,  Lana Turner's daughter killed her mother's mobster lover, Johnny Stompanato. It became the second-highest grossing film of 1958.
Peyton Place received nine Oscar nominations, including four for supporting performances.
Back then Camden was mostly a working-class town that attracted some well-to-do tourists. Today it's a wealthy tourist town, though it still looks much the way it did when the film was shot.
Jaws
The 1975 horror film, Jaws was a classic summer blockbuster and a watershed in the American movie industry. It featured a simple premise — the hunt for a man-eating shark that terrorized beachgoers.
The most successful of New England films – and in box office history at the time — it set a precedent as an action and adventure films released during the summer in thousands of theaters and advertised heavily.
Jaws was filmed in Massachusetts, mostly in Menemsha on Martha's Vineyard, as well as in Falmouth. The film features the American Legion Memorial Bridge between Oak Bluffs and Edgartown. Now it's referred to as the "Jaws bridge." (Click here for a map of the Martha's Vineyard filming locations.)
Jaws won many awards, including three Academy Awards, despite an inauspicious start. ""We started the film without a script, without a cast and without a shark," said Richard Dreyfuss, one of the film's stars.
In 2001, Congress voted to include Jaws in the National Film Archive as "culturally significant." The author, Peter Benchley, later felt guilty about unfairly maligning the Great White Shark, a creature generally uninterested in eating human beings.
A Separate Peace
Producers didn't have to look too hard to find a setting for the movie A Separate Peace, based on the novel by the same name written by John Knowles. Knowles based his bittersweet coming-of-age story on his time at Phillips Exeter Academy in Exeter, N.H. So in 1972 when the filmmakers were adapting the story to the screen and needed a locale for "Devon Academy," they brought the story back to Exeter.
Sharp-eyed viewers will also notice Newfields, N.H., and Salisbury Beach, Mass. in some of the backgrounds.
The film, about the rivalry between two school chums during the World War II era, received mixed reviews. But fans in New England enjoyed seeing the familiar locations highlighted. Phillips Exeter still maintains a photo essay that shows where scenes from the film were shot.
Jazz on a Summer's Day
One of the great concert documentaries, Jazz on a Summer's Day captures many of America's greatest jazz musicians performing at the Newport Jazz Festival in 1958. Filmed in Freebody Park, where the festival took place, it includes shots of the audience, the city and the America's Cup race, then in progress.
The film was shot by fashion photographer Bert Stern and won praise for its lush, color-drenched luminosity and breezy feel. Headliner Louis Armstrong sings Rocking Chair with Jack Teagarden, Dinah Washington swings to All of Me, Ray Charles belts out I Got A Woman and Chuck Berry does the duck walk to Sweet Little Sixteen.
The star of the film, though, is Anita O'Day, who sings Sweet Georgia Brown and Tea for Two in white gloves and enormous feathered hat. (Watch her here.)
Trouble With Harry
Just about all of Alfred Hitchcock's films are classics, and The Trouble With Harry is no exception.
The trouble with Harry in the film is that he was dead. Hitchcock' filmed his 1955 dark comedy starring John Forsythe and Shirley MacLaine filmed in the Vermont towns of Morrisville, Barre and Craftsbury Commons.
The crew arrived in Craftsbury on September 27, 1954 to film outdoor shots of fall foliage. Unfortunately, there wasn't any, so they glued leaves on trees.
The Trouble With Harry was nominated for three awards, including BAFTA, Directors' Guild and Satellite for "Outstanding Classic DVD" in 2005.
Images: Camden, Maine, made by Robert Swanson. Original uploader was Ryssby at en.wikipedia – Transfered from en.wikipedia Transfer was stated to be made by User:Blast., CC BY-SA 3.0, https://commons.wikimedia.org/w/index.php?curid=3185574. Menemsha By User:Elkman – http://en.wikipedia.org/wiki/Image:Menemsha.jpg, CC BY-SA 3.0, https://commons.wikimedia.org/w/index.php?curid=1350749. This story was updated in 2022.