Edward Gorey found inspiration for his macabre and witty drawings in cheese graters, Japanese cinema, French surrealism, insects, old children's books, decorative rocks and Buffy the Vampire Slayer – to name a few.  You've probably seen his work as the animated introduction to PBS's Mystery series. Or maybe you've read his irreverent children's books, seen his costumes for Dracula or own a literary classic with a Gorey-designed book cover.
"Be open to everything. Never close your mind because you never know where your next idea may come from. You just never know," he told a friend.
As both an author and illustrator, he produced an astonishing amount of work, including illustrated books, cover art, posters, theatrical sets.  He once designed a refrigerator magnet for the Funeral Consumers Alliance. The macabre whimsy that characterizes his work makes it easy to recognize.
Though Gorey died in 2000, exhibitions of his work still draw large crowds, and 10,000 people a year visit his house.  Gorey's Edwardian-themed absurdism has had an impact on film director Tim Burton, writer-illustrator Neil Gaiman and Daniel Handler (Lemony Snicket). His books are still selling, and his plays are still being produced. And unsurprisingly, Edward Gorey is an icon in the Goth subculture.
Edward Gorey
He was born Feb. 22, 1925 in Chicago, the only child of Helen Dunham St. John Garvey and Edward Gorey. His parents divorced when he was 11, and his father, a newspaperman, remarried His parents then remarried each other when he was 27.
He said he got his talent from his great grandmother, Helen St. John Garvey, a popular greeting card illustrator in the 19th century.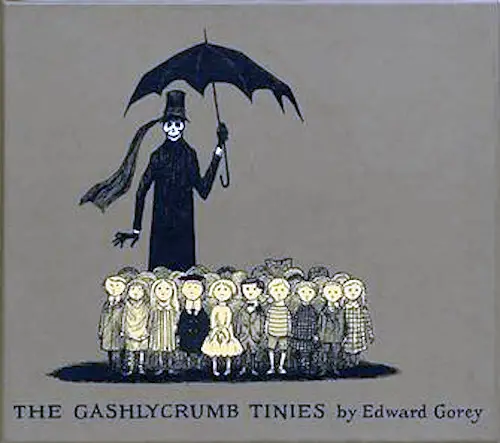 As a child, he moved around a lot, which he hated.
He got drafted by the Army in 1944 and spent two years as a soldier in Utah. The G.I Bill paid for his education at Harvard. After graduating, he stayed in Cambridge and, with other recent Harvard alumni, founded the Poets Theatre.  It lasted only 12 years, but its founders included Pulitzer Prize winners and poets laureates.
Gorey worked in Cambridge bookstores while helping to run the Poets Theater. He got a job offer from Doubleday in New York,  and he took it because he said he was starving in Boston. At Doubleday he designed book covers until 1959, when he went to work for children's book publisher Looking Glass Library. It failed, so he went to work as the art director for Bobbs Merrill, which he called Boobs Muddled. Then he got fired in a management purge.
"After that I just had too much freelance work to look for another job, and I moved up to the Cape." he said.
Fantod Press and Fame
Edward Gorey started writing books on his own, but no one wanted to publish them. So he created his own publishing under his own imprint, Fantod Press. "Fantod" is an archaic word meaning "a state of irritability, anxiety, or fidgets."
After publishing his first book, The Unstrung Harp; or, Mr. Earbrass Writes a Novel, he peddled his work to New York bookstores. The Gotham Book Mart made him famous, staging exhibitions of his work.
He won a Tony in 1978 for Best Costume Design after creating the costumes for the Broadway revival of Dracula. The royalties from the production allowed him to buy a 15-room sea captain's cottage in Yarmouth Port. There he continued to write, draw and put on plays and puppet shows. He hung bat houses in his yard.
"My mission in life is to make everybody as uneasy as possible … because that's what the world is like," he once said.
After his death in 2000, hundreds of unpublished stories and drawings were discovered in his house.
Here are seven more fun, freaky, funereal facts about Edward Gorey.
1. He loved ballet and TV.
Gorey had many interests, highbrow, lowbrow and middlebrow. He loved the New York City Ballet and for 25 years he rarely missed a performance. He also liked television sitcoms, and he included The X-Files, The Mary Tyler Moore Show, The Golden Girls, Third Rock from the Sun and Frasier among his favorites.
2. He used more than a dozen anagrams for "Edward Gorey."
He described his pseudonyms and their works in a 1996 book, Who's Writing This?: Notations on the Authorial I With Self-Portraits. Note "blutig" is the German word for "bloody" or "gory." "O. Müde" is German for "O. Weary."
Ogded Weary has written The Curious Sofa, a porno-graphic work, and The Beastly Baby, a book no one wanted to publish.

Mrs. Regera Dowdy, who lived in the nineteenth century, is the author of The Pious Infant and such unwritten works as The Rivulets of Gore and Nets to Subdue the Deranged; she also translated The Evil Garden by Eduard Blutig, the pictures for which were drawn by O. Müde.

Madame Groeda Weyrd devised the Fantod Pack of fortune-telling cards.

Miss D. Awdrey-Gore was a celebrated and prolific mystery writer. . . . Her detective is Waredo Dyrge, whose favorite reading is the Dreary Rwedgo Series for Intrepid Young Ladies. . . .

Dogear Wryde's work appears only on postcards.

Addée Gorrwy is known as the Postcard Poetess.

Wardore Edgy wrote movie reviews for a few months.

Wee Graddory was an Infant Poet of an earlier century.

Dora Greydew, Girl Detective, is the heroine of a series (The Creaking Knot, The Curse on the Sagwood Estate, etc.) by Edgar E. Wordy.

Garrod Weedy is the author of The Pointless Book.
3. He crossed paths with a number of celebrities before they were famous.
His stepmother was Corinna Mura, an actress who appeared in Casablanca playing the guitar while singing "La Marseillaise" at Rick's Café Américain. In the eighth grade at the BYRON C. STOLP school in Wilmette, Ill., Gorey was in the Art Club with his classmate Charlton Heston.  At the Francis W. Parker School in Chicago, he grew close to Joan Mitchell, who would become a well-known abstract expressionist. (Neither cared for the other's work.) And at Harvard, he roomed with Frank O'Hara, well-known poet and art critic. His fellow founding members of the Poet's Theater included Thornton Wilder, John Ciardi, Alison Lurie and William Carlos Williams.
4. He dressed in a way you might expect Edward Gorey to dress.
He usually wore ankle-length fur coats with Keds sneakers, ripped jeans, a Harvard scarf and lots of jewelry – heavy rings and an amulet.
5. He wasn't much of a housekeeper.
Gorey collected—"accumulated"—house finials, antique postcards, stuffed animals, old magazines, books, iron tools, decorative rocks, driftwood, glass bottles. He owned more than 25,000 books, which covered half the floor, and he lived with an entourage of cats.
After his death, Goreyphiles bought his house on Strawberry Lane in Yarmouth Port, with support from the Highland Street Fundation and the Edward Gorey Charitable Trust. They cleared away some, but not all, of the clutter. His friends who came to visit were surprised by its neatness and cleanliness, something they didn't remember while Gorey still lived there.
6. He staged theatricals and puppet shows on Cape Cod.
His first production, Lost Shoelaces premiered in Woods Hole, Mass., in 1987. His last,  The White Canoe: an Opera Seria for Hand Puppets, was performed after he died. He put on a show in Provincetown called 'The Admonitory Hippopotamus,' staged posthumously in New York City.
Gorey called his troupe of papier-mâché puppets "Le Theatricule Stoique."
He formed a charitable trust to benefit the Animal Rescue League of Boston, the Xerces Society for Invertebrate Conservation and Bat Conservation International.

Images: Mystery By Captured, cropped, and reduced from video at https://www.youtube.com/watch?v=RvGKpWhbRIk, Fair use, https://en.wikipedia.org/w/index.php?curid=55124134.. Vinegar Works By https://www.amazon.co.uk/Vinegar-Works-Three-Volumes-Instruction/dp/B000Y95VPQ, Fair use, https://en.wikipedia.org/w/index.php?curid=64257867.
Gashlycrumb Tinies By http://darkdiary.ru/photo/-Suicide-/Gashlycrumb_Tinies.jpg, Fair use, https://en.wikipedia.org/w/index.php?curid=1875966. The Iron Tonic By https://www.abebooks.co.uk/servlet/BookDetailsPL?bi=1362407986, Fair use, https://en.wikipedia.org/w/index.php?curid=64257896. Dracula handbill By Reduced from image at https://attemptedbloggery.blogspot.com/2014/07/edward-goreys-dracula-theater-posters.html, Fair use, https://en.wikipedia.org/w/index.php?curid=55124047. Gorey House By James Burke – Gorey House, CC BY-SA 2.0, https://commons.wikimedia.org/w/index.php?curid=2780888.