Clement Moore took far more pride in the Hebrew dictionary he wrote than in A Visit from St. Nicholas, which he also wrote.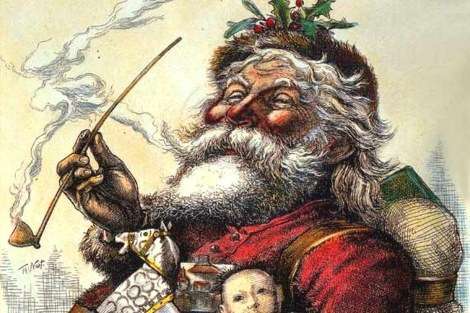 He never even intended to publish the poem also known as Twas the Night Before Christmas. He thought it too unscholarly. Moore came up with it for the private enjoyment of his children — but then things got out of hand.
Clement Moore, To the Manor Born
Clement Clarke Moore was born July 15, 1779, on a large estate called Chelsea in Manhattan. His father, Benjamin Moore, served as the Episcopalian bishop of New York and twice as president of Columbia University. His mother, Charity Clarke, was the daughter of the wealthy landowner who owned Chelsea.
Moore would later inherit Chelsea and subdivide it into what is now the Chelsea section of New York. But his wealth didn't stop him from working. He taught Biblical Learning and, later, Oriental and Greek literature at the General Theological Seminary of the Protestant Episcopal Church.
Moore wanted people to remember him for his opus, the first American Hebrew dictionary, Compendious Lexicon of the Hebrew Language In Two Volumes, published in 1809.
His dictionary, a guide to the literature of heaven, hell and sacred things, is largely forgotten. Instead he is remembered for creating the American conception of Santa Claus from the mid-19th century until today. It is arguably the best-known poem written by an American.
Merry Christmas
Moore wrote A Visit from St. Nicholas for his six children in 1822 as a Christmas present. Then a friend copied it and submitted it to the Troy, N.Y., Sentinel.
The newspaper published it on Dec. 23, 1823, and for many years thereafter. It wasn't until 1837 that he was identified as the author. Moore himself didn't acknowledge authorship until 1844 – and only because his children insisted.
Sometime in the 1850s, Moore bought a home in Newport, R.I., and stayed there in the summer.
The house is known as 'Cedars,' 'Clement C. Moore House,' and 'The Night Before Christmas House.' It still stands at 25 Catherine St., though it has been broken up into apartments. Some people have claimed he wrote A Visit from St. Nicholas in Newport. The Redwood Library tells us that's unlikely as the house hadn't been built when the poem was written.
Clement Moore left his mark on Newport. He was one of 26 people who donated money for what would become Touro Park. He died at his Newport home on July 10, 1863.
 *  *  *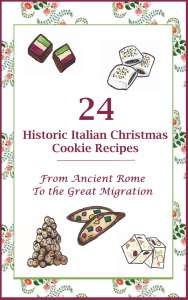 The Christmas holiday actually began in ancient Rome — and so did Italian cookies. The New England Historical Society's new book, 24 Historic Italian Christmas Cookie Recipes, tells you how to make those delicious treats. It also bring you the history of the Italian immigrants who brought them to New England. Available now on Amazon; just click here.
This story about Clement Moore was updated in 2022.