There was a real Miss Rumphius who lived in Christmas Cove and secretly planted lupine seeds to adorn Maine's roadsides and meadows.
The fake Miss Rumphius was the subject of a 1982 children's book written by Barbara Cooney.
The real Miss Rumphius is at least partly responsible for the gorgeous show of lupines throughout Maine's countryside in early summer. The wildflowers thrive in Maine, but they aren't native to the state. How they got there and spread in such profusion is a mystery explained only by – well, an old lady who was the real Miss Rumphius.
The Real Miss Rumphius
Hilda Edwards arrived in South Bristol, Maine, from Bristol, England, in 1904, at the age of 15.
There were no roads to Christmas Cove. Hilda Edwards had to take a train to Newcastle and then a mail launch down the Damariscotta River.
Her uncle, Smith College professor Harry Norman Gardiner, had invited her to stay in his remote cottage on Jupiter Knoll at Christmas Cove. Explorer John Smith had named the inlet after discovering it on Christmas Day.
Hilda Edwards graduated from Smith in 1912 and in 1915 married Talbot Faulkner Hamlin. He was a professor and librarian at Columbia University and winner of a Pulitzer Prize for his biography of Benjamin Henry Latrobe.
Like Miss Rumphius, Hilda Hamlin traveled widely, though with her husband and three sons.
After leaving her husband in Paris in 1926, she audited courses at Smith, but still came to the little cottage on Christmas Cove in summertime. She began planting lupine seeds imported from her native England. Every August she cut bundles of lupine stalks and shook out their seeds over a wider space.
Then she began putting seeds in her pocket when she walked to the post office and strewing them along the roadside. She did it in secret, rarely telling anyone about her lupine obsession. Some friends knew. The real Miss Rumphius didn't drive, and when friends gave her a ride they'd catch her tossing lupine seeds out the window. They called her 'Hilda Lupina' or the 'Lupine Lady.'
Lupine Lady
Lupinus polyphyllus are three to six feet tall and stand erect, with leaves below the flower stalk. Their two-foot-long, spiky flowers are blue, purple, rose and white. Lupines were planted in Europe to stabilize soils and to feed animals, but they're considered a problem in Lithuania because they crowd out forest herbs. Bears like to eat their roots.
Researchers say they arrived in Maine sometime around 1950 – when the real Miss Rumphius entered her 60s — and spread along the Maine coast.
"Many a motorist with a botanical eye pulls into a gas station for an explanation of the display," wrote W. Storrs Lee in a 1971 article for Yankee magazine. He had visited Hilda Hamlin for an interview, noting the spectacular display of lupines along Route 129. He also noted a handwritten sign next to a woodpile: "If friends of Hilda Hamlin would tote a few sticks of wood to her cottage, they would be doubly welcome."
Secret Garden
Hamlin, not yet immortalized as Miss Rumphius, kept her gardening a secret from the world. There'd been one exception, wrote Lee. She was on her way to the post office when a 'regular old-time school marm' stopped her Model T and asked her to explain the origin of the lupines.
Hamlin replied,
At the end of the road lives a queer old bird who has so many hundreds of lupines on her land that she has acquired the habit of cultivating the seed when it opens.
The old schoolmarm said she'd like to shake her hand. "Shake," said Hamlin. "I am Hilda Lupina."
Yankee , in a subsequent edition, published an editor's note:  "Mrs. Hamlin was overwhelmed with hundreds of letters and almost as many visitors following publication of the original article in the June, 1971, Yankee; most of the correspondents and callers begged for sample seeds. Out of deference for Mrs. Hamlin's advanced years, the editor feels called upon to remind would-be roadside gardeners that "Hilda Lupina" is not in competition with Burpee and other seed suppliers, and, happy as Hilda is with her fan mail, she is no longer up to distributing souvenir seeds of receiving and entertaining hordes of callers at Jupiter Knoll."
Barbara Cooney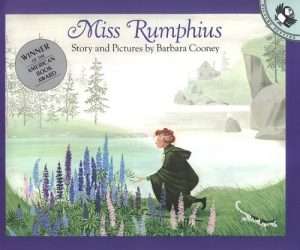 Barbara Cooney was an award-winning children's book writer who lived in Damariscotta, Maine, about 20 miles from Christmas Cove. In 1982 she wrote and illustrated the book, Miss Rumphius, about a fictional woman named Alice Rumphius who lived a life of travel and adventure before retiring to her cottage. The story begins,
"Miss Rumphius, The Lupine Lady lives in a small house overlooking the sea. In between the rocks around her house grow blue and purple and rose-colored flowers. The Lupine Lady is little and old. But she has not always been that way."
Miss Rumphius shared the 1983 National Book Award for Children's Books. The National Education Association named the book one of its "Teachers' Top 100 Books for Children" in 2007. Spellbound Productions made the book into an 18-minute film in 2000, and the Maine Library Association named its Lupine Award after Miss Rumphius.
Part of the book's appeal lies in one of its last paragraphs, in which Miss Rumphius tells her niece: "You must do something to make the world more beautiful."
Images: Miss Rumphius book cover By Source, Fair use, https://en.wikipedia.org/w/index.php?curid=2629786; Lupines By Theendofforever at English Wikipedia, CC BY-SA 3.0, https://commons.wikimedia.org/w/index.php?curid=6755546. This story was updated in 2023.