In the 1945 classic movie Christmas in Connecticut, Barbara Stanwyck plays magazine writer Elizabeth Lane, whose column in the fictional Smart Housekeeping magazine extolls the virtues of home cooking, a simple rural life and general domesticity.  In her Connecticut farm, she creates hearty meals, raises her family and shares rustic insights of a long-ago New England with her readers.
Problem is, she really lives in a walk-up apartment in Manhattan, doesn't own a Connecticut farmhouse, doesn't have children and can't cook to save her life.  Secrets that even her publisher, who values honesty above all else, doesn't know.
This works well for her and the readership of her popular "Diary of a Housewife" column, until her publisher demands that she host him and a special guest at her non-existent farmhouse over Christmas.
The result is a 1940s screwball comedy, and Christmas classic.
Gladys Taber and Ladies Home Journal
In the real world at that time, there was a popular magazine columnist, whose column "Diary of Domesticity" ran in Ladies Home Journal, and who did have a farmhouse in Connecticut.  But Gladys Taber was everything that Elizabeth Lane was not.
Taber isn't well-remembered today, but in the 1940s and 1950s her columns were widely read, filled with recipes, local stories, home decor ideas and her homespun philosophy, written at her 17th-century home called Stillmeadow Farm in Southbury, Conn.  Those columns eventually led to over a dozen Stillmeadow books, including Stillmeadow Harvest, Stillmeadow Cookbook and Stillmeadow Kitchen.
Was Taber the Inspiration for Elizabeth Lane?
Susan Branch, an author and blogger who much admires Gladys Taber, doesn't think so.  "Gladys could cook, and she really was who she said she was, and she had real babies and a real husband! So, I don't think so," said Branch.
Taber's granddaughter, Anne Colby, notes the differences between her grandmother and the glamorous star of the film.
"Much as I love to think 'gram' was compared to Barbara Stanwyck [in the movie], the resemblance ends there," said Colby.
And the settings were quite different.  Colby lives at Stillmeadow Farm, a simple, white clapboard Cape. It's nothing like the farmhouse in the film with its huge fireplace, odd inwardly sloping windows and soaring ceilings. That fictional house was set on a backlot at Warner Brothers in California.
Still, Colby thinks there are too many coincidences in the movie to suggest there was no connection.
"It is highly likely her [Taber's] articles provided the seed for the movie idea," said Colby.
The Case for Gladys Taber and Christmas in Connecticut
Colby offers evidence to support this.  Taber was well known at the time.  Her columns and later her books were like the HGTV of her day, said Colby.  And the screenwriters were New York-based and probably familiar with Ladies Home Journal and Taber's very popular articles.
And then there is the similarity in the names of the real and fictional columns.
Colby said that among Taber's papers was a lovely letter from a serviceman who had received Ladies Home Journal sent inside a "care package" of food, cigarettes and magazines. He said reading her article was like getting a letter from home.
Indeed, in the movie as hero Jefferson Jones recuperates from his war wounds in the hospital, he looks longingly at a page from a magazine illustrating a recipe from Elizabeth Lane, reminding him of the dinners he so misses.  Later, a nurse reads him an article by Lane.
A Scene From Christmas in Connecticut
Colby also mentioned a scene in the movie showing Elizabeth Lane at work.  As she types, the camera pans to her apartment window, offering a view of laundry drying, with the outlines of large apartment buildings in the background, hardly bucolic New England.
Reading aloud, she says:
"From my living room window as I write I can look out across the broad front lawns of our farm like a lovely picture postcard of wintry New England. In my fireplace, the good cedar logs are burning and crackling. I just stopped to go into my gleaming kitchen to test the crumbly brown goodness of the toasted veal cutlets in my oven.  Cook these slowly."
For context, here is a quote from Stillmeadow Seasons (1950):
"For no matter what heaven may be like, there is no use just waiting for it.  I'll take mine now, with an open fire and apples roasting on a stick and good friends gathered around the hearth. Bowls of popcorn and nuts to crack while the talk is merry."
The similarity of content and style between these passages suggests the scriptwriter was familiar with Taber's writing.
While there is no irrefutable evidence showing an absolute connection between Taber and the movie, we still have a classic movie to enjoy every Christmas and, of course, Taber's many books.
James F. Lee, the author of this story, is a freelance writer and blogger whose work has appeared in The Washington Post, Boston Globe, Philadelphia Inquirer, and AAA Tidewater Traveler Magazine. He can be reached at www.jamesflee.com and 570-713-5926.
Photos of Gladys Taber and Stillmeadow Farm Courtesy of  Anne Colby.
 *  *  *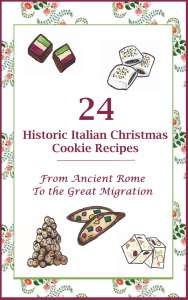 The Christmas holiday actually began in ancient Rome — and so did Italian cookies. The New England Historical Society's new book, 24 Historic Italian Christmas Cookie Recipes, tells you how to make those delicious treats. It also bring you the history of the Italian immigrants who brought them to New England. Available now on Amazon; just click here.