On Christmas day in 1863, Henry Wadsworth Longfellow was inspired to write the poem we now know as the Christmas carol, I Heard the Bells on Christmas Day. It was a testament to the resilience of the human spirit.
Longfellow had fallen into a depression in 1861 when his second wife Frances died. She had been sealing envelopes with hot wax when a flame caught her clothes on fire. Henry had rushed to her aid and tried to smother the flames. But by the time the fire was out, Frances had been burned beyond recovery.
She died the next day. Henry, burned badly as well, was too sick to attend her funeral.
The death marked a turning point in Longfellow's life. His physical appearance changed dramatically as he began growing his beard because the burns disfigured his face. Mentally, he sank into depression.
Winning Frances' affection had taken Longfellow years, and their 18-year marriage was the happiest time of his life. In the wake of her death, he spent much of his time translating other works and less on his own creation.
Christmas 1862
On Christmas day in 1862 he would record in his journal:  "A merry Christmas' say the children, but that is no more for me." And even 18 years later he would still be mourning Frances' loss, when he wrote The Cross of Snow:
In the long, sleepless watches of the night,
A gentle face–the face of one long dead–
Looks at me from the wall, where round its head
The night-lamp casts a halo of pale light.

Here in this room she died; and soul more white
Never through martyrdom of fire was led
To its repose; nor can in books be read
The legend of a life more benedight.

There is a mountain in the distant West
That, sun-defying, in its deep ravines
Displays a cross of snow upon its side.

Such is the cross I wear upon my breast
These eighteen years, through all the changing scenes
And seasons, changeless since the day she died.
In 1863, Longfellow suffered another blow. The poet was a staunch abolitionist, but he, like the entire country, was troubled by the Civil War. His son Charley in March of 1863 had decided that, regardless of his father's wishes, he would join the fight. He ran off to Washington to enlist in the 1st Massachusetts Artillery.
Dear Papa
A friend posted a letter for him after he left:
Dear Papa

You know for how long a time I have been wanting to go to the war I have tried hard to resist the temptation of going without your leave but I cannot any longer, I feel it to be my first duty to do what I can for my country and I would willingly lay down my life for it if it would be of any good God Bless you all.                                                                                   Yours affectionately

Charley.
Charley's commanding officer soon discovered the boy's influential family ties, and promoted Charley to lieutenant. Charley believed his aunt had probably helped procure the commission for him.
Longfellow feared for his son's future. In June, Charley came down with fever. Longfellow went to Washington and brought him back to spend summer on leave at the family cottage in Nahant, Mass.
Though committed to the fight, the romance of war was stripped away for Charley in the coming months of battles. In one letter home, he described seeing a fellow soldier lose his leg and other close calls:
"They may talk about the gaiety of a soldiers life but it strikes me as pretty earnest work when shells are ripping and tearing your men to pieces."
In November, Charley's own luck ran out. At New Hope, Va., his unit was engaged in a battle and he was shot. The bullet went through him from back to shoulder, just nicking his spine.
Again Longfellow had to travel to Washington to retrieve his son from the hospital. They arrived back at their Cambridge home on December 8, and a grim Longfellow set about the months-long process of trying to nurse his son back to health.
I Heard the Bells on Christmas Day
The circumstances challenged his resolve, but he was inspired when he heard the bells. He found in them a message that peace would come again to the troubled nation. They inspired him to write the poem, Christmas Bells.
I heard the bells on Christmas Day
Their old, familiar carols play,
And wild and sweet
The words repeat
Of peace on earth, good-will to men!

And thought how, as the day had come,
The belfries of all Christendom
Had rolled along
The unbroken song
Of peace on earth, good-will to men!

Till, ringing, singing on its way,
The world revolved from night to day,
A voice, a chime,
A chant sublime
Of peace on earth, good-will to men!

Then from each black, accursed mouth
The cannon thundered in the South,
And with the sound
The carols drowned
Of peace on earth, good-will to men!

It was as if an earthquake rent
The hearth-stones of a continent,
And made forlorn
The households born
Of peace on earth, good-will to men!

And in despair I bowed my head;
"There is no peace on earth," I said:
"For hate is strong,
And mocks the song
Of peace on earth, good-will to men!"

Then pealed the bells more loud and deep:
"God is not dead; nor doth he sleep!
The Wrong shall fail
The Right prevail,
With peace on earth, good-will to men!"
Charley never did return to fight, despite his wish to. He was honorably discharged in February of 1864. Longfellow's poem, published originally in a magazine, would be set to music in 1872, but with the middle stanzas often removed.
To hear Burl Ives sing I Heard the Bells on Christmas Day, click here.
 *  *  *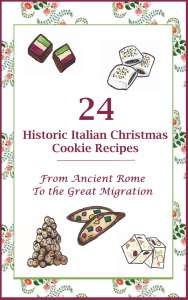 The Christmas holiday actually began in ancient Rome — and so did Italian cookies. The New England Historical Society's new book, 24 Historic Italian Christmas Cookie Recipes, tells you how to make those delicious cookies. It also bring you the history of the Italian immigrants who brought them to New England. Available now on Amazon; just click here.
This story about the carol, 'I Heard the Bells on Christmas Day,' was updated in 2022.