Just one look at a photograph of Olivia Langdon and Mark Twain was done for. Love at first sight is how he later described his feelings about the woman he'd never met.
If he found it easy to fall in love with Olivia Langdon, he found it far more difficult to win her heart. He had to put on a tin halo and pretend to quit drinking. And as you would expect with Mark Twain, he had some choice comments about his long and painful courtship.
Overstaying His Welcome
Twain saw the photo of Olivia, an ivory miniature, in 1867 during his five-month cruise to Europe and the Holy Land. He had made friends with Olivia's younger brother, Charles Langdon, and caught a glimpse of her image in his stateroom.
Back on dry land, he had dinner with the Langdon family in New York City, where they were spending the Christmas holidays. On New Year's Day he called on Olivia and prolonged his visit beyond the socially acceptable 15 minutes – by 11 hours, 45 minutes.
Charles then invited him to visit with his family at their mansion in Elmira, N.Y., for a week. When he finally made it to Elmira in August, he stayed three weeks.
Olivia Langdon
Twain knew Olivia Langdon was much too good for him. She had wealth (coal money), education and social standing. He didn't.
Her family liked him, but he wasn't quite what they had in mind for their shy and gentle daughter. The devout Langdons didn't touch alcohol.   Twain not only drank, he smoked like a chimney and swore unashamedly, saying it provided 'relief denied even to prayer.'
The Langdons were also abolitionists. Olivia's father had actually offered sanctuary to Frederick Douglass. Twain, on the other hand, had volunteered – albeit for just two weeks — with a Confederate militia during the Civil War.
A Matrimonial Pit
After Twain's voyage, he turned his dispatches from the journey into Innocents Abroad. As his publisher put together the initial manuscript, he took to the lecture circuit telling funny stories about his travels. Somehow he found time to visit the Langdons in between stops.
He adored Olivia, but she disapproved of him. At least he was honest with her. He admitted he was "drunk oftener than was necessary & that I was wild & Godless, idle, lecherous & a discontented & unsettled rover."
When he asked her to marry him, she said no. However, she said she would try to make him into a Christian.  He told her she'd succeed, but, in the meantime, 'she would unwittingly dig a matrimonial pit and end by tumbling into it,' he wrote.
And then as he left for his lecture tour, she agreed to correspond with him 'as brother and sister.'
That was better than nothing, so Twain courted her mostly through letters – 180 of them over 17 months. He started to go to church and to cut down his drinking.
"Courtship lifts a young fellow far and away above his common earthly self," he wrote to a friend many years later. "And by an impulse natural to those lofty regions he puts on his halo and his heavenly warpaint and plays archangel as if born to it. He is working a deception, but is not aware of it."
His letters took on a meek and submissive tone, and he told Olivia and her father he needed their guidance to improve himself.
Olivia began sending him the sermons of Henry Ward Beecher. Years later, Twain wrote to Beecher,
"How I do hate those enemies of the human race who go around enslaving God's free people with pledges–to quit drinking instead of to quit wanting to drink."  By then, he was sending letters to his wife from abroad asking her to stock up on scotch.
Olivia caved about a year after they first met. He wrote to her from the road, explaining why.  "I love you, Livy," he wrote. "And I am happy in the possession of half your heart. I would rather hold half of your heart than all of anybody's else – and so I am tranquil and satisfied."
References
Her parents had given them their conditional approval but wanted references. The references didn't exactly glow. One friend described him to Olivia's father as "a humbug—shallow & superficial—a man who has talent, no doubt, but will make a trivial & possibly a worse use of it."
But in 1868, Mark Twain had one thing going for him: He was an up-and-comer. Having tried his hand at typesetting, riverboat piloting, mining and newspaper reporting, he had finally made a name for himself as a travel writer – a profession that paid well back then.
He found himself lecturing to increasingly large and enthusiastic audiences.
And so they set a date. To his surprise, his father-in-law bought them a beautiful home in Buffalo as a wedding present, complete with servants. When the manuscript for Innocents Abroad arrived from his publisher, he and Olivia worked on it together. Twain himself said she elevated his work.
"I never wrote a serious word until after I married Mrs. Clemens," he wrote. "She is solely responsible – to her should go the credit – for any influence my subsequent work should exert. After my marriage, she edited everything I wrote."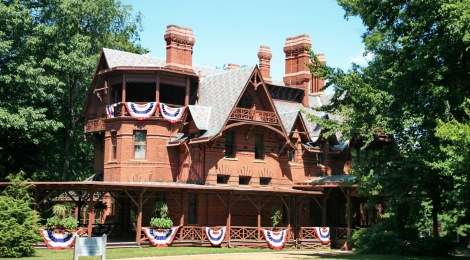 Innocents Abroad, published shortly before their marriage in February 1870, was a monster hit. It brought Mark Twain fame and fortune.
A year later, he and Olivia moved to Hartford to be nearer his publisher.
This story was updated in 2020. Images: Mark Twain house By Cliff – Flickr: Mark Twain House and Museum, CC BY 2.0, https://commons.wikimedia.org/w/index.php?curid=16488910;