Hundreds of filmmakers have come to New England since the turn of the last century and some have shot classic movies here.
It isn't just because autumn leaves and church steeples make the perfect backdrop for classic movies. New England's history and literary tradition provide rich material for stories and characters set against quaint fishing villages, gritty mill cities, Gilded Age resorts and Ivy League campuses.
New England's Classic Movies
Familiar New England themes appear again and again in film. The theme of the salty sea captain fighting a sea monster inspired classic movies from Moby Dick through Jaws to The Perfect Storm. Family secrets inspired Eugene O'Neill's fictional Ah Wilderness in 1906 as well as the true story of a suspected murder in Reversal of Fortune in 1990. And haunted New England was a favorite theme long before Stephen King arrived on the scene.
New England characters populate many classic movies shot in the region. They include the Boston Brahmin, the rustic Yankee, the stalwart fisherman, the town gossip and the outsider struggling to assimilate.
Characters from New England literature also populate many classic movies. Filmmakers first shot Nathaniel Hawthorne's The Scarlet Letter in New England in 1909 and remade it four times as a feature film, three as a television production. But because it's literary doesn't make it good; Demi Moore starred as Hester Prynne in the 1995 remake of Scarlet Letter. It bombed at the box office and earned seven Golden Raspberries including "Worst Remake or Sequel."
Here is a baker's dozen of classic movies shot on location in all six states.
Boomerang
When a murderer takes the life of a kindly priest on a street corner, a prosecutor fights to prove the accused man innocent. The true story of Boomerang actually took place in Bridgeport, Conn., but the filmmakers couldn't get permission to film there.
Elia Kazan, who directed many classic movies, shot the 1947 film in Stamford, Conn., instead.
He directed an all-star cast including Dana Andrews, Lee J. Cobb, Jane Wyatt and Karl Malden. Playwright Arthur Miller appeared uncredited as a suspect in the police lineup.
Boomerang received an Oscar nomination for Best Screenplay. Kazan also won Best Director awards from the National Board of Review and the New York Film Critics Circle.
Homer Cummings, the real-life prosecutor who inspired the film, served as U.S. attorney general under Franklin Roosevelt.
The Boston Strangler
This true-crime film about the serial killer who terrorized  the Boston area from 1962-64 starred Tony Curtis and Henry Fonda. As shooting was set to begin in 1968, the man believed to be the Strangler — Albert DeSalvo –escaped from the mental institution where he was held. DeSalvo was captured 33 hours later. Ed Brooke was elected U.S. senator after coordinating the hunt for the killer. "The Boston Strangler" was filmed in Boston, Cambridge and Malden. It received  Eddie, Edgar and Oscar nominations. DeSalvo died in prison (where he made choker necklaces for sale) in 1973. His family is still trying to exonerate him.
The Trouble With Harry
Just about all of Alfred Hitchcock's films are classic movies, and The Trouble With Harry is no exception. The trouble with Harry in the film is that he was dead. Hitchcock's 1955 dark comedy starring John Forsythe and Shirley MacLaine was filmed in Morrisville, Barre and Craftsbury Commons.  The crew arrived in Craftsbury on September 27, 1954 to film outdoor shots of fall foliage. Unfortunately, there wasn't any, so they glued leaves on trees. It was nominated for three awards, including BAFTA, Directors' Guild and Satellite for "Outstanding Classic DVD" in 2005.
The Stepford Wives
A 1975 take on the theme of haunted New England, the film takes place in the fictional Connecticut town of Stepford. Johanna Eberhart moves there with her family and soon discovers a sinister truth behind the perfect behavior of the town's housewives — they're robots.
Bryan Forbes shot the film in Connecticut, including Redding, Fairfield, Westport, Weston, Darien (at the Goodwives Shopping Center) and Norwalk at the Lockwood-Mathews Mansion.) Katharine Ross,  who stars as Johanna, won the 1976 Golden Scroll Best Actress award.
Stepford Wives enjoyed moderate success at first, but evolved into a cult classic over time.
Lost Boundaries
This 1949 drama fictionalized the true story of Albert Johnson, a light-skinned African-American doctor. Johnson passes for white in a small northern New Hampshire town.
Starring Mel Ferrer and Beatrice Pearson, director Alfred Werker shot Lost Boundaries in Kennebunkport, Me. (church scene), York (Nubble Light) and Portsmouth, N.H.
In one scene, the doctor takes a Coast Guard boat from Portsmouth to the Isles of Shoals, six nautical miles away. He lands in York, however, quite farther away.
The film won Best Screenplay at the Cannes Film Festival in 1949.
Jaws
Jaws was the first of the summer classic movies released in thousands of theaters and advertised heavily. The 1975 blockbuster featured a simple premise — the hunt for a man-eating shark that terrorized beachgoers.
The most successful film in box office history at the time, it set a precedent. Director Steven Spielberg filmed Jaws mostly in  Menemsha on Martha's Vineyard.
It won many awards, including three Academy Awards for Best Film Editing, Best Original Dramatic Score, and Best Sound. In 2001, Congress voted to include it in the National Film Archive as "culturally significant."
The author, Peter Benchley, later felt guilty about unfairly maligning the Great White Shark, a creature generally uninterested in eating human beings.
The Great Gatsby
This 1974 film starring Robert Redford as self-made millionaire Jay Gatsby featured the Newport, R.I., mansion Rosecliff as his home. Another mansion, the Vanderbilt's Marble House, provided interior scenes.
The original Long Island mansion that inspired F. Scott Fitzgerald to write the novel fell to the wrecking ball in 2011. Stanford White designed Rosecliff in 1902 for  Nevada silver heiress Theresa Fair Oelrichs.
The Great Gatsby also featured Hammersmith Farm, another famous Newport property where Sen. John F. Kennedy married Jacqueline Bouvier.
The Great Gatsby, which also starred Mia Farrow, received two Academy Awards for Best Costume Design and Best Music. 
Peyton Place
New Hampshire writer Grace Metalious' best selling book Peyton Place inspired the 1957 movie of the same name. It starred Lana Turner and Hope Lange.
Director Mark Robson shot the film mostly in Camden, Maine, with some exteriors filmed in  the Maine towns of Belfast and Rockland, Gilmanton, N.H., and Lake Placid, N.Y.
Peyton Place employed as many as 500 local residents as extras. Most of them donated their earnings — $10 or so — for a new hospital.
The film premiered in Camden two days before everyone else saw it. Peyton Place didn't do well at the box office for the first four months. Then, Lana Turner's daughter killed her mother's mobster lover, Johnny Stompanato. It then became the second-highest grossing film of 1958.
Peyton Place received nine Oscar nominations, including four for supporting performances.
Love Story
Love Story, the highest grossing film of 1970, was a romantic tragedy based on the wildly popular novel of the same name. It starred Ryan O'Neal as the preppy Harvard student Oliver Barrett IV. Ali MacGraw played the working-class Italian "Cliffie"  doomed to an early death.
The American Film Institute placed Love Story in its pantheon of classic movies, calling it one of the most romantic films of all time. Production at Harvard caused such damage to the campus that the university denied future requests to film there.
The movie was also shot in Massachusetts at the frame house at 119 Oxford St. in Cambridge. There, MacGraw's character utters the famous line, "Love means never having to say your sorry."  Love Story received nominations for seven Academy Awards, winning one for Best Music, Original Score.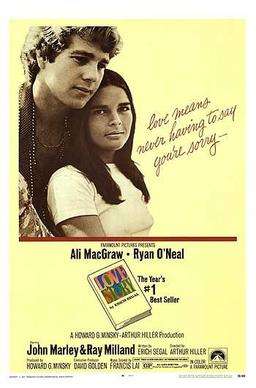 Our Town
A 1940 adaptation of Thornton Wilder's play Our Town about family conflict in a small town, this classic movie was shot in Peterborough, N.H. It starred William Holden and Martha Scott.
The town served as the real model for the play, written by Wilder while in residence at the MacDowell Colony in Peterborough. Wilder probably named the fictional town of Grovers Corners for Peterborough's Grove Street. The film received six Academy Award nominations. See the full film here.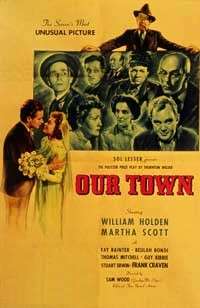 Captains Courageous
Spencer Tracy — in curls — played a Portuguese fisherman who rescues Harvey Cheyne, played by Freddie Bartholomew. Captains Courageous begins when Cheyne, a railroad magnate's spoiled son, gets thrown overboard from  an ocean liner.
The 1937 film adapted a book written by Rudyard Kipling in 1897 when he lived in Brattleboro, Vt.
Director Victor Fleming shot scenes in Gloucester, Mass., as well as in California with fish flown in from Alaska and Boston. Gloucester has also provided settings for quite a few classic movies, including Mutiny on the Bounty and The Perfect Storm.
The film received four Oscar nominations. Spencer Tracy won the first of two consecutive Best Actor awards for Captains Courageous; he won for Boys Town in 1938.
The Thomas Crown Affair
Thomas Crown, a debonair bank executive, thinks he pulled off the perfect bank robbery in this 1968 crime drama.
Steve McQueen starred as Crown, while Faye Dunaway played the insurance investigator who will do anything to get her man.
Director Norman Jewison filmed The Thomas Crown Affair in a number of well-known (and still recognizable) Boston-area locations, including Beacon Hill, the North End, Cambridge Cemetery, the Tobin Bridge, the Allston-Brighton toll booth, Crane Beach in Ipswich and Anthony's Pier 4 Restaurant.
The second Harrison Gray Otis house, designed by Charles Bulfinch for a congressman, appeared as Crown's house. The Thomas Crown Affair won an Oscar for Best Song, Windmills of Your Mind.
High Society
This 1956 musical remake of The Philadelphia Story starred Bing Crosby, Frank Sinatra and Grace Kelly. Kelly, who starred in many classic movies, retired after making High Society to marry Prince Albert of Monaco.
Cole Porter wrote the score and Louis Armstrong appeared as himself. Sinatra and Kelly appear driving together in a scene along Ocean Boulevard in Newport, R.I.
Director Charles Walters filmed interiors at a Newport mansion later purchased by Sunny von Bulow. Prosecutors later accused her husband Claus von Bulow of murdering her in the mansion.  That story then inspired another film in 1990, Reversal of Fortune.
High Society received nominations for two Oscars, Best Musical, Original Song, and Best Music, Scoring of a Musical Picture.
If you enjoyed this story, you might also want to read about historic New England movie sets and six places New England films were shot. 

Images: Menemsha by User:Elkman – http://en.wikipedia.org/wiki/Image:Menemsha.jpg, CC BY-SA 3.0, https://commons.wikimedia.org/w/index.php?curid=1350749. Boston Strangler By Source, Fair use, https://en.wikipedia.org/w/index.php?curid=26732719. Our Town By Source, Fair use, https://en.wikipedia.org/w/index.php?curid=7159045. Love Story https://en.wikipedia.org/w/index.php?curid=6778617.
This story about classic movies shot in New England was updated in 2022.