The New England Historical Society's newest historic book, A History of the Irish, As Told By Their Food, is scheduled for publication on Sept. 1, 2023. Until then, you can order the authors' previous books, all of which are available on Amazon.
Eat Like a President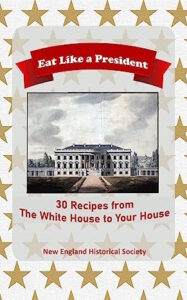 Tired of the same old presidential history? Discover a unique approach to exploring the lives of six New England presidents with Eat Like A President! This historical nonfiction book uncovers their lives in the White House, from the unfurnished 36-room house where John and Abigail Adams lived to the Kennedys' elegant showplace. Learn which dying president restored his reputation and which one kept his illness secret. Find out which president played jokes on the servants and which one gardened and swam with his steward. You'll also learn how the first families coped with tragedy while making endless public appearances.
Available from Amazon in paperback and ebook.
What the reviewers say: Another interesting, well-written recipe book from Leslie and Dan Landrigan. You do not need to be from New England to really enjoy the content and recipes. The short stories for each President are packed with interesting "Who knew?!" and will be the talk of the table. Easy-to-follow recipes as well!
24 Historic Italian Christmas Cookie Recipes
This book is your ticket to a sweet journey through the history, culture and cuisine of Italy and the Italian diaspora in America. With this book, you will learn how to make delectable Italian Christmas cookies, right in your own kitchen!
By reading this book, you will:
– Indulge in the stories of Roman legionnaires, cloistered nuns, Arab conquerors, Gloucester fishermen, Carraran stonecutters, Genoese pushcart vendors. You'll find out about a Mafia don, a Vatican cook and a boxing champ.
– Experience the flavors of the past and the present, from the pasticcerie of Naples and the monasteries of Sicily to the bakeries of Wooster Square and the kitchens of Italian moms throughout the Northeast.
– Become a pro at making Italian cookies from amaretti to torrone.
What's Inside:
– Step-by-step instructions on how to make 24 kinds of Italian Christmas cookies
– Illustrations of the finished product
–Short histories of each cookie, from their origins in Italy's provinces to their arrival in the Italian neighborhoods of New England.
Available as an ebook from Amazon; coming soon as a paperback.
What the reviewers say: How do I get the Landrigans to rewrite all of my favorite recipes! The clear simplicity of these instructions makes this book a little gem. Italian Christmas cookies have been a treasured tradition in our family for two generations and I am delighted to learn more of their history. I will be gifting this book to several Italian-descended in-laws and friends.
29 Historic Thanksgiving Foods
Wondering what to cook for Thanksgiving? Want to make something a little different, yet traditional? 21 Historic Thanksgiving Foods has dozens of ideas, from a 1615 recipe for venison to a 1955 recipe for Green Bean Casserole.
This ebook includes the original recipes for the Thanksgiving foods that Americans have eaten over the centuries. The antiquated recipes are followed by updated versions with detailed instructions.
Each set of recipes comes with a fascinating story about how that food got made, who made it or who wrote it down. For example, the author of "Over the River and Through the Wood" also wrote a cookbook. And you'll find out about the four women who cooked that Thanksgiving meal for over a hundred people in 1621 in Plymouth.
Available as an ebook from Amazon; coming soon as a paperback.
What the reviewers say: Very interesting history that goes along with the recipes. I can't wait to try some of them!
Historic Apple Recipes
Are you looking for a book to help you explore the history and culture of New England apples? This book, 29 Historic New England Apple Recipes, is your guide to the past and present of New England's favorite fruit. With this book, you will:
-Discover the rich history and unique recipes of apples, from cider to pie
-Learn how to make the same traditional recipes that early colonists used to make
-Unlock the secrets of making the perfect cider that will make you forget the cold
-Enjoy the same flavors that New Englanders like Louisa May Alcott, Fannie Farmer and Julia Child loved
This book includes recipes for traditional New England apple dishes, fun facts about the unique history of apples in the colonies, and a comprehensive guide to cider making with the perfect blend of sweetness and yield. Buy now before the price changes and get ready to explore New England apples!
Available as an ebook; paperback coming soon.
New England's Hidden Past
Discover the secrets of New England's history that have been hidden in plain sight! With New England's Hidden Past, readers will gain a deeper appreciation of the region's rich history and culture by exploring 58 lists of historic places and things. Through this book, readers will be taken to the gravesites of revolutionary heroines, Loyalist house museums, Revolutionary taverns, Indian trails, oldest houses, historic department stores, ghost towns and Little Italys. With each unique, interesting location, readers will learn more about the story behind them and find a counterpart in the other five New England states.
– Uncover the secrets of New England's past and gain a deeper appreciation of its history and culture
– Let New England's Hidden Past take you on a journey through 58 lists of historic
– Keep this captivating guide in the car and refer to it when traveling New England or planning a trip.
Available in hardcover and as an ebook.
What the reviewers say: Many "interesting places" history books over emphasize the well-known places in New England or skim over the landscape. I selected this book because it took the trouble to locate out-of-the-way sites that were interesting from many perspectives: social events, mysteries, crimes, strange names, conflicts between States, crucial roads or trains, "the oldest" this-and-that, Revolutionary War sites, even a chapter on the churches designed by Ralph Adams Cram, a great US architect. The authors clearly had fun writing their book, sampling a broad range of items to pique the interest of a wide variety of readers. I have studied New England for decades but learned things I didn't know.
Bar Harbor Babylon
This book will surprise you, fascinate you and leave you wanting more. Bar Harbor Babylon takes readers on a thrilling ride through Mount Desert Island's shady past, uncovering secrets and scandals that anticipate the misdeeds of today's billionaires.  From murderers to thieves, cheaters to scammers, this book explores the misadventures and misfortunes of the wealthy and privileged of the island.
What you will find within these pages:
– A gripping account of Mount Desert Island's shady secrets
– Fascinating insight on the misadventures of the wealthy and privileged
– An unforgettable journey through the island's past.
Available in hardback and as an ebook.
What the reviewers say: This carefully researched history of some of the more colorful parts of Mount Desert Island's history is a series of descriptions, which makes it a fun read to either browse or devour straight through. "Bon bons" doesn't mean it's lite. There is plenty here for serious scholars, history buffs of all sorts, but it was ideal August reading on my deck watching the tide and being astounded by the amount of wealth and amount of shenanigans that occurred years ago in the direction I faced. My favorite section of the one entitled "Love, Marriage, and Misery". They would have burned up the Net on social media! Besides the quality of the writing, the authors have a fine sense of humor. A terrific gift.
About the Authors
Leslie and Dan Landrigan have published the New England Historical Society since 2013.  They have both won awards in their past careers as news reporters, which took them to every corner of New England. Dan saw witch trial mania  while covering Salem, Mass., and followed the Jack Kerouac beat in Lowell, Mass.  Leslie once got to hold the original Massachusetts Constitution (wearing gloves) while working at the Statehouse.  They've covered shipwrecks, hurricanes, plane crashes, murders,  mob trials, political campaigns, fires and Kennedys.
Now living in Stonington, Maine, they see changing fisheries and their impact on fishing communities.
And with a name like Landrigan they of course have an interest in Irish history.
Would you like to join our advanced review copy team? We'll send you a free paperback or ebook in exchange for an honest review of our forthcoming book on Amazon. Just email us if you're interested at newenglandhistoricalsociety.com.