The New England Flying Santa tradition was born in the teeth of a fierce winter storm when lighthouse beacons along Penobscot Bay guided a frightened pilot home to safety.
That frightened pilot was a Friendship, Maine, native named William Wincapaw. He showed his gratitude to the lighthouse keepers by dropping packages of treats for their families from his plane. He was the first Flying Santa.
Since 1929, Flying Santas have dropped Christmas presents for New England lighthouse keepers and their families from float planes, biplanes, a DC-3 and helicopters.
No Radar, No Radios
Bill Wincapaw was a skilled floatplane pilot who flew mail, medicine and supplies to remote coastal communities. He also flew sick and injured people to safety or to get medical help, often in bad weather.
It was a dangerous job. In those days, pilots flew by dead reckoning or with rudimentary navigational aids and landmarks. Radar hadn't been invented yet, and airplanes had no radios.
In 1929, Wincapaw got lost in a winter storm over the North Atlantic. His compass failed, and his plane was dangerously low on fuel. Finally, to his relief, he spotted the beam of a lighthouse–and then another. He followed the beacons to a safe landing.
That wasn't the only time lighthouse beacons saved Wincapaw's life in a storm. The lighthouse keepers looked out for him through the year, and relayed back to the airfield when he safely passed their stations.
Wincapaw knew the lighthouse keepers and their families led hard, lonely and monotonous lives. He started landing near the lighthouses from time to time to thank them and to chat with the keepers. He eventually concluded he wasn't doing enough to show his appreciation. So on Christmas Day 1929 he loaded his plane with a dozen packages of newspapers, magazines, coffee, candy, tobacco, soap and yarn. He took off into the air and dropped them, one by one, to the lighthouse keepers in the Rockland, Maine, region.
Dressing the Part of Santa
Wincapaw thought the small luxuries would help make the lighthouse keepers' isolated lives more bearable. A few days after that first Christmas flight, he was surprised to see a message staked out in the snow. A lighthouse keeper's wife had used old newspapers to spell out 'Thank you.' Wincapaw vowed to do it again.
The next year he added more lighthouses and Coast Guard stations to his route. His young son Bill, an aspiring pilot, helped him out. When Wincapaw learned they called him the Flying Santa, he began to dress the part during the Christmas flights.
Bill would get his pilot's license at 16 and start flying solo. By 1933, father and son were delivering Christmas packages to 91 lighthouses. Local businesses such as LaTouraine Coffee helped underwrite the cost of the packages and the flight.
But it was getting to be too much.
Enter Edward Rowe Snow
The Wincapaws moved to Winthrop, Mass., in 1933, and they could not have known how fortuitous their choice of a new home would be. Young Bill attended Winthrop High School, where he took history from a 31-year-old teacher named Edward Rowe Snow.
Snow, descended from sea captains, loved history, adventure, treasure hunts and the New England coast. He would write over 100 publications in his lifetime. Two years after teaching Bill Wincapaw he would become famous for a book, The Islands of Boston Harbor.  His vivid stories made him an increasingly popular lecturer, columnist for the Quincy Patriot Ledger and radio host. He would campaign successfully to save Fort Warren on Georges Island in Boston Harbor.
All that was in the future when Bill introduced Snow to his dad. Bill Sr.  asked him if he'd like to help with the Flying Santas. Snow enthusiastically agreed. That year, 1936, Bill Jr. and Snow flew to 25 lighthouses and Coast Guard stations in southern New England. Bill Sr. flew the northern route. Fortunately, someone took pictures of his flight.
In 1938, Bill Sr. got a job flying gold and mining equipment over the jungles of South America. He couldn't make it back for Christmas, so he asked Snow and his son to take over. They did fine.
There was just one thing: Snow wasn't a pilot. When Bill joined his father in South America, Snow spent his own money to hire a pilot and an aircraft. His wife Anna-Myrle would join him, and eventually their daughter Dolly would too. The Snow family would become the heart and soul of the Flying Santas.
World War II
The Flying Santas almost didn't make it through the 1940s because of World War II. In 1941, Snow managed to drop 35 packages, his pilot carefully avoiding high-security installations. The plane was painted with the words 'Christmas Seal Plane' so it wouldn't be mistaken for enemy aircraft.
There was no Flying Santa in 1942.
Bill Jr. was a lieutenant commander in the Navy, ferrying bombers to England before he was stationed at Quonset Naval Air Station in Rhode Island. Bill Sr. became chief of maintenance, 'so Billy's ship would be running right.' Ed Snow was in North Africa, commissioned as a lieutenant in Army Air Corps  XII Bomber Command. Wounded in a bombing mission in late 1942, he spent Christmas in a hospital bed recovering.
Snow's injuries got him a discharge from the Army in 1943. He told a radio interviewer he planned to visit the lighthouses by car and boat. A U.S. government pilot happened to hear him, and arranged for Boston's Fighter Wing and the Civil Aeronautics Administration to continue the Flying Santa tradition that year.
The Flying Santas rebounded after the war ended. In 1946, Bill Jr. flew a DC-3 along the northern leg, his dad dropping the packages. Snow and his pilot flew the southern tier. It took two days for them to fly 115 lighthouses and Coast Guard stations from Cohasset to Canadian border.
The Torch Is Passed
On July 16, 1947, 62-year-old Bill Wincapaw suffered a heart attack shortly after taking off in a seaplane from Rockland Harbor. The plane nosedived into the water, which killed him and his 20-year-old passenger. The memorial service three days later was attended by lighthouse keepers, their families and Coast Guard, Army and Navy representatives.
As the service began at 2 pm, foghorns and lighthouse warning bells rang out along Penobscot Bay. During his Christmas flight that year, Ed Snow dropped a memorial wreath over Rockland Harbor in honor of William Wincapaw.
Snow honored him another way: by dropping 175 packages from Canada to Florida. By then the packages included more products donated by New England businesses, such as Gillette razor blades, LaTouraine coffee, tea, dolls, pen and pencil sets – and Ed Snow's latest book. The package included dog biscuits if he knew the family had a dog. Theyalso came with a self-addressed card so the lighthouse keepers could let him know if the Christmas packages were delivered safely.
They weren't always. Sometimes the wind blew off his fake beard. One January he received it in the mail with the message "Here are your whiskers, where is our package?"
The Doll Disaster
On Monhegan Island, Snow once took out a row of picket fencing. He always reimbursed the lighthouse keepers for damage, and the cost of insurance was a major Flying Santa expense.
In 1945, Seamond Ponsart, the five-year-old daughter of a lighthouse keeper on Cuttyhunk Island, desperately wanted a doll for Christmas. Flying Santa flew by and dropped her family's package on a rock, smashing the doll. Ponsart was heartbroken. Her father bandaged the doll and gave her a crutch so Seamond would at least have a sick doll. But it wasn't the same. The next year, the family moved to West Chop Light on Martha's Vineyard.
Snow knew about the doll disaster. On Dec. 12, 1947, he chartered one of the first commercial helicopters to fly to nearby Gay Head Lifesaving Station, where the Ponsart family greeted him. Snow handed the doll to a delighted Seamond. "Like a fairy tale, I had Santa Claus hand me a doll to replace the broken one," she later recalled. (Watch a 13-second video of Snow and Seamond here.) Seamond Ponsart would join the Coast Guard, and in 2003 she flew in a helicopter with Flying Santa. She called it 'a top event of my lifetime.'
Winding Up
Snow brought Flying Santa to new heights during the 1950s. In 1953, Flying Santa went coast to coast on Coast Guard aircraft. He delivered packages along the East Coast on Christmas morning, flew to the West Coast and dropped packages from San Pedro to Tillamook Rock Light. He added lighthouses and lifesaving stations in the Great Lakes and Bermuda. In 1954, he delivered packages to Sable Island, 100 miles east of Nova Scotia. The plane landed and Snow got into a wagon drawn by semi-wild ponies to deliver packages to the island's 26 inhabitants.
One year, children assembled at the Ipswich Lighthouse, waiting for Flying Santa. Edward Snow was running a bit behind schedule. Hearing the sound of an airplane, the keeper called up to his wife, "Has Santa arrived yet, dear?" Immediately he heard the Christmas bundle crashing through the skylight.
His wife yelled down, "Yes, dear. We can start the party now."
Flight Restrictions
By the 1970s, Flying Santa was cut back due to flight restrictions, mounting costs and Snow's age. In 1972 he had to travel to the Boston Harbor islands by boat and car. Bad weather caused them to cancel most of their visits in 1974. Finally he hit on a solution: He chartered a helicopter the next year, a big thrill for lighthouse keepers' children.
In 1981, Snow retired from his duties as Flying Santa after 45 years. In a ceremony at the Hull Lifesaving Museum, he presented his Santa suit to Ed McCabe, the first of the next generation of flying Santa.  Friends of Flying Santa was formed from the Museum.
Edward Rowe Snow died in 1982, but Flying Santa lives on. In 2021 Flying Santa celebrates his 92nd anniversary.
 *  *  *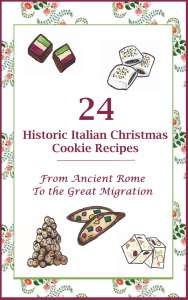 The Christmas holiday actually began in ancient Rome — and so did Italian cookies. The New England Historical Society's new book, 24 Historic Italian Christmas Cookie Recipes, tells you how to make those delicious treats. It also bring you the history of the Italian immigrants who brought them to New England. Available now on Amazon; just click here.
Thanks to Joe McHugh for his book, The Flying Santa and especially to the Friends of Flying Santa. Also thanks to Gordon Harris of the Ipswich Historical Society for the Ipswich anecdote. All photos courtesy Friends of Flying Santa. Read more about them here. This story was updated in 2022.