Abbott Handerson Thayer described himself as "bird-crazy" as a boy, pictured here in 1861. As an adult, he won fame for his angel paintings, popular with art collectors.
He was born on Aug. 12, 1849 in Boston, the son of a country doctor. He grew up near Keene, N.H., at the foot of Mount Monadnock, which he also painted to acclaim. Sometimes he painted an angel hovering over the mountain. It symbolized his efforts — ultimately successful — to protect the mountain from development. 
He studied art in Boston and Brooklyn, N.Y., where he met his wife, Kate Bloede. They married and moved to Paris in 1875, where he studied with the  École des Beaux-Arts for four years. He painted Landscape at Fountainbleu Forest, below, in France in 1876.
He and Kate returned to New York City and he shared a studio with Daniel Chester French. In the early 1880s, two of his small children died within a year of each other. Their deaths devastated Thayer and his wife. Thayer painted this angel, modeled by his 11-year-old daughter Mary, when his wife began to show signs of mental illness.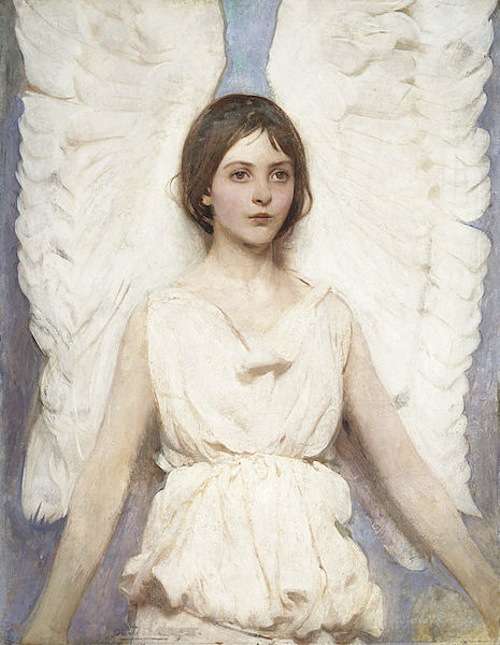 During the 1880s, Thayer's reputation grew and he had more commissions than he could handle — including portraits of Mark Twain and  Henry James. He often painted his three children, Mary, Gladys and Gerald.
His wife fell into an irreversible depression. She was then committed to an asylum, where she died in 1891. Thayer married Emma Buckingham Beach and they settled permanently in Dublin, N.H., in 1901.
The Pendulum of Abbott Thayer Handerson
Thayer himself suffered from bipolar disorder. He described the illness as "the Abbott pendulum," by which his emotions careened between "all-wellity" and "sick disgust." He had panic attacks and suicidal thoughts so bad he wasn't allowed to go out by himself in his boat on Dublin Pond.
Thayer was opinionated and eccentric. He and his family slept outdoors year round to take advantage of fresh air.
Thayer had a strong interest in camouflage, which he developed as a boy observing animals' protective coloration. Later in his life he wrote books on camouflage and tried to interest the military in his ideas. He is credited with being the first to write about disruptive patterning (he called it 'razzle-dazzle'), which breaks up an animal's outlines; about masquerade, as when a creature mimics something in its environment. He also discovered countershading, such as the white undersides of animals that make them seem less round and less solid.
He became obsessed with the idea that all animals are camouflaged. Theodore Roosevelt mocked that hypothesis in a long paper, which contributed to Thayer's "sick disgust" and panic attacks. Eventually, however, the U.S. military accepted his proposal for countershading naval vessels.
By 1918, the loss of young men to the influenza epidemic and to World War I affected him profoundly. That sadness informs this 1918 painting, Boy and Angel.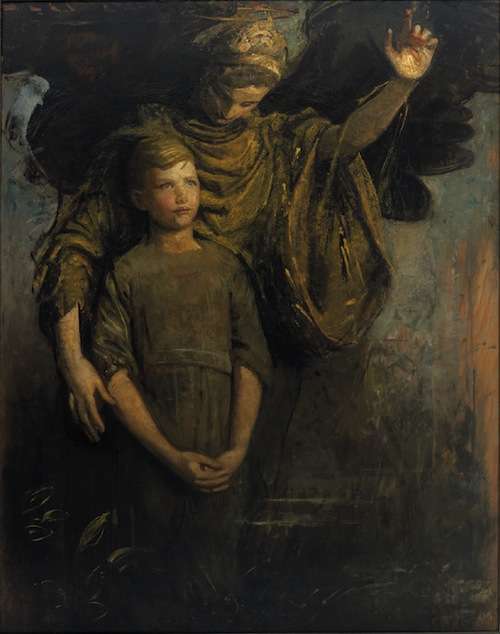 Thayer died at home on May 29, 1921. To see an online exhibition of his works, click here.
This story last updated in 2022.