When Eleanor Estes was growing up in West Haven, Conn., her classmates mocked a Polish girl who wore the same hand-me-down dress every day. The girl claimed she had a hundred dresses at home. That just made the bullying worse.
Eleanor Estes always felt guilty she hadn't defended the girl. Years later, she did something about it.
Eleanor Estes
She was born Eleanor Ruth Rosenfeld on May 9, 1906, to Louis Rosenfeld, a bookkeeper, and Caroline Gewecke Rosenfeld, a seamstress. Her father died when she was young, and her mother's dressmaking supported the family. After graduating from high school, Eleanor worked as a children's librarian at the New Haven Free Library.
In 1931, she attended the Pratt Institute library school in New York City on a scholarship. There she met her husband, Rice Estes. They both worked as librarians, and he became a professor of library science.
In 1941, Eleanor Estes was confined to bed with tuberculosis. She began writing children's books about the Moffatt family, based on her own family. She based the fictional town of Cranbury on West Haven.
Hundred Dresses
In 1944 she wrote The Hundred Dresses to atone for her silence when her classmate was bullied. "As an adult, once she had become a writer, she figured that the only thing she could do was to write her story," her daughter Helena, also a children's librarian, said in an interview with NPR.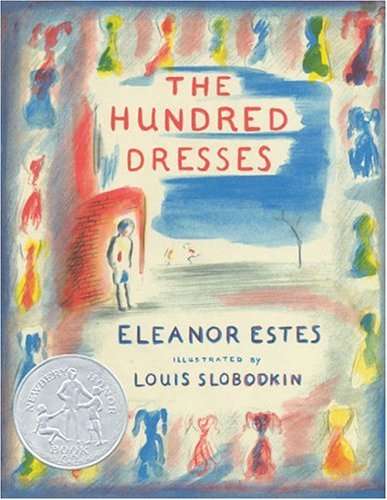 The book tells the story of a girl named Wanda Petronski, a Polish-American girl. Her classmates mocked for her funny last name and her worn blue dress. When Wanda claimed to own 100 dresses, her classmates cornered her every day and demanded she describe them.
Wanda's father then took her out of the school because of the bullying. But Wanda had entered the classroom drawing contest with 100 beautifully drawn dresses. She won, and her remorseful classmates sent her a letter of apology.
The book has never been out of print. The National Education Association in 2007 named it one of the top 100 books for children.
Eleanor Estes wrote 19 children's books, considered classics, and taught at the University of New Hampshire Writer's Conference. She died July 15, 1988 in Hamden, Conn.
You can buy The Hundred Dresses in the New England Historical Society's online store here. Photo of "Eleanor Estes By unknown – Original publication: unknownImmediate source: https://www.nocloo.com/eleanor-estes-biography/, Fair use, https://en.wikipedia.org/w/index.php?curid=35714281.