Two hundred years ago, dreams of riches from silk thread sparked mulberry mania throughout Connecticut. Tens of thousands of mulberry trees were planted during the 1830s as prices for the saplings soared to outlandish heights.
By 1840, Connecticut was producing three times as much silk as any other state.
Doctors, lawyers, merchants, even Daniel Webster got caught up in mulberry mania as it spread beyond Connecticut.
In 1830, the U.S. Agriculture Department received a report that "suddenly and by a simultaneous and spontaneous impulse the people of the United States have directed their attention to this source of national riches…Everywhere, from north to south, mulberry trees have been planted and silkworms raised."
Though the fever for mulberry trees finally broke in 1839, silk manufacturing took hold for many years in parts of Connecticut and western Massachusetts.
History of Mulberry Mania
Mulberry mania began with the desire to develop a sustainable industry independent of Europe.  Silk seemed ideal for Connecticut. The luxurious fabric commanded high prices. And the silkworms that produced it fed on mulberry trees, which thrived in the state.
In 1734, the Connecticut General Court passed a law awarding three pence for every pound of silk produced.
Ezra Stiles, president of Yale College, became obsessed with promoting the silk industry. He started raising silkworms in 1758, giving them names such as Oliver Cromwell and General Wolfe.
Stiles collected mulberry seeds and sent half an ounce to every parish in Connecticut. He asked the ministers to plant the seeds and distribute the mulberry saplings to families in the parish. Six years later, silkworm eggs and directions for raising them were sent to the tree growers.
At around the same time, a horticulturist named Nathaniel Aspinwall began planting mulberry trees in New Haven and Mansfield, Conn. He also sold silkworm eggs to his customers.
Silk production became a cottage industry in Mansfield. Women and children raised the worms — kept in attics or bedrooms — reeled the cocoons and spun the silk into skeins. A silk mill, now at Henry Ford's Greenfield Village, was built to spin and twist silk.
By 1789, Mansfield produced 200 pounds of silk a year worth $5 a pound. Peddlers sold silk thread beyond the Mansfield area, while spreading the gospel of riches the stuff would create.
Manias
In 1832, Connecticut's state government stepped in to encourage the silk industry, paying farmers $500 for every 100 trees tended for three years.
Also in the 1830s, a new species of mulberry arrived that grew faster than other species of the tree.
Prices skyrocketed from $4 for 100 saplings in 1834 to $30 in 1836. It was an era of agricultural crazes: merino mania for a Spanish sheep that produced fine wool; Berkshire mania for a hog that produced high-quality bacon; and the Rohan potato, which could produce 50 pounds of tubers from a single potato.
One Hartford nursery sold 100,000 mulberry trees in one year. At an agricultural fair, people entered 70,000 mulberry trees for prizes.
The financial panic of 1837 continued to fuel mulberry mania, as speculators thought trees were safer bets than stocks or bonds.
By 1839, the craze peaked with prices as high as $500 for 100 trees in some places.
Then prices plummeted. Speculators tore out mulberry trees or burned them. The mulberry blight of 1844 killed many of the survivors.
Silk Survivors
At the height of the craze in 1838 the Cheney Brothers – Ward, Frank, Ralph and Rush — built a silk mill in Manchester, Conn. They planted mulberry orchards in the town as well as in New Jersey and Ohio. They survived the crash when their brothers, artists Seth and John, bailed them out with cash.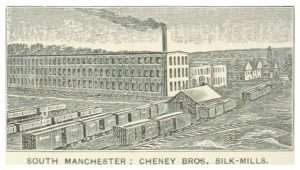 The Cheneys found silkworms are finicky and silk production is complicated and labor intensive, as silkworm cocoons must be unraveled by hand.
They stopped trying to grow their own silkworms and processed imported raw silk from France instead. Their business grew and by 1870 they had 551 employees. By the end of World War I they owned three mills employing 4,000 people.
Samuel Whitmarsh stoked mulberry mania by selling seeds and seedlings from his orchard in Northampton, Mass. When his company collapsed, a utopian community of abolitionists including Sojourner Truth, bought his property. They tried to produce silk as an alternative to cotton. The company failed, but a member restarted the business as the Nonotuck Silk Company in the village of Florence, which imported raw silk. For many years it was Northampton's largest employer.
Silkworm photo: By Gorkaazk – Own work, CC BY 3.0, https://commons.wikimedia.org/w/index.php?curid=10499473. This story last updated in 2022.