In 1860, U.S. Census takers recorded 328 Greek immigrants living in America. Among them were 40 young men and boys. They arrived after the Greek War of Independence, which had left them orphaned.
They received college educations in the United States. Most succeeded in their adopted country, while  a few others returned to their homeland.
The orphans were followed decades later by waves of desperately poor Greek immigrants looking for work. The later arrivals didn't always succeed. But ever since those 40 orphans were brought here, the tiny Greek community has had a disproportionate impact on New England.
Greek-Americans have given us politicians, athletes, actors, scholars and architects. Red Sox first baseman and college football star Harry Agannis, the Golden Greek, was born in Lynn, Mass. And former governor Michael Dukakis and his cousin actress Olympia Dukakis were born in Brookline.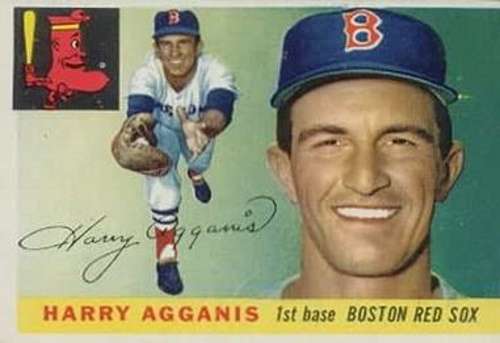 New England has more than a hundred Greek Orthodox churches, which sponsor Greek festivals throughout the year. Greek-Americans gave Manchester, N.H., the Puritan Back Room and the best onion rings in town. They also gave the Greek amphitheater at the University of Connecticut.
Most of all, they gave us the Greek diner, along with spanikopita, baklava, gyros, Greek pizza and the ubiquitous Greek salad.
The 1st Greek Immigrants
The first Greek to land in America is believed to be a sailor named Don Teodoro, who came with Spanish explorer Panfilio de Narvaez in 1528. Indians killed him in Florida.
The Greek War of Independence brought autonomy to the country in 1832, but it also caused the massacre of tens of thousands of civilians. A Congregationalist missionary society, the American Board of Commissioners for Foreign Missions, brought the orphaned sons of distinguished families to the U.S. for education and conversion to Protestantism.
Some of the orphans came with supporters of the Greek revolutionaries, such as Samuel Gridley Howe. Educated in the United States, they went on to enter the ministry, medicine, law, and education professions, or they succeeded in business.
Michael Anagnos married Samuel Gridley Howe's daughter and followed him as director of the Perkins School for the Blind in Boston. Anagnos hired Anne Sullivan, who taught Helen Keller.
John Zachos became an educational pioneer, teaching freed slaves. Lucas Miltiades Miller served as the first U.S. congressman from Wisconsin. Evangelismos Aspostolides Sophocles  taught Greek at Harvard. George Pericardis taught at Amherst College before amassing a fortune in New Jersey.
Then in the mid-19th century, a trickle of Greek sailors and merchants came to the United States. The merchants set up import-export businesses in American cities; the sailors worked on steamboats in the Great Lakes and Mississippi River.
The Great Wave
In 1890 came the first great wave of Greek immigrants. They were 90 percent male, extremely poor and looking for work. Most found it in the mills and factories of the Massachusetts cities of Lowell, Haverhill, Lynn, Boston, Peabody, Chicopee, Springfield and New Bedford.
The new Greek immigrants also settled in Nashua and Manchester, N.H., and in the Connecticut cities of Bridgeport, New Britain and Norwich. Between 1890 and 1924, more than 400,000 Greeks arrived in the United States. Many intended to return to Greece with their American earnings.
From 1924 to the end of World War II, the United States closed the door to immigrants. Only about a thousand Greeks arrived each year. And pressure increased on immigrants to assimilate.
World War II and the Greek Civil War devastated the Greek countryside, and once again the United States welcomed Greek immigrants. So from 1947-1967, 5,000 Greek immigrants arrived a year. Then in 1968, Congress relaxed immigration laws and an average of 11,000 Greeks came to America each year until 1979.
The postwar era was the golden age of Greek diners in America. The first diners originated in Providence, and soon Worcester, Mass., was manufacturing now-classic diners. Six hundred diners sprang up in the New York metropolitan area, many in Fairfield County, Conn.
In Connecticut, Italians had dominated the pizza business, but they started to retire after World War II. Greek families bought up the pizzerias, and by the late 1970s, 76 percent of Greek families worked in Connecticut pizza shops.
Greek Towns
According to the 2000 U.S. Census, the New York-Newark-Bridgeport area has the most people of Greek ancestry in the country, with 202,304.  Boston-Worcester-Manchester ranks second, with  96,871.
Lowell has special importance to the Greek-American community. It had the first and most extensive Greektown. One of the first Greek churches in America was built there in 1906. By 1913 Lowell also had 30 Greek groceries. One of them, DeMoulas Market Basket, started in 1917 and now has 79 stores throughout New England.
The sons of Greek immigrants have also succeeded in politics. Paul Tsongas represented Lowell as a U.S. senator and later became a candidate for president of the United States.
Massachusetts Gov. Michael Dukakis, who also ran for president, was the son of a Greek immigrant who settled in Lowell. Likewise, Nick Mavroulas grew up in nearby Peabody and became a congressman from Boston's North Shore. Ted Gatsas served as mayor of Manchester, N.H. And political commentator George Stephanopoulos grew up in Fall River, Mass., the son of a Greek Orthodox priest.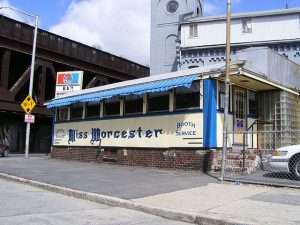 The New England community with the densest Greek-American population today is Nahant, Mass., with 5.3 percent. That makes it the ninth most Greek-American community in America. Next comes 16th-ranked Peabody, Mass., with 4.3 percent. Dracut, Mass., follows as the 19th most Greek-American community, with 3.9 percent.
New England also attracts recent Greek immigrants to Massachusetts towns such as Raynham Center, West Falmouth, Watertown, North Lakeville and Arlington.
Photos: Miss Worcester Diner By Improbcat – Own work, CC BY-SA 3.0, https://commons.wikimedia.org/w/index.php?curid=7813073. Harry Agannis By Vintage Card Traders, Fair use, https://en.wikipedia.org/w/index.php?curid=2293374. If you enjoyed this story about New England's Greek immigrants, you may also want to read about the region's Portuguese immigrants here, or Italian immigrants here.  This story was updated in 2022.