On May 1, 1942, fire leveled more than 300 acres in the Limerock section of Lincoln, R.I. The source of ignition was at first thought to be ashes from a wood chopper's pipe. The fire – the first of the 1942 Rhode Island forest fires — destroyed a cord of wood, damaged a garage and threatened three homes.
On the same day, 250 acres burned in Johnston on the Rohrig Estate. It took 60 firefighters to save a Scout camp and a farm from the blaze.
Again on the same day, firefighters fought a 350-acre forest fire at White Rock just northwest of Westerly. Only a wind change saved a number of houses in the fire's path, something State Fire Service workers and 80 men from three towns couldn't accomplish.
Manpower was scarce, as the United States had entered World War II six months earlier, and tens of thousands of Rhode Islanders joined the war effort. But the fires would only get worse over the next few days – and suspicions would grow about the source of the 1942 Rhode Island forest fires.
Westerly Fire Chief Columbus Pasetti believed arson started the fires. But 15 wildfires would burn all over Rhode Island over the first four days in May. The cause might have been even worse than arson.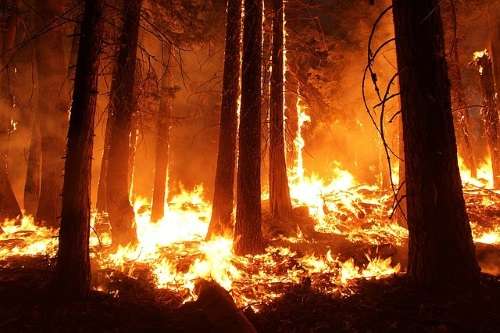 Fire Bug
As soon as firefighters smothered the Westerly blaze, they got called to a four-acre fire at the Cook Farm. But the State Fire Service men had already broken off to extinguish a fire in Coventry.
The Coventry fire took two days to put out and spread into West Greenwich, where it mushroomed into a 40-square-mile inferno. By then it consumed a dozen homes and leveled camps and barns.
Rhode Island officials were convinced they had a fire bug on their hands.
1942 Rhode Island Fires
On May 2 alone, fires broke out in the western Rhode Island towns of West Greenwich, Scituate and Coventry. In the eastern part of the state, a fire started in Newport among fallen timber from the 1938 hurricane around Tonomy Hill.
Officials said the fires, the biggest in Rhode Island memory, had been set deliberately.
A call for help went out. Soldiers from Fort Devens and sailors from Quonset Point joined the crusade to extinguish the fires. All available apparatus in the area responded, as well as equipment from as far away as Warren and Bristol.
A thousand people fought the Rhode Island fires by then, but still they couldn't extinguish them.
Army and Navy officials said they dispatched more men to help. Governor J. Howard McGrath issued a public appeal for another thousand men.
All workers from the Works Progress Administration and the state Department of Public Works were dispatched to the scene. Volunteers poured into the area, but were only allowed to fight the fire if they had some equipment.  Some volunteers went in with as little as a shovel or a burlap bag. The situation was growing desperate.
Warwick announced a special police motorcycle patrol to protect their woodlands.
All told, 3,000 volunteers and firefighters fought the Rhode Island fires.
Louttit School
At least 75 volunteers and firefighters received injuries in the fire. They were treated at a makeshift hospital at the Louttit School in West Greenwich (now the town's public library). The school also served as a headquarters for the whole firefighting operation.
The Providence Police radio patrol set up two heavy-duty transmitters at the Louttit School, communicating via six portable sets.
The U.S. Army set up a mobile field kitchen to feed the hungry men. Emergency canteen units from the Red Cross and Civil Defense Women's Ambulance and Transportation Corps also arrived at the scene.
Martial Law
It's still May 2, and Governor McGrath declares martial law in Coventry, West Greenwich, Scituate and in parts of three other towns. Blue-uniformed state guardsmen along with 200 soldiers with loaded rifles now patrolled the roads of those towns.
Suddenly 20 of those state guardsmen found themselves trapped by flames as the fire surrounded them. They managed to escape.
Another guardsman, while going to his backpack tank, got disoriented and had to run for his life as the flames leaped ahead of him among the tree tops. He finally found refuge in a swamp.
Damage
Another story unfolded when a grandmother, a mother and three children ran for their lives as the fire raged around them. They found salvation in a nearby brook. As the fire passed over them, they made their way through the smoldering forest to a highway where a motorist picked them up and brought them to safety.
They had watched as their home, their barn and their garage burned to the ground. Their dogs and all their livestock perished, except for one pig.
Among the buildings destroyed in the Rhode Island fires was a storage facility with 250,000 board feet of lumber owned by the federal government.  Firefighters barely saved another building with 1.25 million board feet of federal lumber in it.
Coincidence? It was widely believed, according to the New York Times, that it might be sabotage. No one, however, made the official charge.
Enemy Action?
Author Ian Fleming wrote once is happenstance, twice is coincidence, three times is enemy action.
Governor McGrath said he saw Army aerial photos that showed the fires starting up in widely separated areas. The conditions at the time were not conducive to flying sparks igniting fires in those far-apart places.
James R. Simmons with the Federal Fire Service strongly hinted that the Rhode Island fires were suspicious. Of the 15 fires that erupted almost simultaneously, many started near federal lumber storage areas – the location of which was confidential.
May 3
On May 3, yet more Rhode Island fires broke out, four to be exact: two in Assonet, one in Somerset and one in Tiverton. One hundred men took three hours to check the Tiverton blaze by a backfire.
Fire also raged in the Moosup Valley section of Foster along the Connecticut border. Rhode Island and Connecticut fire forces struggled to halt the progress of that conflagration.
At 9 p.m. that night, Governor McGrath announced that all of the fire seemed to be under control. Mopping-up operations would continue into the next day to make sure the fires were out. By the end of May 3, the last 1,500 firefighters straggled home as the nightmare seemed to be at an end.
A Wider View
What caused the Rhode Island fires? We have seen experienced professionals speculate that arson or maybe sabotage started them. Remember, Governor McGrath saw Army aerial photos showing many fires starting at the same time.
Was there a precedent for this? Here's a bigger view.
On April 20, 1942, Forest Ranger J.B. Fortin reported 20 fires starting almost simultaneously on Sunburst Mountain in Brevard, N.C. They developed into huge forest fires.
Fortin, a veteran ranger, had never seen anything like it. On his first radio call, he said it had to be saboteurs. The outbreak of fires in Brevard went on for a week.
Then later that month 168 fires broke out in New Jersey — coincidentally near an Army base. Those fires grew so tremendously that a call went out for shock troops of citizens to help extinguish them along with 2,500 soldiers. The fires eventually consumed 5000 acres, according to the New York Times.
William Breuer in his book The Air Raid Warden Was a Spy, entitled one chapter The Eastern Seaboard Set Ablaze. The FBI was going to investigate all of these fires, but never revealed what they found.
So were all of these fires sabotage?
Maybe.
Leo Caisse, the author of this story, passed away in 2020. He published the book, The Civilian Conservation Corps: A Guide to Their Works in Rhode Island. He also published a number of historical articles, including Ears On the World in America in World War II Magazine, October, 2017. Leo earned a B.A. and M.A. in American History from Providence College and he lived in East Providence, R.I.
1942 was a bad year for fires. The Cocoanut Grove Fire in Boston killed 660 people that year. Read more about them here and here.
This story was updated in 2023.