The Italian Thanksgiving in New England was and still is a piece de resistance – a masterpiece of Italian and American cooking. It's also a result of Italian cooks who successfully resisted do-gooders trying to Americanize their food habits.
An Italian Thanksgiving in the Italian cities like Waterbury, Conn., or Providence, R.I., or Revere, Mass., typically started out with antipasti – thin slices of prosciutto, salami, mortadella along with black olives and crusty bread. Soup followed, maybe escarole or dumpling, and lasagna or ravioli. Then came the turkey, stuffed with Italian sausage, brown gravy, potatoes, squash and cranberry sauce, washed down with homemade wine or soda for the children. And then finally dessert! Pie, torrone, spumoni, panna cotta, candy almonds, hazelnuts – topped off with roasted chestnuts.
That was not what social workers had in mind for the new arrivals from Italy. They wanted to Americanize the Italian immigrants who lived in the crowded North Ends and Little Italys of New England. And they took special aim at their dietary preferences – without much success.
"The reformers could not budge Italians on culinary matters," wrote Harvey Levenstein.
Fortunately.
Lacking Nutrition
Between 1880 and 1920, four million Italian immigrants came to the United States, more than any other ethnic group. Many settled in New England, still the most Italian region in the country.
Most came from Southern Italy to escape extortionate taxes, disease, failed crops and the ravages of the Messina earthquake, which killed 10,000 Sicilians. They were often unskilled, illiterate and dirt poor. When they arrived in the United States, they crowded into tenement slums where tuberculosis ran rampant.
Reformers in the 1890s believed they could help the immigrants living in slums by teaching them sanitation, personal hygiene and household economics.
And they blamed Italian food, in part, for Italian troubles.
"They easily fall victim to tuberculosis, they crowd together in unhygienic tenements, and the food to which they are accustomed seems to lack nutrition sufficient to enable them to fight with vigor the difficulties besetting them," according to an 1899 report of the Family Welfare Society of Boston.
Robert Woods, who ran the South End House in Boston, attributed an increase in death rates among Italian immigrants in 1904 to crowded tenements and 'their over-stimulating and innutritious diet.'
Poison Tomatoes
Throughout the 19th century, Americans viewed the tomato, a staple of Sicilian cuisine, as dangerous. In 1880 the tomato's reputation fell even further when scientific research revealed they caused cancer. Though that finding was quickly disproven, many continued to believe the tomato safe only in very small quantities.
Experts also tried to discourage the Italian love of fruits and vegetables. They didn't know vitamins were a thing, and believed produce mostly consisted of water and cost too much. Good Housekeeping declared pork, a key ingredient in Italian sausage meat, as unhygienic. Spicy foods damaged the stomach, had no nutritional value and led to the excessive consumption of alcohol they thought. And garlic – Oh! The horror!
Reformers of the era believed food was more nutritious when cooked separately. A pamphlet for Italian immigrants warned that 'it wasn't right' to cook meat, cheese, beans and macaroni together. Some people referred to their soups and stews as 'pig wash.'
The Local Store
The reformers were no match for the tidal wave of Italian immigrants and the food they brought with with them.
In Boston's North End, Italian food became available by 1874, when Pietro Pastene opened a grocery store at 229 Hanover Street. Another Italian immigrant, Alessandro Badaracco, had moved to Boston before the Civil War and ran the biggest fruit business in the city. John Ponte started the Boston Macaroni Co. in 1890, and Prince followed soon after.
Reformers figured they could change Italian cooking habits by changing their shopping habits.
In 1911, Eva White, the head of Peabody House in Boston, complained about Italians shopping in such shops. "No matter what inducements the larger stores of the city offer they will trade with none but their own people."
No Takers for Cooking Schools
Settlement houses held cooking classes for immigrants to teach them economy and proper food preparation. In the 1890s, the Denison House cooking school was popular among the Irish residents of Boston's South End. But then when the Italians moved in and the Irish moved out, the cooking school attracted few students. The same thing happened with the Bennet Street settlement house in the North End. Irish immigrants flocked to its cooking school, but when the Italians moved in the cooking school had to close for lack of interest.
One despairing social worker commented in a report, "Not yet Americanized; still eating Italian food."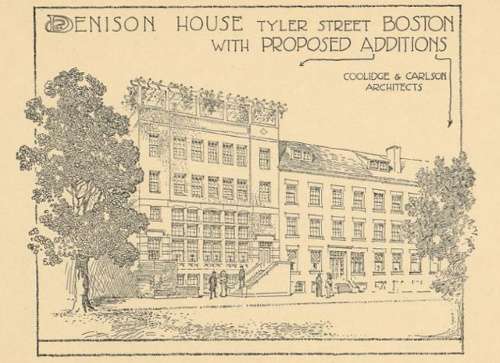 U pizz' di creanze
For their part, Italian immigrants viewed American food as disgusting. Doctors complained about Italians who refused admittance to hospitals because they thought the food unfit to eat.
Italians also attached great importance to the family rituals associated with eating Italian food.
Joanna Clapps Herman, who grew up in an Italian family in Waterbury, Conn., described one ritual: u pizz' di creanze, the piece of politeness.
"If the last piece of anything is eaten, all the customs of politeness have been violated," she wrote in The Anarchist Bastard: Growing Up Italian in America. "It means that the host hasn't provided enough for all their guests to have as much as they wanted," she explained. "It means that the guest is demonstrating this fact publicly. No matter how much the host presses her guests, no one is to take it."
Instead of abandoning Italian food, Italian Americans simply added American ingredients to a traditional Thanksgiving for a belly-busting feast.
An Italian Thanksgiving
Ed Iannuccilli described his grandparents' Italian Thanksgiving in their second-story tenement in Providence. They had come to the city from Italy in 1910.
"They may have been comforted when they learned that they shared something with those early settlers who long ago also arrived with fear, expectation and hope," Iannuccilli wrote in the Providence Journal.
Their Italian Thanksgiving began after a thankful prayer. Then antipasto, hot dumpling soup and lasagna before Grandfather proudly carried in the turkey. And then a couple of fruit pies, torrone, nuts and chestnuts for dessert.
The feast may have been Italianized, wrote Iannuccilli. "But it was now clearly American."
Here is a menu the DeFinis and Diioria families from Norwalk, Conn., still serve (thanks to Brooke Dojny):
Cold Antipasti
Ravioli Soup
Home-Style Lasagne
Roast Turkey with Bread Stuffing and Homemade Gravy
Mashed Potatoes
Candied Sweets
Boiled Diced Turnips
Green Beans Almondine
Steamed Broccoli
Sausage-Stuffed Mushrooms
Date-Nut Bread
Italian Bread
Green Salad
Chocolate Cream Pie
Apple Pie
Pumpkin Pie
Old school Italian Thanksgiving by Paul Altobelli, creative commons license. Boston North End By Ingfbruno – Own work, CC BY-SA 3.0, https://commons.wikimedia.org/w/index.php?curid=27355267; Pasta alla Norma By Paoletta S. – Pasta alla Norma, CC BY 2.0, https://commons.wikimedia.org/w/index.php?curid=4992962.
With thanks to The American Response to Italian Food, 1880-1930, by Harvey Levenstein in the Food in the USA reader. This story last updated in 2022.