Paula Jean Welden, an 18-year-old sophomore at Bennington College in Vermont, decided on Dec. 1, 1946 to go for a walk on the Long Trail.
She left at 2:45, dressed in a red coat, and hitched a lift to an entrance to the trail. As she started up the trail, at close to 4 o'clock, she ran into Ernie Knapp and friends returning from camp.
She asked for directions, which he gave her. And he also cautioned her against going very far, as she was not well dressed and the sun would be gone soon.
It was the last time anyone saw Welden. The next morning, her roommate notified the college president. William Archibald Welden, Paula's  father, rushed from their home in Stamford, Conn., and organized a search.
Searching for Paula Jean Welden
Hundreds of people scoured the area around the Long Trail and a reward of $5,000 was raised. But no sign of the girl was found.
People began speculating about possible reasons for Welden's disappearance. She had quarreled with her father and decided not to go home for Thanksgiving. Was that behind it?
Some suspected she had a boyfriend she ran off to meet. Her roommate said she had been blue, but all that really emerged was a picture of a young woman beginning to settle into adulthood. She had developed an interest in botany, and planned on choosing that as a course of study.
Her future, in general, seemed bright. Her father got a brief flash of hope from a waitress in Fall River, Mass., who reported serving her the day after she disappeared. But the lead turned out to be false.
A train conductor thought he saw her in South Carolina, but that, too, proved false. So would lead after lead after lead.
Gradually, the leads grew fewer and farther between. Welden departed the state with some blistering words for Vermont. The state, he said, could not mount a credible search or investigation.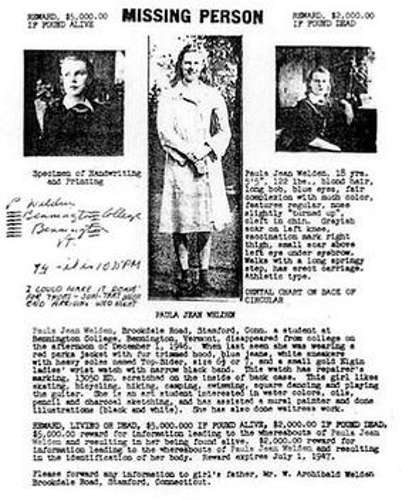 Vermont State Police, Finally
Vermont had no state police. Some had pushed for professional state law enforcement for years, but legislators had voted it down.
Sheriffs viewed the idea as a usurpation of their power. Vermont's representatives felt there was no need to spend the money.
During the search for Paula Jean Welden, Gov. Ernest Gibson had requested help from neighboring states. Welden had persuaded the Connecticut State Police to send detectives to Vermont to assist.
Gibson used the disappearance to shame the Legislature into creating a state police.
Paula Jean Welden's disappearance, and the muddled response, made clear that the need was real and that sheriffs weren't up to the task. So in 1947, the Legislature created the Vermont State Police.
As for Welden, her disappearance has remained a mystery for more than 60 years. It's been revisited many times, and included in a list of unusual deaths and disappearances in and around Glastenbury Mountain. People have dubbed the area the Bennington Triangle because of the concentration of mysteries that have taken place there.
This story was updated in 2022.
Images: Paula Jean Welden photo from flyer By The Charley Project – The Charley Project, Public Domain, https://commons.wikimedia.org/w/index.php?curid=53704715. Missing Person flyer By Weird New England by Joseph A. Citro (2005), Fair use, https://en.wikipedia.org/w/index.php?curid=18108247. Long Trail By Calebhsimone – Own work, CC BY-SA 4.0, https://commons.wikimedia.org/w/index.php?curid=103721747.