L. L. Bean liked to hunt and fish more than he liked to work, and his first attempt at running a clothing store failed miserably.
He was pushing 40 when he had the idea that would make him a household name. He came off a hunting trip in the Maine woods that failed because his boots got wet, leaving his feet cold and sore. A local cobbler helped him graft leather uppers to a pair of rubber work boot bottoms. He then got hold of a list of non-resident holders of Maine hunting licenses and produced a three-page flyer with a proclamation.
You cannot expect success hunting deer or moose if your feet are not properly dressed. The Maine Hunting Shoe is designed by a hunter who has tramped the Maine woods for the last 18 years. We guarantee them to give perfect satisfaction in every way.
That failed too.
Ninety of the first 100 pairs were returned because the leather separated from the rubber.
Bean made good, though, on his '100 percent money back guarantee,' and perfected the boot.
L.L. Bean Himself
Leon Leonwood Bean was born Oct. 13, 1872, in tiny Greenwood, Maine, the son of Benjamin Warren Bean, a farmer and horse trader, and Sarah Swett Bean. His parents died within four days of each other when he was 12. He and his five siblings went to live with relatives in South Paris, Maine.
After his locally made boots failed, L.L. Bean borrowed $400 in 1911 and went to Boston to persuade the United States Rubber Company to improve the quality of the shoe. The company agreed and, in another stroke of luck, the United States Post Office introduced parcel post service.
Maine Hunting Shoes were so popular that L.L. Bean opened a store to sell them on Freeport's main street in 1917. The shoe, according to Bean, saved an outdoorsman from lifting 2,310 pounds in the average seven miles he took a day.
When his brother was named postmaster in Freeport, Maine, L.L. Bean opened a factory on the floor above the post office.
He continued to come up with new outdoor products, such as the Maine Auto Sweater, designed for duck hunting and automobile riding. He created the Deer Toter  to transport a dead deer more easily; the Bean Sandwich Spreader; the Bean chamois shirt; and the down vest. In 1944 L.L. Bean introduced its iconic tote, the 'Ice Carrier' made of heavy canvas designed to carry ice. It's now called the Boat and Tote.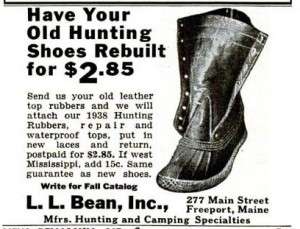 L.L. Bean appealed to frugal Yankee customers by advising them to return their Maine Hunting shoes for reworking.
During World War II, Bean designed military wear, and in 1973 the Israeli military rush-ordered boots and heavy shirts direct from the company for duty on the Golan Heights.
Shake His Hand, Get a Catalog
His company continued to grow along with the number of pages in his promotional flyer.
L.L. Bean fixated on building his mailing list. So much so that Maine writer John Gould said, "If you drop in just to shake his hand, you get home to find his catalog in your mailbox."
Most of L.L. Bean's sales came through the catalog. The store in Freeport, however, had a bell by the door that sportsmen could ring to summon a watchman or, sometimes, L.L. Bean himself. They rang at all hours of the day and night to buy last-minute hunting or fishing gear. The company hit $1 million in sales in 1937.
In 1951, L.L. Bean opened the store round the clock 365 days a year. "We have thrown away the keys to the place," he said. Today the Freeport store has no locks. Families stranded in blizzards over the years have camped in the camping section — with permission.
Famous customers included Ethel Kennedy, John Wayne, Eleanor Roosevelt, Walter Cronkite, Jack Dempsey and Gregory Peck.
Merchant of the Maine Woods
Time magazine hailed him as the 'Merchant of the Maine Woods.' In 1967, the magazine called the company 'an efficiency expert's nightmare':
It stashes incoming mail in shirt boxes. Once it lost $125,000 in business when a list of 40,000 would-be customers was mistakenly destroyed. Under a garish, multicolored letterhead, its owner once answered a formal appointment request by advising "I am personally away more or less."
In January 1967, 94-year-old L.L. Bean checked the galleys of the now-100-page catalog. He died a week later, on Feb. 5, 1967. The company received 50,000 cards and letters of condolence.
With thanks to Maine Icons: 50 Classic Symbols of the Pine Tree State by Matthew P. Mayo and Jennifer Smith-Mayo and The Grand Emporiums by Robert Hendrickson. This story was updated in 2023.