On April 19, 1859, Harriet Wilson copyrighted and deposited a copy of her novel in the Office of the Clerk of the U.S. District Court of Massachusetts.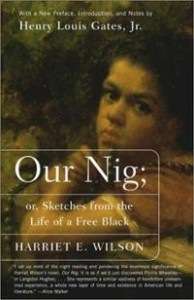 She called her novel Our Nig Or, Sketches From the Life of a Free Black, in a Two-Story White House. It was the first ever published by an African American on the North American continent. In it, Harriet Wilson told her own story: of her mother's abandonment, of her indentured servitude to a cruel mistress, of her eventual decision to fight for herself.
The novel got little notice until 1983, when scholar Henry Louis Gates established her identity. The book, wrote Gates,
…stands as a hallmark of literary history as the first novel published by an African American woman in the United States; and it subtly combines compelling storytelling with unflinching indictments of Northern anti-black racism."
Indentured Servitude
Harriet Adams was born on March 15, 1825 in Milford, N.H., to Margaret Ann Smith, who was white, and Joshua Green, an African American hooper of barrels. Her father died when she was young and her mother abandoned her when she was six at the farm of Nehemiah Hayward Jr. The court bound the orphaned child to the Hayward family as an indentured servant.
Scholars believe Our Nig is a fictionalized account of her abuse by Mrs. Hayward and her daughter. They mocked her, beat her and forced to do hard physical farm labor.
The Haywards had connections to the abolitionists in town and to the Hutchinson Family Singers. In Our Nig, Harriet Wilson vehemently denounced Northern racism and hypocrisy.  But she also told a story about a young girl who learned to fight back.
The crucial scene comes in Chapter 10, when her character 'Frado' is told to fetch wood by her mistress, 'Mrs. Bellmont.'
She was sent for wood, and not returning as soon as Mrs. B. calculated, she followed her, and, snatching from the pile a stick, raised it over her.

"Stop!" shouted Frado, "strike me, and I'll never work a mite more for you;" and throwing down what she had gathered, stood like one who feels the stirring of free and independent thoughts.

By this unexpected demonstration, her mistress, in amazement, dropped her weapon, desisting from her purpose of chastisement. Frado walked towards the house, her mistress following with the wood she herself was sent after. She did not know, before, that she had a power to ward off assault.
Escape
Harriet Wilson turned 18 in 1853 and could finally leave the Haywards. She quickly married a man named Thomas Wilson, who claimed to be a fugitive slave. She had a child, George Mason Wilson, but his father soon abandoned them. He admitted he made up the fugitive slave story to gain support from abolitionists.
Harriet worked as a seamstress and a house servant. She also sold a hair restoration product, but she couldn't earn enough to take care of her young son. She left him in the Poor Farm.  And she wrote her novel, hoping it would support them. In the preface to Our Nig she wrote:
Deserted by kindred, disabled by failing health, I am forced to some experiment which shall aid me in maintaining myself and child without extinguishing this feeble life.
A few weeks after she copyrighted the novel, George C. Rand and Avery published it anonymously. It faded into oblivion, possibly because its indictment of Northern racism offended abolitionists. George then died at the age of seven.
Moving On
Hattie Wilson gave up trying to earn a living in Milford. She moved to Boston, where she became a spiritualist, communicating with the dead. People knew her as "the colored medium." Harriet gave lectures, either entranced or in her normal state, at camp meetings, theaters and in private homes. She spoke, often humorously, about her life experiences, about childhood education and about labor reform. She traveled to Chicago as a delegate to the American Association of Spiritualists convention.
From 1879 to 1897, she worked as a housekeeper at a Boston boardinghouse on the corner of Berkeley and Tremont streets. She also worked as a healer and nurse. She died at age 75 at the Quincy Hospital in Quincy, Mass.
In 2006, The Harriet Wilson Project raised money to create a bronze sculpture of Harriet Wilson in Milford, N.H.

This story was updated in 2022.